6 Ways to Keep Warm this Winter
1. Hide and seek with your windows.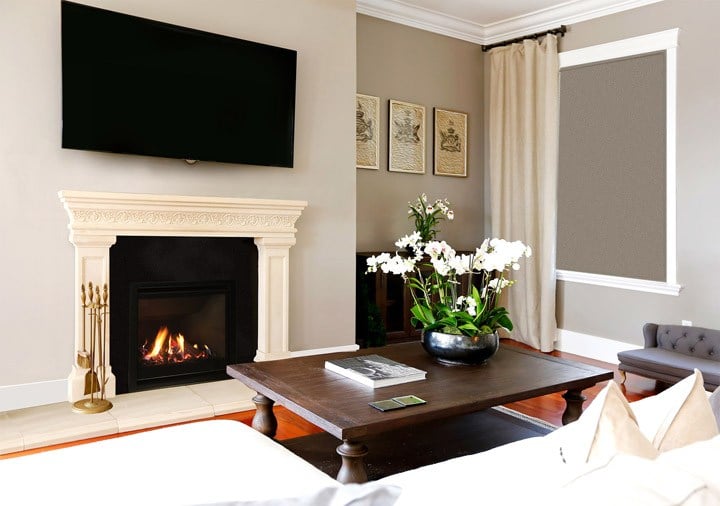 Curtains and blinds can significantly reduce heat loss through your windows. To maximise the sunshine hours, open your curtains and blinds when the sun is shining during the day to capture the warmth, then close them in the evening to keep the heat in. The main reason why curtains and blinds are used within a household is to create a seal that will prevent the warm air from getting out and also stop colder air coming through. When warming your house with a gas fire, it is important to play hide and seek with your windows. Ultimately, your fire will heat your room more efficiently because the warm air will stay inside the room and you can keep your fireplace at a lower temperature. This fireplace in the the image is the Escea high heat output AF700 fire.
2. Make your own wheat bag
Wheat bags are a great essential when feeling the winter chill. They are creative and fun, and so simple to make. Buying your own fabric and creating the look you want can be a crowd pleaser in the family – and a great activity on a cold day. Here is a quick and easy way to create your own wheat bag:
Here are the materials that you will need:
2 pieces 100% cotton fabric 16cm x 42cm each
1kg of wheat
Lavender Essential Oil (optional)
Small syringe or Dropper
Coordinating cotton thread
Scissors
Sewing Machine
Iron
Creating a wheat bag can be a piece of cake, as long you have a few moments spare to dedicate towards it. Here is a link to an easy guide how to make a wheat bag.
3. Stop the drafts
While heating your home, you may find drafts find their way through under the door or window to create this slight chill that lingers. A draft block can help keep the house toasty warm and keep the energy bills down. Place an insulator against the bottom of your door or window to create a blockage for the cool air to come through.Using a draft blocker produces many benefits such as keeping the energy bills down as you do not have to turn the gas fire up due to that chill you are feeling from underneath the doors or windows. Another benefit is increasing the efficiency of windows and doors, which enables these items to do what they are supposed to do. A draft blocker is extremely hard to wear out and is strong that you could run your car over it on a daily basis and it will still work efficiently. A draft block is able to get wet and will easily air-dry throughout the day, but be sure to wash it regularly, as getting damp may cause a bit of a stinky smell through that room.
4. Eating foods that raise body temperature
Add cayenne pepper to your meals: If you are a fan of heat or seasoning then adding cayenne pepper to your meals will be a treat. This sort of pepper contains a chemical known as capsaicin, which acts within the digestive system with helps increase your body temperature rapidly.
Peanuts: High in niacin (vitamin B3), peanuts are considered a warming food due to their ability to increase blood circulation and speed up slow metabolisms. Peanuts contain a fat content (healthy) and are high in plant-based protein, which make peanuts a tasty and high superfood. Peanuts are a great snack for movie nights snugged up in front of the fire.
5. Turn on the ceiling fan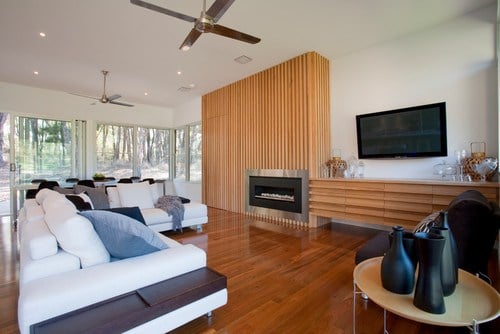 Contemporary Living Room by Melbourne Building Designers Vibe Design Group

Ceiling fans are commonly used in the summer when it is hot. However, you can also use a ceiling fan during winter. It may sound silly at first, but did you know: heat from your fire warms the air in your room and rises to the ceiling. Although heat can flow in many directions, it commonly rises to the top of your ceiling. This is a great trick to use if you have a high ceiling or you are cosying up on the couch. When you turn your ceiling fan on, this creates an air flow that pushes that heated air back down to the middle of the room. Furthermore, the room will be stay warmer for longer.
6. Get snuggly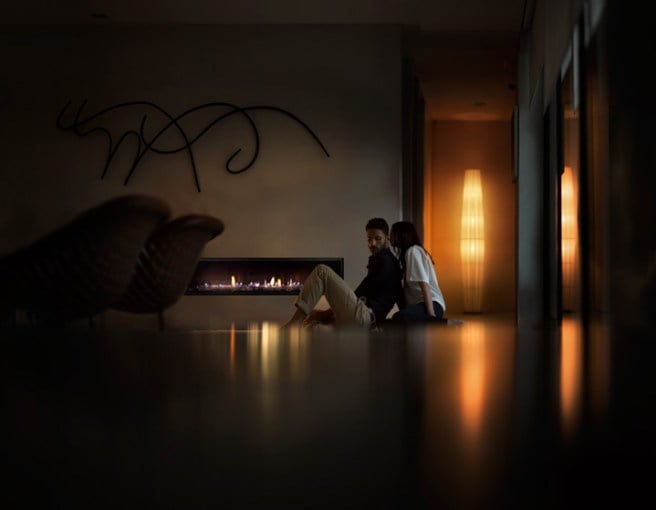 Another way of heating yourself up is getting all snuggly on the couch with your family. Imagine the fire on and a great movie, cuddled into a blanket with your partner. Body heat is a great way to warm your own body temperature.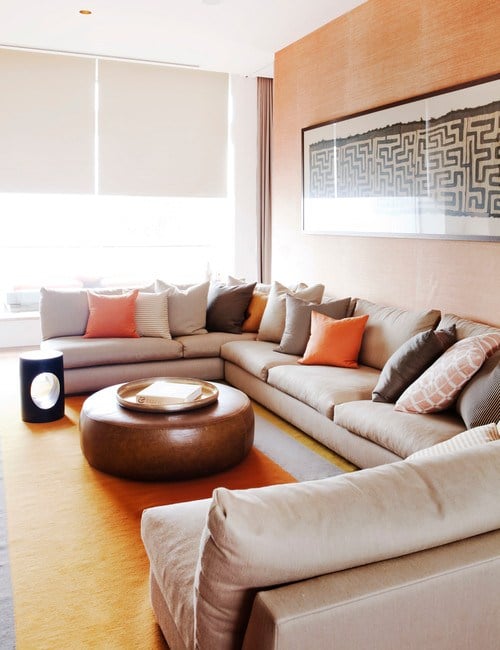 Beach Style Family Room by Sydney Interior Designers & Decorators Alwill Interiors

Look at how cosy this couch is with a few friends over, an opened bottle of bubbly, the fire cranking and good chat all round. Being social is another way of heating your body temperature. It is also a great way to catch up with friends or family you have not seen in a while. This couch looks perfect for having a group of people around to catch up – and possibly in front of your Escea gas fire