How to create a relaxing and romantic bedroom
Amidst the busyness of life it's important to have a private space of your own to escape for some peace and quiet and to spend precious time alone or with your partner.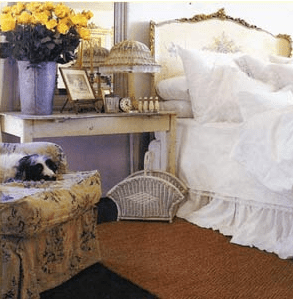 By transforming your master bedroom into a peaceful haven you can create a room that is entirely yours. To make the most out of your bedroom, there are a number of elements that will give your room a restful and romantic feel. A comfortable and supportive bed is one of the most important components of a relaxing bedroom. To have a restful sleep and feel refreshed to start a new day, you need a bed that beckons you to curl up under the covers and drift seamlessly off to sleep. A good mattress is will ease your weary bones after a long day. To avoid back problems a quality mattress is an essential investment and is especially important if your back already gives you trouble.
Your linen should also entice you to want to sink into bed and relax just by looking at it. As well as luxuriously plump European-size pillows, linen with a high thread count is a worthwhile investment. Choose the linen that feels the nicest at a price you can afford. Of course, once you choose 100% pure linen you won't want to settle for anything less.
Even if the rest of your house is clad in floorboards, the one place for carpet wall-to-wall is your bedroom. Adding a touch of comfort and luxury, a floor carpeted in 100% wool will feel cosy underfoot when you finally need to get out of bed.
Flowers or greenery add an air of romance to any room. Depending on your budget and the season, whether you create a large bouquet or simply arrange a few flowers in a small grouping you can bring nature indoors and add a touch of colour if you wish.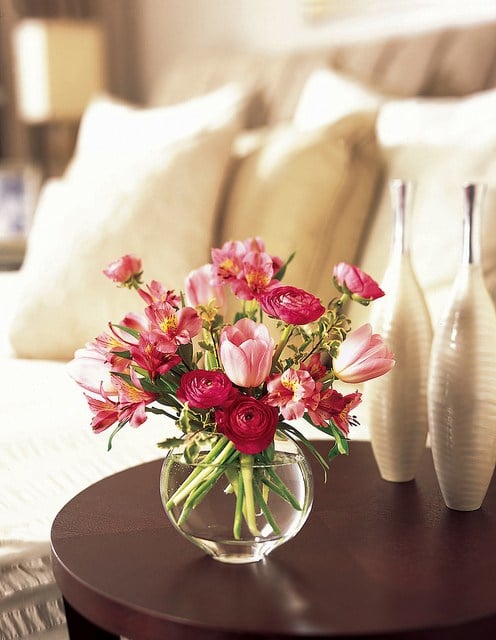 Curtains are another important choice for your bedroom. Full, draped curtains add a touch of glamour to any room. Whatever curtains you choose, make sure they curtains have black-out – this will ensure that you will be able to sleep for hours on days that aren't dictated by your alarm.
The way you light your room is hugely important. Bedside table lamps are an ideal way to incorporate light in a stylish way and offer bed readers the ease of reading without having to leave the bed to turn out the light. To create ambience you may like to consider having a function which means you can dim the lights. Candles are another way to add a lovely ambience especially at night time, not to mention giving off a lovely scent.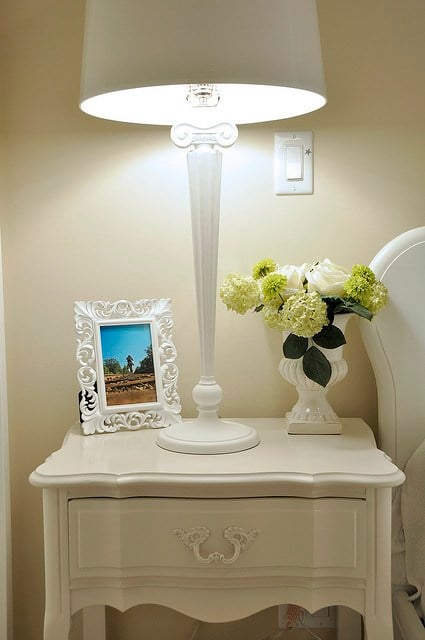 In terms of wall colour, this of course is a personal choice, although by choosing soothing colours this will hopefully make you automatically feel calmer and more relaxed when you enter the room. Colour can be incorporated in a number of different ways, including with cushions, a woollen throw, a quilt, or lampshades.
A fireplace in your bedroom is the ultimate in luxury – many houses have fires in the living room but it is rare to have a bedroom fire. Creating an atmosphere of comfort and cozyness, a fireplace will also add a touch of romance to your room. Imagine lying back in bed and watching the flames dance. Bliss! To take it to the next level of luxury choose a gas fireplace with a Smart Heat system you can heat your room without even having to leave the warmth of your bed.