Make double the impact with a see-through double sided fire
If you're looking to make a statement with a fire, the Escea DX Series comes with the option of choosing a double-sided model. As well as creating a dramatic focal point, these see-through models can turn two rooms into one, allowing the warmth and light of flames to be visible in multiple locations.
Interior Design with an Escea Double Sided Gas Fireplace
See-through fireplaces create a harmonious flow from one space into another and enable you to look right through your fire into the next room, creating an airy and open feel and keeping the fireplace light and bright.
The perfect addition to any contemporary floor plan, a double-sided fire makes an elegant room-divider. If you can't decide which room to put your fire in, if you have space where two rooms have been knocked into one, or if you want to split a large room into smaller, more intimate spaces, a double-sided fire is an ideal choice.
Another welcome use for a double-sided fire is to optimise the view to outdoors. A see-through fire will be a source of radiant heat, while allowing the view to be seen through the fireplace.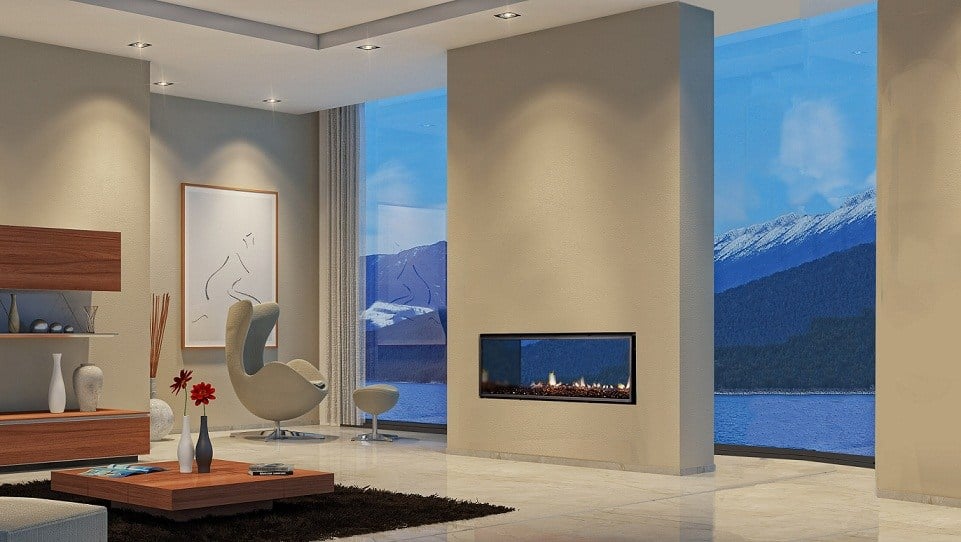 Entertaining made easy
Something else to consider is the idea of a double-sided (also known as two-sided) indoor fireplace creating a sense of indoor-outdoor flow. By installing a double-sided fire into an exterior wall, the flames can be enjoyed indoors as well as while you are entertaining in your outdoor living space.
See-through fireplaces are the perfect design feature to include in a restaurant or commercial space, providing the warm ambience of flames with a contemporary edge. An example of a see-through fire as a design feature in a restaurant setting is at Saggio di Vino, which recently reopened in its new location in the Carlton Butchery building on Victoria Street in Christchurch. Click here to see our blog post which features the DX1500 installation at Saggio di Vino.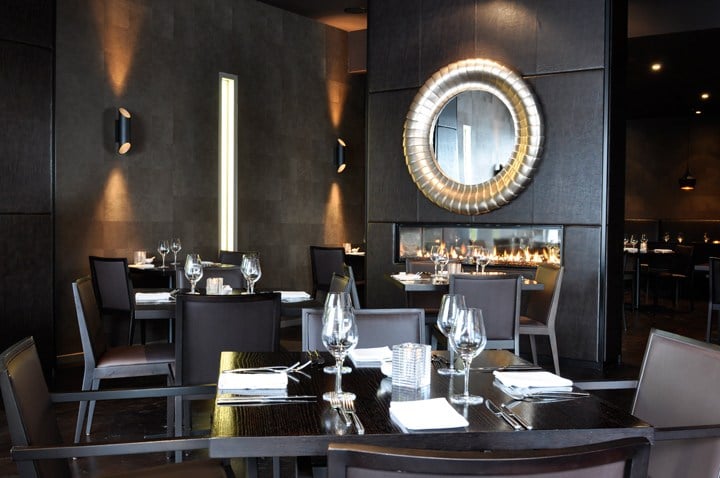 Design Freedom with Escea
By choosing a fireplace, like our DX Series fireplaces, which is Zero Clearance rated, the surrounding wall is kept cool making it your very own blank canvas – even leather is not too much to ask.
Heat multiple rooms with Escea gas log fires
The DX Series gas fires capture up to 90% of the available heat and return it back to different rooms within the house via Escea's Heat Ducting system, Multiroom. This technology circulates the heat within your house, providing quiet and efficient heating.
Easy to use Smart Heat app
In addition to the standard remote control, Escea's new Smart Heat technology allows these fires to be controlled using a home automation system, or remotely via the internet or smartphone.
Design Your Fire tool

We also created a user-friendly way for you to have every design option for your Escea fireplace at the end of your fingertips. Can't decide on the perfect fascia or fuel bed option? No worries, play around with our Design Your Fire tool to compare the wide range of Escea gas fireplace ideas.