4 Stylish Outdoor Living Looks for Summer
How do you create a stylish outdoor room? It depends on a few things really – your home, location, local climate, your budget and of course, your personal style.
There are however certain things that most outdoor spaces need to make it feel like it's an extension of the indoors, and an outdoor fireplace is one of the best places to start. From there, you can fill the rest of the space with stylish outdoor furniture and accessories that reflect you and your lifestyle. Get this sorted and you're on your way to creating an inviting outdoor living room ready for the festive season ahead.
We've put together four looks featuring four of our outdoor fireplaces – from inner city apartment living with the convenient EF5000 Outdoor Gas Fire, to the EK Outdoor Fireplace Kitchen that's designed for hosting epic dinner parties, there's bound to be an option for you and your backyard this summer.
Sleek in the Suburbs with the EK Outdoor Fireplace Kitchen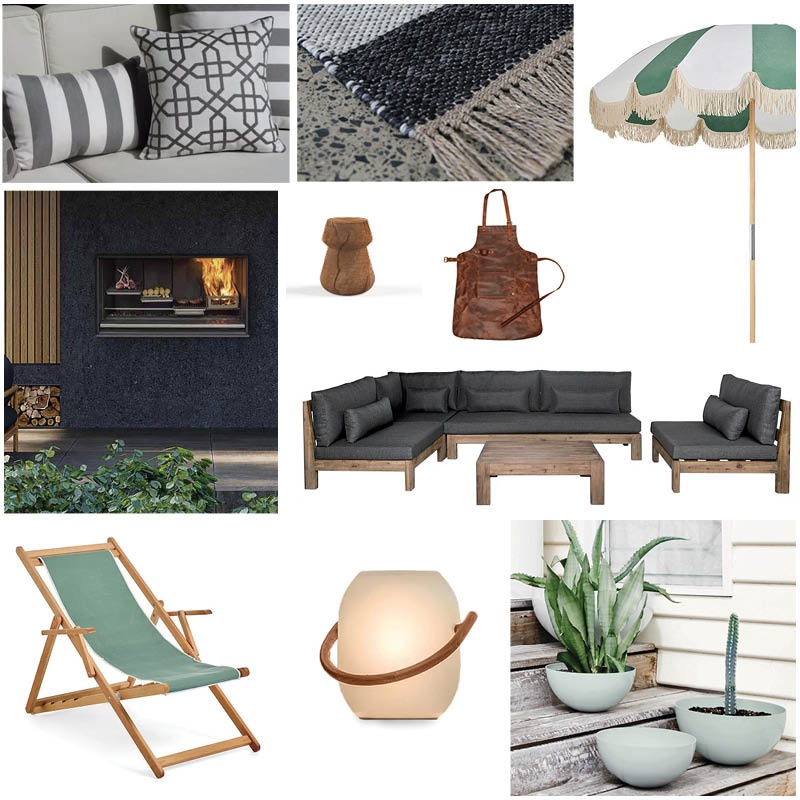 Clockwise from left: Naxos Grey Outdoor Cushions, Summit Outdoor Rug, Jardin Umbrella, Mahi Leather Apron, Stanley Stool, Cannes Outdoor Furniture, Unearthed Planters, Ambient Cocoon Lamp, Beppi Sling Chair, Escea EK Outdoor Fireplace Kitchen. 
Escea's EK Outdoor Fireplace Kitchen isn't for the faint-hearted – it's all about big parties and big barbecues. And this means you need to follow through when it comes to choosing furniture and outdoor accessories that lives up to the EK's reputation. Think hard woods, deep seated lounge furniture, and make sure there's plenty of it. Be inspired by nature, but in a refined way. And don't forget stylish serving ware and cooking utensils to match – with the EK, every detail counts.
Inner-city Chic with the EF5000 Outdoor Gas Fire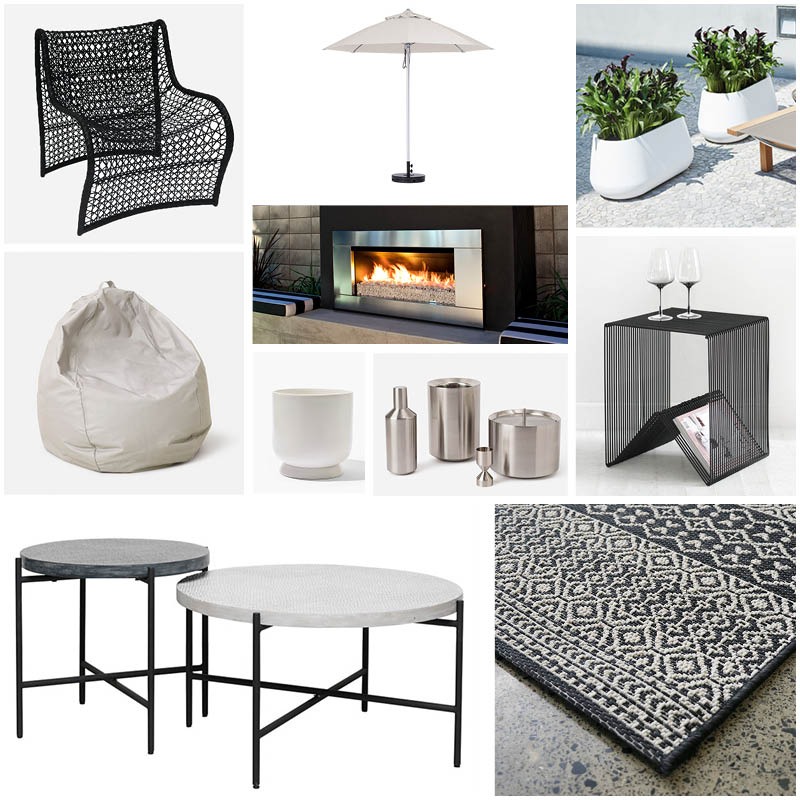 Clockwise from left: Wave Outdoor Chair, Venice Sun Umbrella, Elho Pots, EF5000 Outdoor Wood Fire, Willowby Cube Side Table, Anchor Outdoor Rug, Oro Wine Cooler, Country Road Asti Large Pot, Quadro Nesting Tables, Outdoor Bean Bag
 The quick, convenient heat of the EF5000 Outdoor Gas Fire makes it the perfect choice for busy professionals who don't have time to waste at the end of a long day – it's straight down to the business of relaxing in these households, and it's done with effortless style.
Ideal for apartment living, terraced courtyards or patios, this outdoor gas fire lends itself to intimate drinks or spontaneous catch-ups over cocktails and antipasto platters. And when it comes to styling, the accessories and furniture need to be just as chic. For this setting, we've paired the EF5000 with a sophisticated monochrome palette with plenty of texture and metal finishings. It's all about having everything at arms reach with this outdoor room – there's no need to move an inch when you have ambience, warmth and style at your fingertips.
Backyard Beach Living with the EP1350 Fire Table





Clockwise from left: Wildflowers Table Cloth, Hug Lounger, Sway Hammock Chair, Beach Umbrella, Sydney Outdoor Rug, Wildflower Outdoor Cushion, Areca Palm, Hot Stuff Beach Towel, EP1350 Outdoor Fire Table, Country Road Byron Jug, Concrete Pipe Stool.
The fun, innovative design of the EP1350 Fire Table means you can't be too serious when it comes to choosing outdoor furniture and accessories. After all, the EP is all about social cooking and get-togethers with friends and family – just like a campfire but in your own backyard.
For this setting, we've gone with colourful accessories, palm trees and laid-back beach vibes. It's all about everyone chipping in with the cooking, then getting their marshmallow-toasting game on. And the best thing about the Fire Table? You don't need to play musical chairs to move away from the smoke – the crafty design of the Fire Table means there's more flame to enjoy and less smoke in your eyes.
Modern Country with the EW Outdoor Wood Fireplace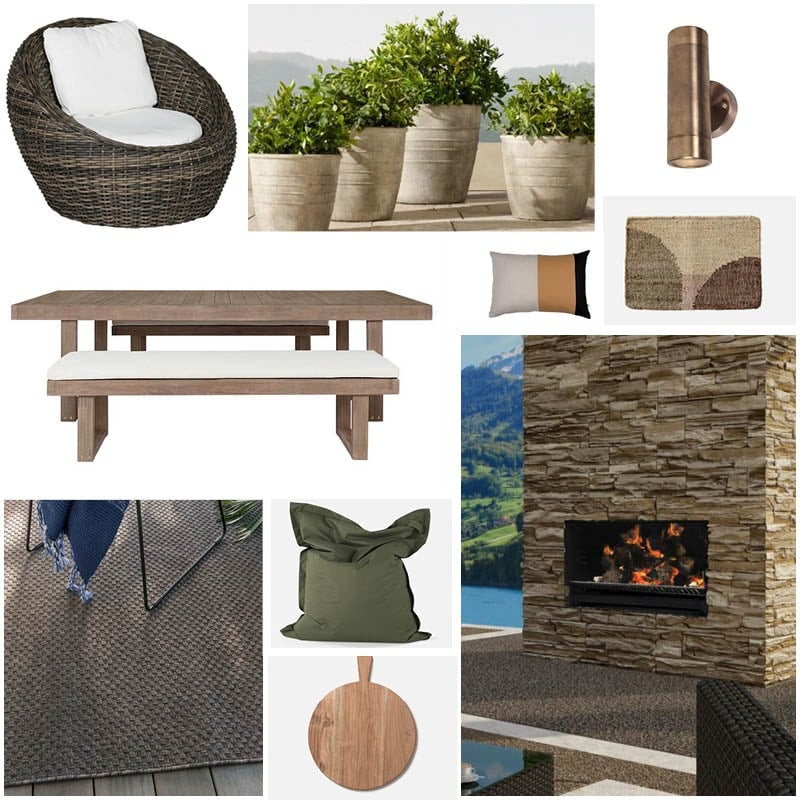 Clockwise from left: Freedom Furniture Honu Armchair, Harbour Copper Wall Lights, Piha Woven Placemat, EW5000 Outdoor Wood Fire, Ethan Lumbar Cushion, Citta Pillow Bean Bag, Acacia Round Chopping Board, Flax Outdoor Rug, Freedom Furniture Cannes Dining Table.
Escea's EW5000 Outdoor Wood Fire is known for its grazing nature and roaring flames – you can cook on this fireplace and bask in front of it too. It's perfect for having your favourite flame-grilled goods on rotation, chips and dips handy and craft beer on ice.
Comfort and cosiness takes precedence with this fire, which means outdoor furniture and accessories need to be packed with texture and inspired by its surrounds – just like this outdoor setting which takes cues from the country with a modern touch.
Learn more about Escea's Outdoor Fireplaces and watch the videos here.