8 Reasons to Update your Home with a Gas Fireplace
In 2021 it's more important than ever to invest in our homes and create spaces that are not only warm and comfortable, but that nurture us and make us feel good.
Fireplaces are a great way to add soul to any space in your home, but the options can be overwhelming.
If you're building a new home, renovating, or just looking to update your space with a new fireplace then you might be considering your options and asking, why gas? 
Well, we're glad you asked.
From their install flexibility and easy-care nature; to their smartphone integration and everything in between - we might be biased, but we think gas is the way to go. Here's why…
1. They're low maintenance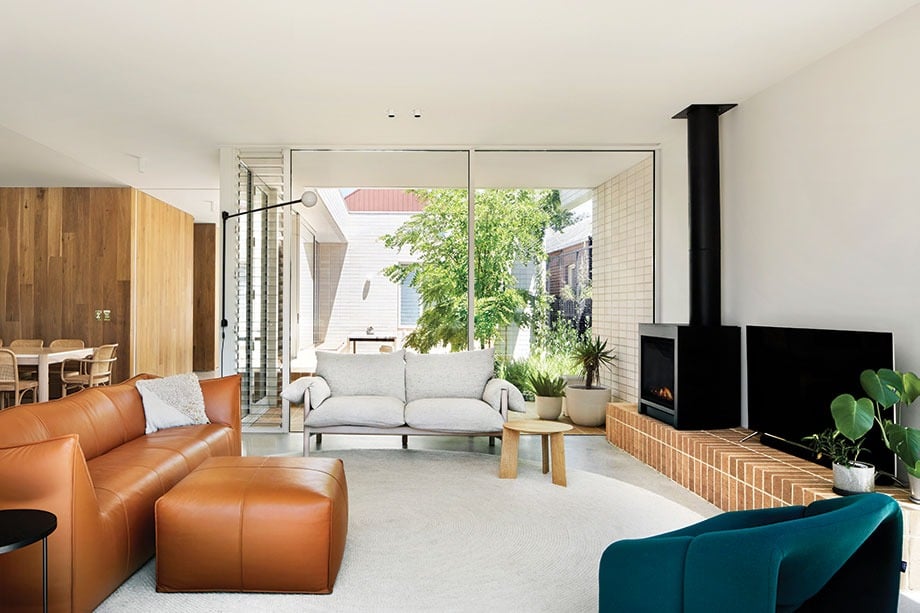 The Escea DFS730 Freestanding gas fire gives all the rustic charm of a wood fire, with none of the mess or maintenance.
Gas fires were made for busy lives.
If you love the idea of a wood fire, but you know you don't have the time or the patience to be splitting kindling and stacking wood then a gas fire is your saving grace. With all the ambience you need to unwind after a long day, but none of the mess or maintenance that you don't have time for. It's as easy as switching it on.
Not only are there less hoops to jump through when it comes to consent, there's no need to faff around with a chimney – just have it serviced once a year.
Plus, most Escea gas fires have a Smart Heat app, allowing you to control the fire from your smartphone.  You won't even need to get up off the couch. 
2. They look great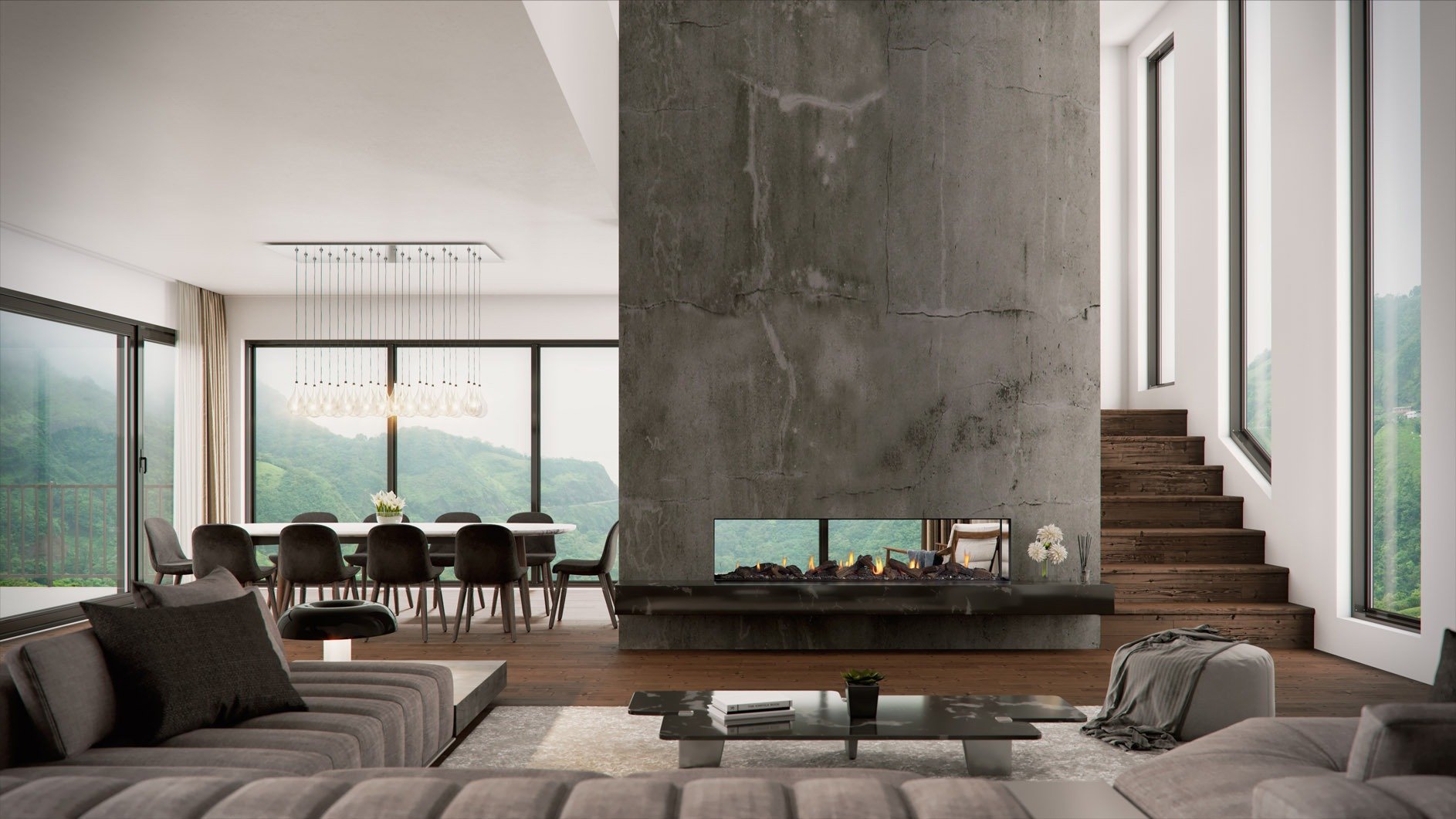 The Escea DS1900 creates endless views and drama in this beautiful living room.
Not only are gas fires a low maintenance solution to heating your home, they also look great (if we do say so ourselves). Escea is constantly pushing boundaries when it comes to fireplace design and technology, attracting some of Australasia's leading architects.
From sleek linear fires built into bespoke cabinetry, to striking double sided room dividers; a gas fireplace can completely transform your interior. 
3. In fact, they can transform any room in the house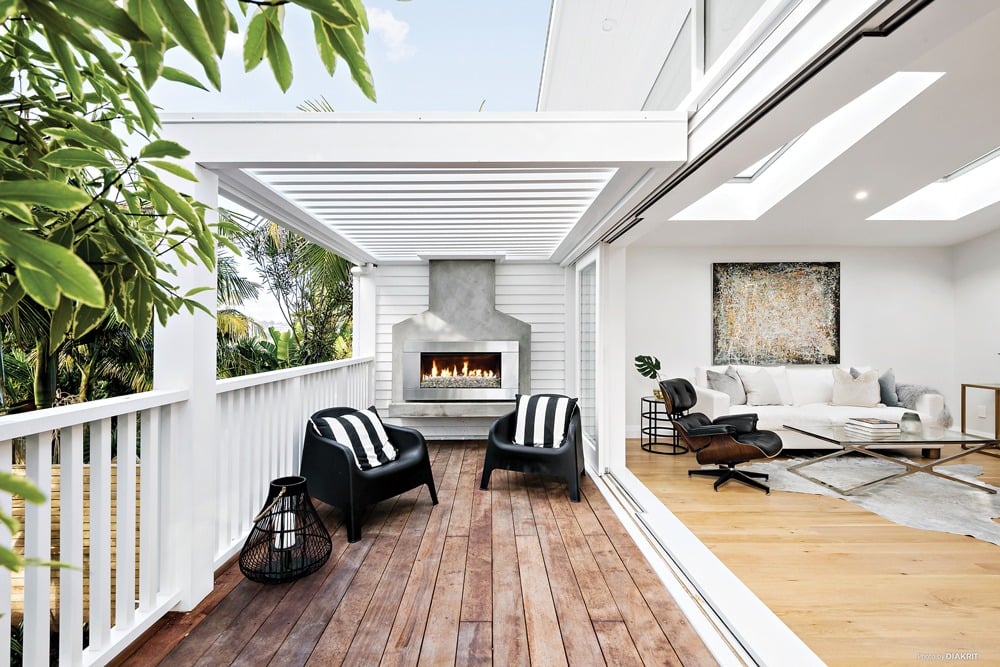 The Escea EF5000 transforms the patio of this Californian bungalow.
Spending a lot more time at home these days? The home office can be an uninspiring place, but it doesn't have to be. Enter the gas fire.
The beauty of a gas fire is that it doesn't require a chimney for installation, but Escea gas fires take installation freedom a step further.  Escea's flexible flue technology allows fires to be flued in any direction (including through the floor) meaning you can install your fire virtually anywhere – even in the middle of the room!
From bedrooms to backyards we can't think of a room that we haven't seen improved with a gas fire. 
4. They're energy efficient - and they pack some heat!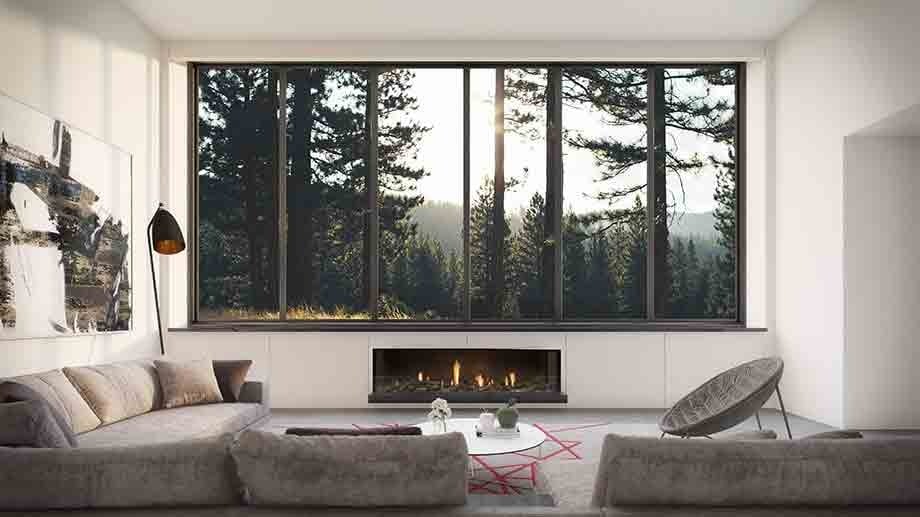 The Escea DS1650 delivers up to 10.5kW of heat into the room.
Despite what you might know about old gas fires, in 2021 they're an incredibly efficient way of heating your home. Escea's range of glass fronted, room sealed gas fireplaces have hand crafted heat exchangers, purposefully assembled so that more heat goes into the room instead of being lost up the flue.
This moderates the difference in temperature between the rooms incoming and outgoing air, allowing Escea gas fires to deliver up to 10.4kW of heat output and an efficiency of 90 – 95%.
Our Architectural Advisor, Richard, has more to say on this here.
Plus, Escea's Multi-Room Heat Ducting system in our DX series sends heat into other rooms in the house too. 
5. They're easy to retrofit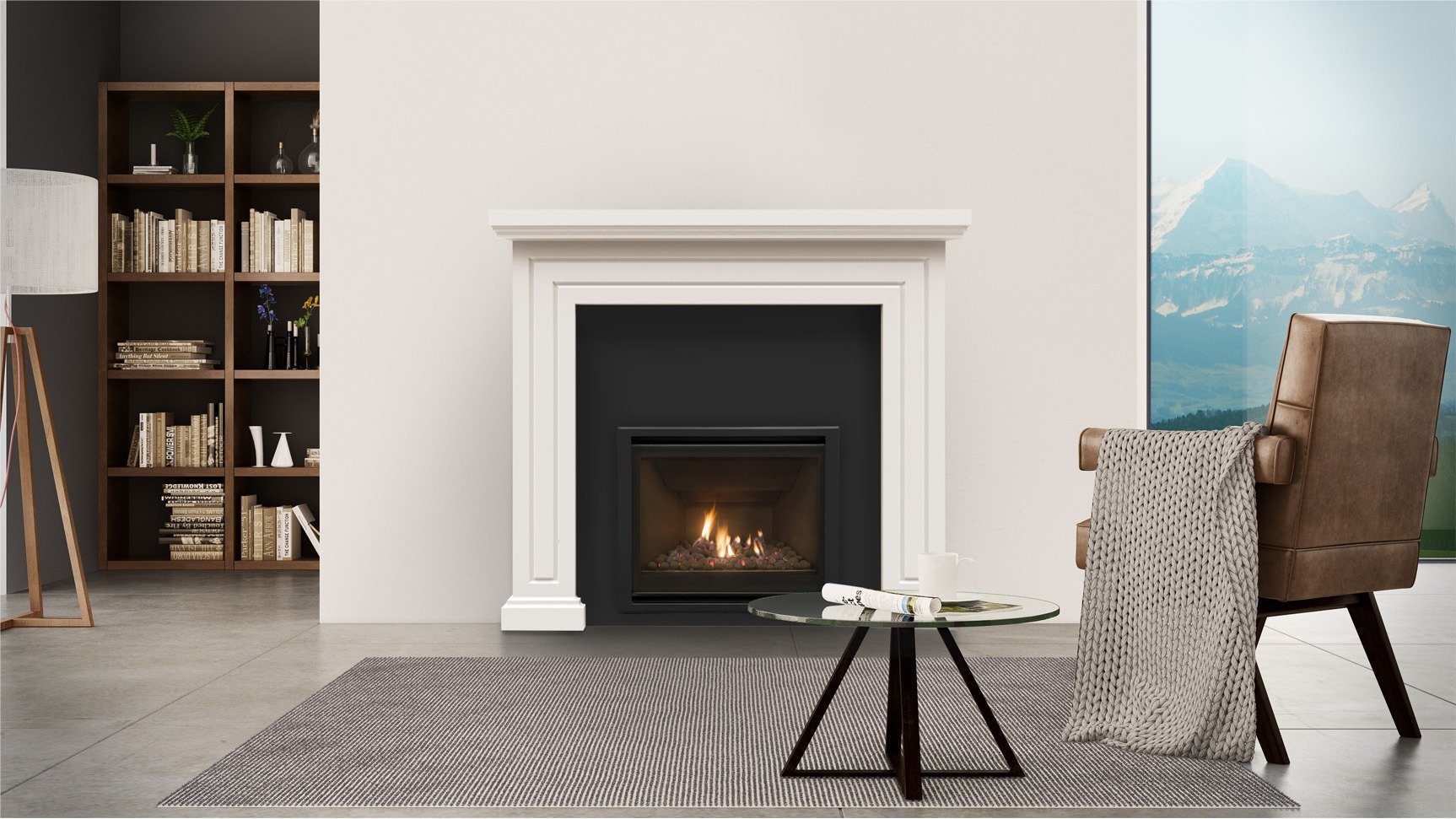 The new Escea DF7000  can be retrofit into most existing cavities.
If you're looking to replace an old fireplace but you want to keep the original surround, a gas fireplace is going to be your Heritage Hero. And it's so much easier than you think.
Escea's DF Series gas fires are ideal for retrofits. With a range of sizes perfect for fitting into existing cavities, simply run the flue up the chimney and you've salvaged a beautiful old fireplace with a new, efficient gas fire. 
The DF990, the latest addition to the Escea DF family, features an extended height perfect for the high ceilings found in heritage homes.
For all your questions on retrofitting, read our Q&A with Escea Architectural Advisor, Matt.
6. They add value to your home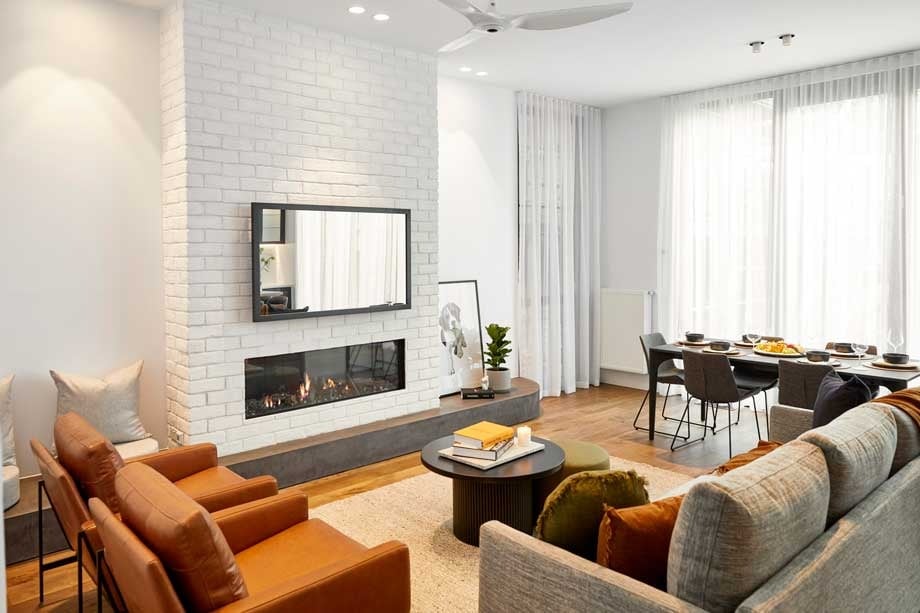 The Escea DS1400 adds style and sophistication to Sarah and George's living room on Three's The Block AU.
There's never been a better time to add value to your home. With the demand for gas fires over wood increasing yearly, installing a design and technology forward appliance with smartphone integration and little yearly maintenance adds huge appeal to your property.
A working fireplace is high on the list of must-haves for prospective homeowners and renters, so it's no wonder that installing a gas fireplace adds instant value; creating a space that is both functional and aesthetic.
7. They're Room Sealed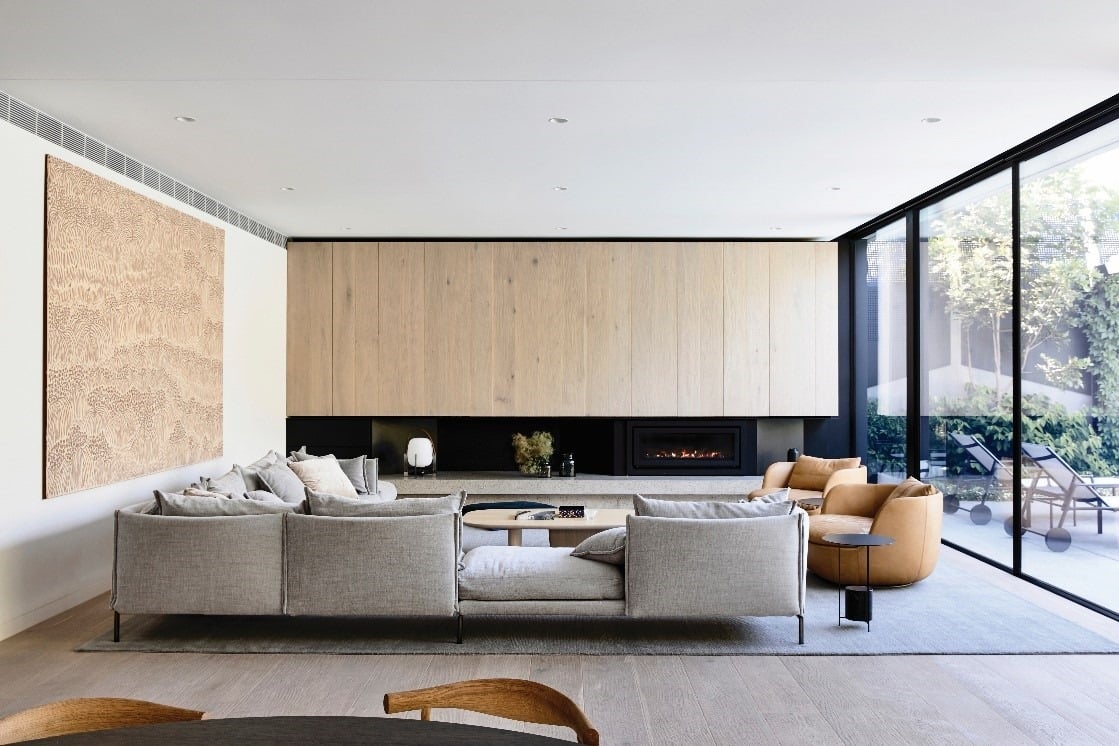 All Escea indoor gas fires are room sealed, making them safer, and more efficient at heating your home.
Not all gas fires are created equal, but unlike an open wood, gas or ethanol fire, all Escea indoor gas fires are glass fronted, sealed units.  
This means there are no pesky drafts, and no way for excess fumes to sneak into the home, as Escea fires take all replacement air from our outside, keeping you and your family safe.
This innovative technology makes Escea gas fires the most efficient option for heating your home and the best option for total peace of mind.
Learn more about the benefits of our room sealed gas fireplaces here.
8. They bring people together
The Escea EF5000 outdoor gas fireplace creates a place of gathering for the family.
It's so important to have space in our homes where we can switch off from distractions and connect with our loved ones, and ourselves.
We have such fond memories of spending time by the fire as kids, watching old movies and playing round after round of UNO. Studies show that fireplaces can regulate emotion and decrease stress levels, and this has a positive impact on our ability to connect with each other.
You don't need a traditional wood fire to create memories, all you need is a gathering point; a social hub, a designated space to slow down, be present and embrace quality time with loved ones. An Escea gas fire will give you that, and more.