Old House gets a Modern Expansion with Escea Fireplace
Renovating an old house can be difficult if you're trying to preserve its traditional character. However the owners of this 1950s weatherboard home broke from tradition when they expanded, and created a brave distinction between old and new.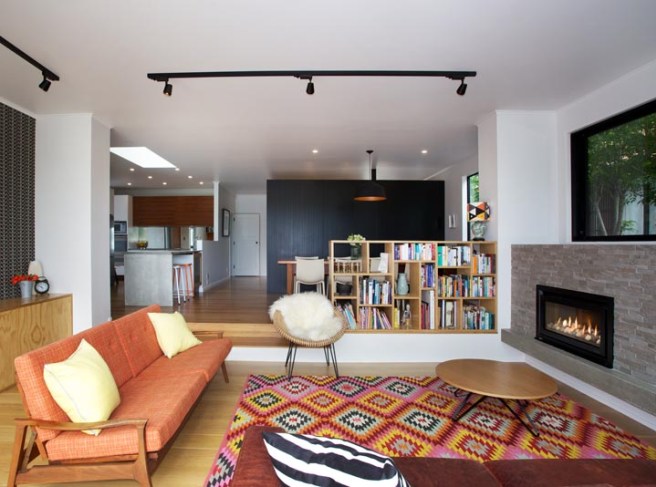 With plenty of room on the large back lawn to push her clients' home outwards, architect Evelyn McNamara designed a flat roofed box which opened out from the existing kitchen and gave the family a new and light filled living space.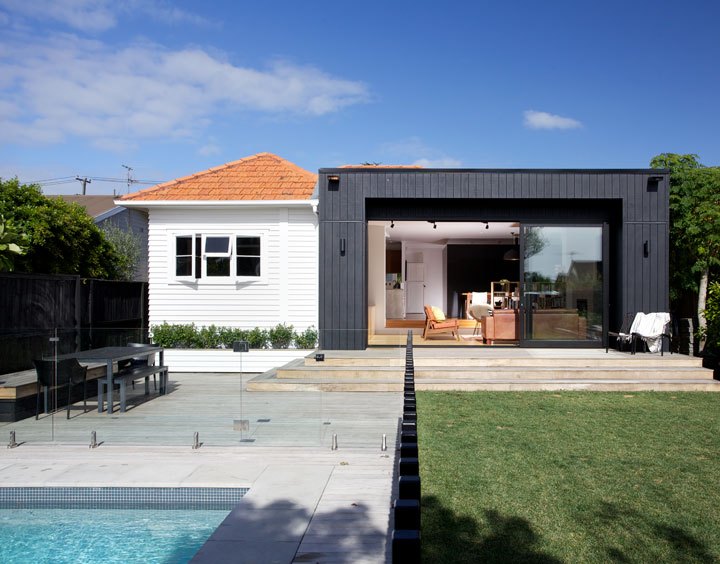 Everything about the expansion was designed to juxtapose the original house. The cladding of the new structure was laid on the vertical to contrast with the classical horizontal weatherboards, and the new addition was painted black in stark contrast to the white of the old house.
The original home had a small living room that opened to a deck a few steps above the lawn. The wall was removed where the French doors had been, which created a seamless flow from the kitchen and into the new living space. Two steps lead down to the new living room, while the ceiling height remains the same as the old house to enhance the sense of open space.
Interior designer Tomi Williams says the owners wanted Mid-Century Modern design, with an industrial edge. Fuel efficiency as well as the overall style of the home was considered when deciding on the type of fireplace. The designer created an artificial suspended hearth and dressed it with a granite slab fireplace surround that runs the length of the new living room. An Escea DL850 gas fireplace in bold Volcanic Black mimics the square black lines of the new expansion. NZ River Rocks in the hearth reference the soft grey of the granite surround, and nod to the refined colour scheme that runs throughout the house.
A window above a fireplace would traditionally pose a problem for flued gas heaters, open fire inserts and wood fireplaces; however Williams was able to run the Escea DL850 flue pipes sideways in order to bypass the window. With high output and high efficiency the Escea fireplace heats not only the new addition, but the entire open plan area as well. It was a clever heating choice and with Smart Heat Phone App, the gas fire adds to modernity of the house.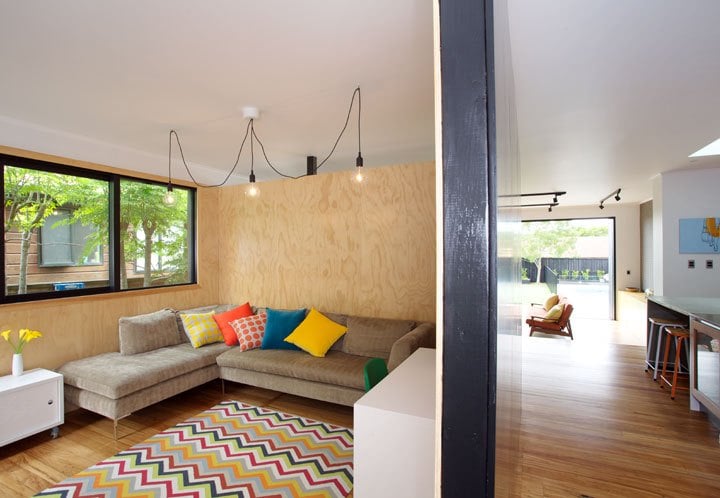 Pine plywood cabinetry keeps the space feeling relaxed and casual, and is also a practical option for a family with kids.
The room opens onto a timber deck which leads out to an outdoor dining area and a swimming pool. The back lawn was levelled and extensive landscaping by Magenta Landscapes adds the finishing touch to this bold and very liveable family home.