Concrete hearths and fireplace surrounds are a popular look for modern homes. We spoke to Blair Martin from Flowing Stone Concrete Design to find out all about the process. 

Concrete is a really popular material in homes today, have you noticed an increase in demand for your product?
Yes with the popularity of concrete for different areas in the home now we are very busy producing all sorts of products from fire surrounds and hearths through to bench tops and basins.

What style home do you think it works best in?
We have many different finishes available from a modern, sleek look through to a rustic finish, so have been working in every style of home from new architecturally designed homes to renovations in older homes.
Tell us about the glass fibre reinforced concrete you use…does it come in different colours/textures? What makes it ideal for hearths and fire surrounds?
The way GFRC is produced allows for a refined architechtural look with a very fine finish. It also has the ability to be finished as an exposed aggregate finish through to a veined finish, as well as a variety of colours from off white through grey to black. With a minimum thickness of about 20mm it can be formed into fire surrounds and hearths with the look of a large heavy piece but without the weight involved in a solid piece. For this reason most pieces can be formed in one piece without the need for joins or mitres on corners. This also allows us to ship smaller pieces around the country.
How thick can it be?
Almost any thickness can be catered for. Wall panels can start at 12 mm for a fine sand finish, and hearths and other pieces can be of almost unlimited thickness.

Talk us through your process – do you help with the design? What part of the process do you come in? 
While most of our work is off plans supplied by the client's designer, we can also meet up on site or in the planning stage to help with design. After the design is finalised we usually visit the site in the early stages of a fire's installation to template if required, or check measurements and assess if that looks like it may be an issue.  Then it's back to the workshop where we make a mould before pouring, processing and sealing a piece before delivery and installation.
Quite often the design is for a floating hearth which usually requires a frame to be built for the hearth to sit over, but due to the lighter-weight of the finished piece this is usually undertaken by the builders with no extra structural design work required.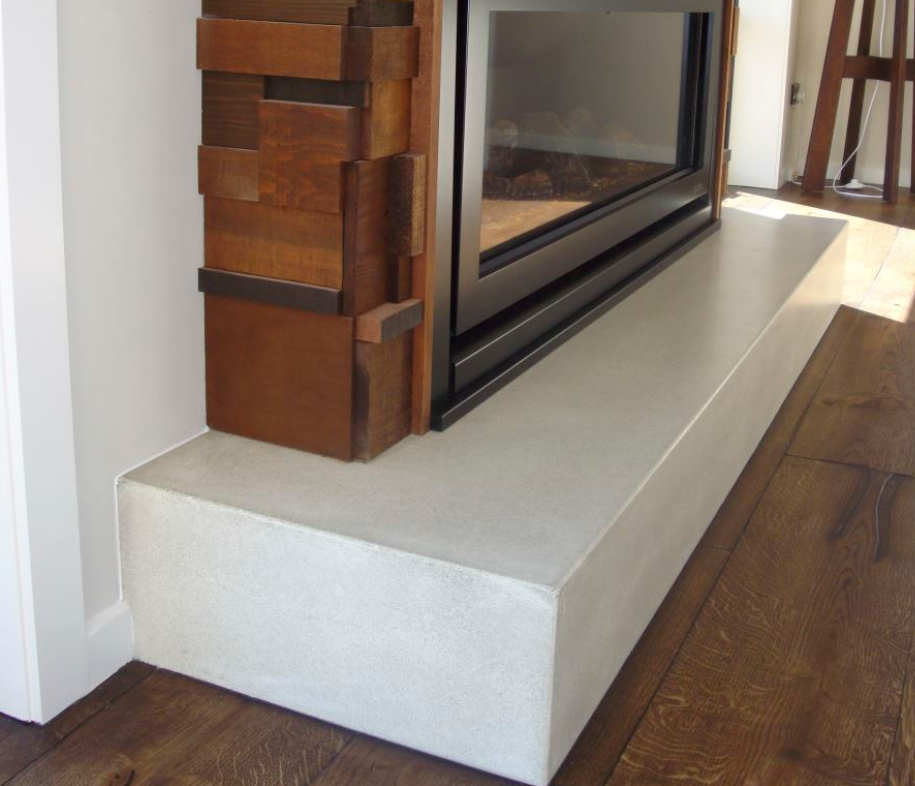 Can you tell us how long it takes to install a hearth? And how long a full surround usually takes? (average sized fireplace).
The whole process from templating to installation normally takes about 3 to 4 weeks. But as the hearth is totally finished before arriving on-site, the actual installation is relatively quick, usually only a couple of hours (although that does depend a bit on the complexity of the job).
Can you give us a ballpark figure for the cost of a fireplace surround installation? (average size). What about hearth?
As every fire surround for us is usually a custom one-off design, pricing varies everytime - making it almost impossible to give a ballpark figure. But we are only to happy to quote from the clients plans. A standard 1m x 1m hearth starts from around $1000 but would also vary on size, finish and location.
Are there any heat restrictions when it comes to concrete fireplace surrounds?
GFRC is very resilent to heat and as long as there is no direct flame contact there should be no issues with heat, although this can also be addressed at the design stage.
Will concrete chip or crack? 
Concrete is a rigid material and if impacted with a heavy object, concrete can chip like any other stone surface. Normally a repair can be easily undertaken. While very rare, hairline cracks may occur, usually due to movement of underlying structures.
Will concrete stain? 
All our creations are sealed to help protect from staining. However, no product is truly stain proof. To help prevent stains occurring, spills should be wiped up as they occur.
Visit www.flowingstone.co.nz for more information 
View our gallery below for some fireplace concrete surround and hearth inspiration: