Which Escea Outdoor Fireplace is for you?
Nothing says 'summertime' in New Zealand quite like long days under the sun and even longer nights relaxing and reconnecting by flame.  But with so many outdoor fireplaces to choose from it can be hard to know which fire is right for you, your lifestyle, and your backyard.
Whether you value the ease and convenience of a gas fireplace, or you're looking to hone your BBQ skills with a fully equipped outdoor wood cooking fire –  Escea has a fireplace that was made just for you.  
To make the decision process easier for you, we've taken a closer look at Escea's full range of outdoor wood and gas fireplaces…
EK Series: Outdoor Fireplace Kitchen
"For the serious flame grillers"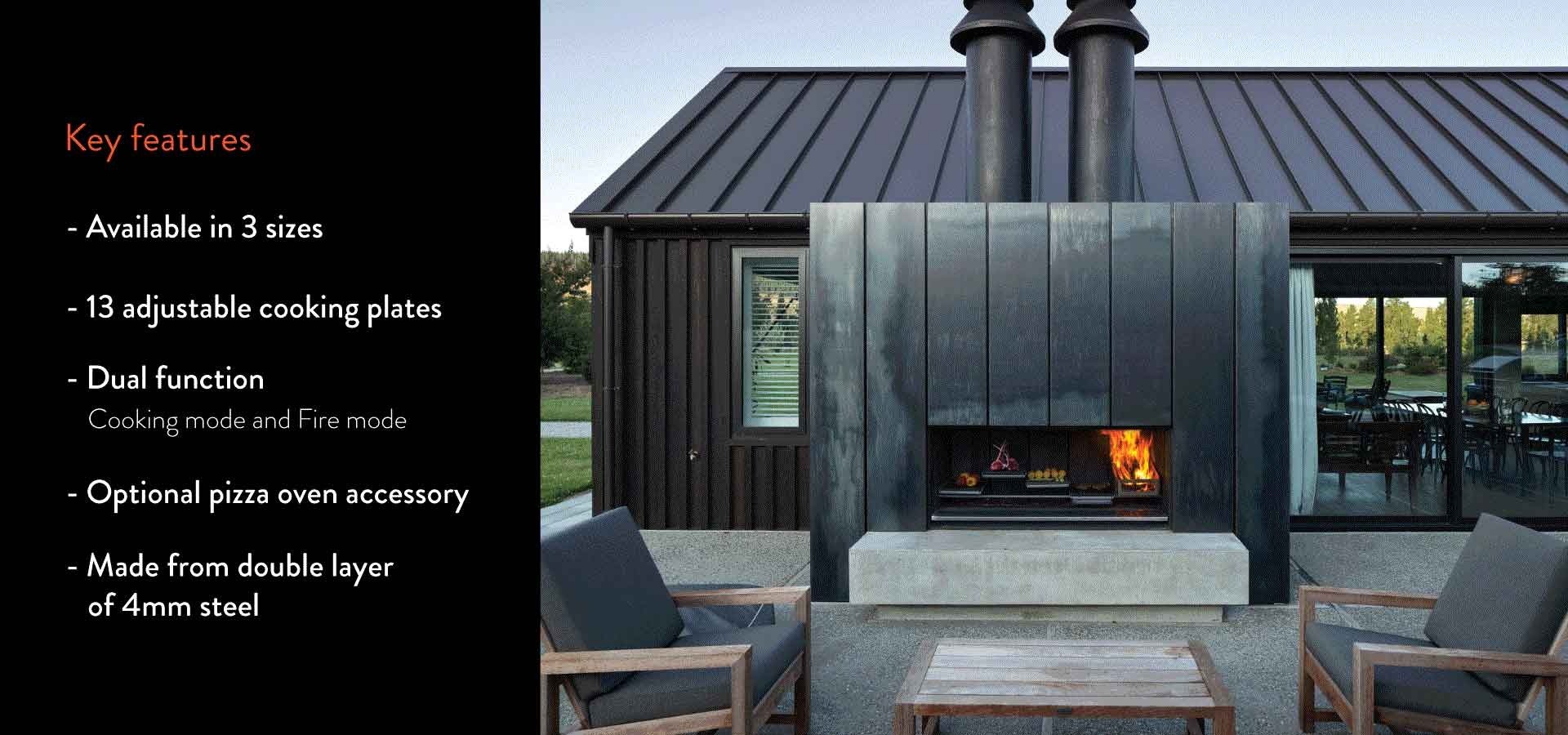 For those who love to showcase their culinary skills on the grill – the EK Outdoor Fireplace Kitchen is for you.
When designing the EK, Escea sought guidance from renowned chef, Greg Piner, to ensure the fire had all the functionality found in the kitchen.
Greg's expert advice along with the impressive creativity and innovation from Escea's team of engineers resulted in an impressive 'fireplace kitchen' comprised of cooking plates, grills, meat hooks, an ember generator, and even an optional pizza oven accessory.
A favourite amongst families that love to entertain a crowd, when the cooking is done the EK transforms into a roaring outdoor wood fire – beckoning family and friends to share a drink and linger by the flames.
Take me to the EK Series Outdoor Fireplace Kitchen.
EW5000 Outdoor Wood Fireplace
"A fire for the flame fiends"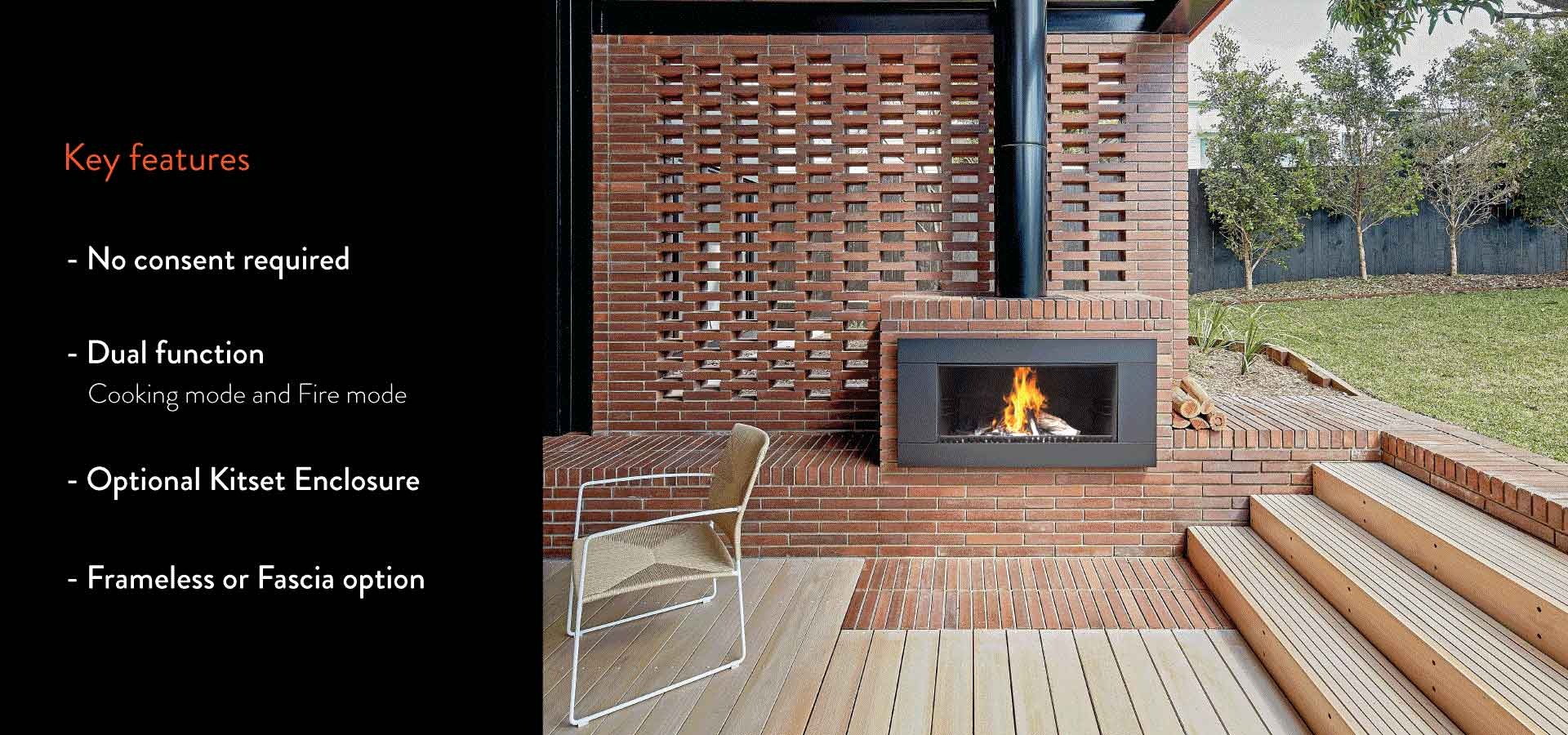 After a day spent on the boat or at the beach, nothing beats drying off by the EW5000 Outdoor Wood Fireplace. Ideal for those who want the rustic charm of a wood-burning fire on a slightly smaller scale.
Dual function, this fire is hands-on – with a cooking plate to flame grill your dinner while you bask in front of the flames.
Boasting the alluring impact of real flames, the EW5000 creates an intimate outdoor setting that brings back the basics of flame-grilled food and marshmallow toasting into the wee hours.
EF5000 Outdoor Gas Fireplace
"For busy lives and spontaneous nights"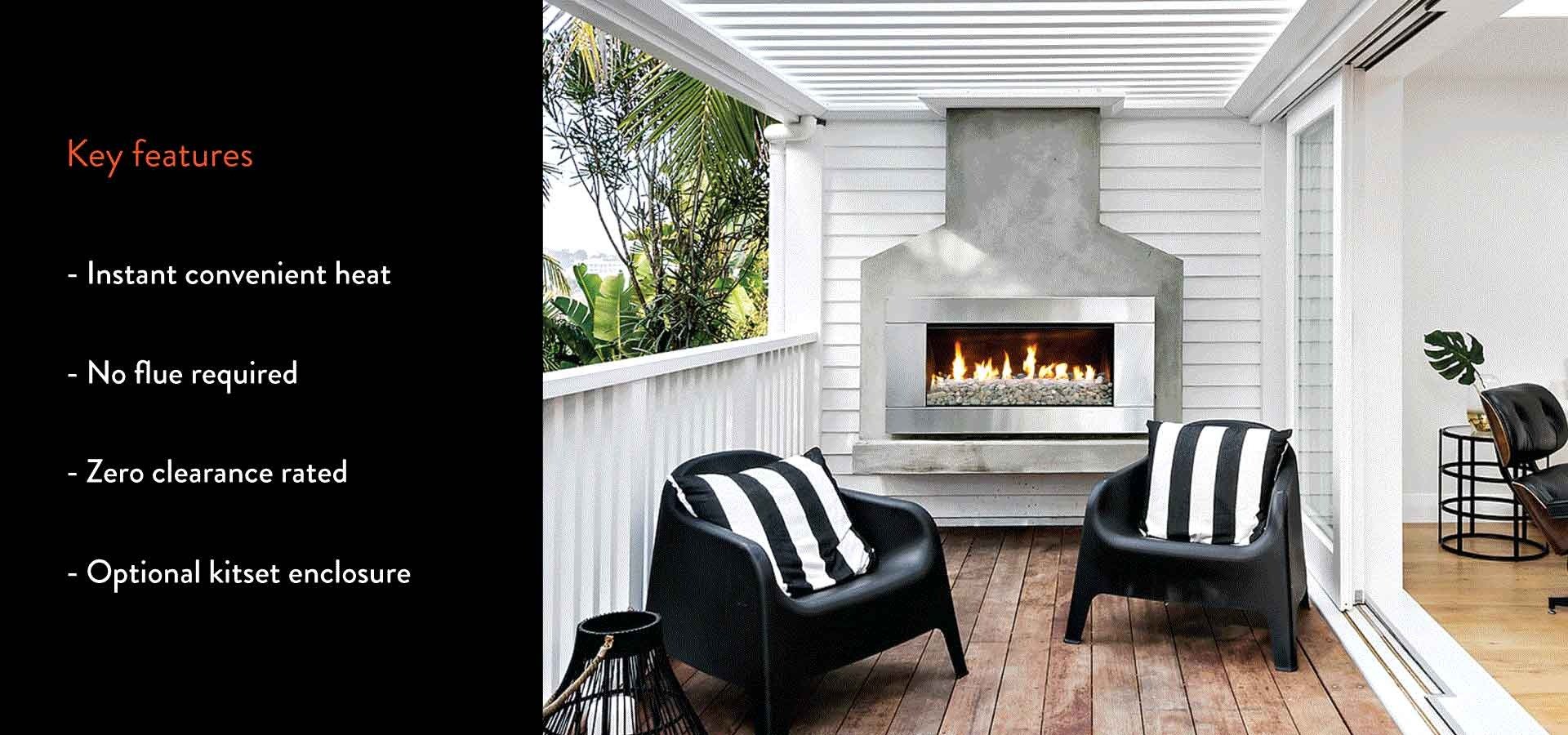 Made for busy lives, the Escea EF5000 gives you warmth and ambience at the touch of a button – so summer days can turn into summer nights, relaxing by flame. 
Because the EF5000 is open fronted, there's no need for a flue – all it needs is adequate ventilation making it perfect for inner city courtyards
And because it's gas, it's low maintenance, there's no need to chop and stack wood or tend to the fire every half hour – the perfect accompaniment to those spontaneous later afternoon cheese platters.
The EF5000 makes summer easy, so you can make time for the things that matter.
EP1350 Wood Fire Table
"For a 360 social summer"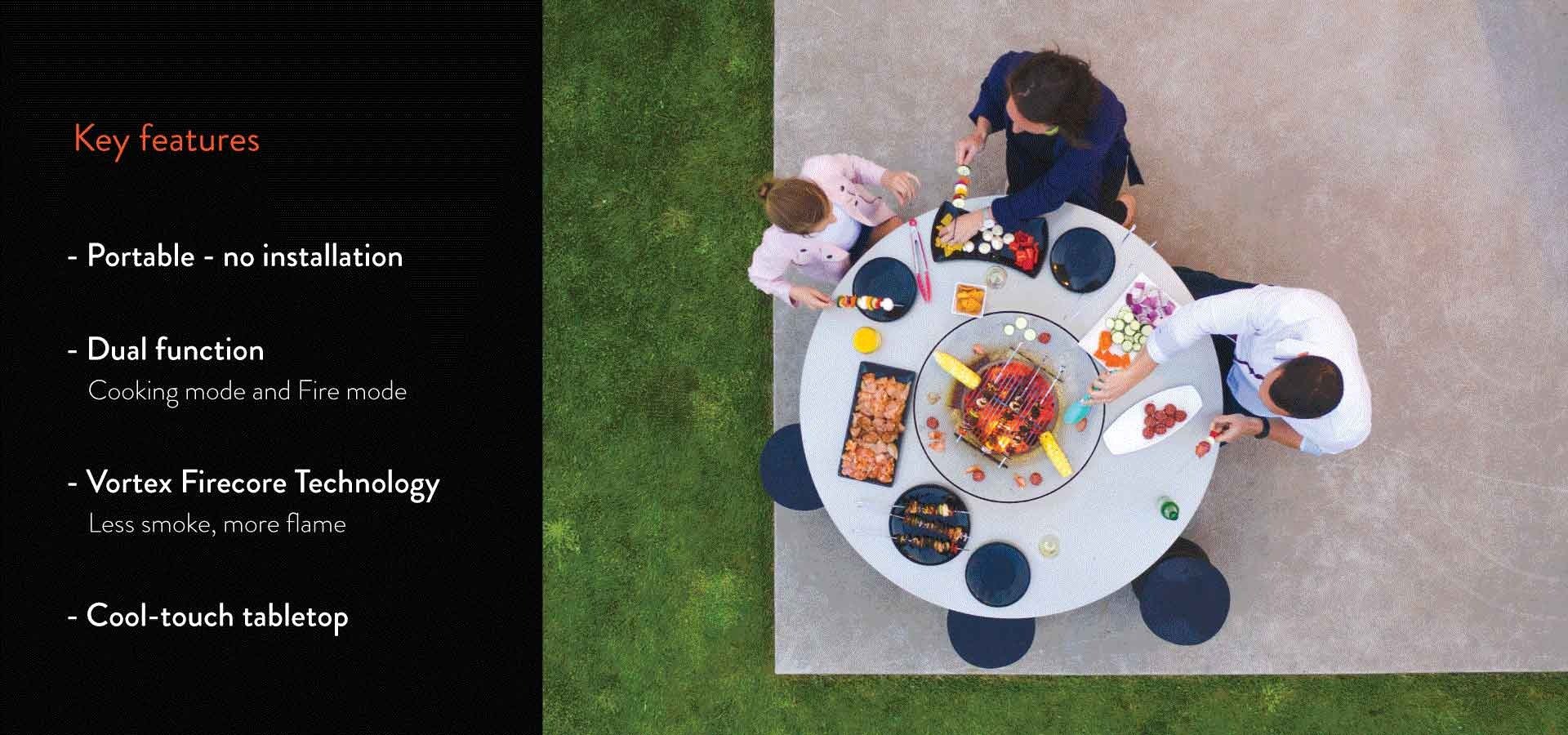 The Escea EP1350 Fire Table is all about being social. Inspired by the classic campfire, sharing the ethos of storytelling and connecting by flame, the EP1350 brings together food, flames, and family.
Freestanding and without the need for a flue, this fire requires no installation and won't get left behind when you move house.
Triple function, the EP1350 is a fire, a table, and a cooking appliance all-in-one.  With a kebab holder, grills, and a 360 cooking plate, there's ample room for everyone, and everyone wears the chefs' hat.
Escea's Vortex Firecore technology means the fire has more flame and less smoke, while the cool touch outer ring means you, and your drinks can chill.
All that's left is to break out the campfire songs and open the marshmallows and enjoy quality time with the people you love most.
Take me to the EP1350 Fire Table.
However you plan to spend time this summer – whether you're hosting a crowd, dining with the family al fresco, or slowing-down time with your significant other – Escea has an outdoor fire for you.