Which Outdoor Fireplace is for you?
When it comes to outdoor fireplaces, there are so many options on the market to choose from. Whether you're a serious barbecue cook or an urban city dweller, there is an outdoor fireplace out there for you.
To make your research and decision a little easier, we take a closer look at the Escea range of outdoor fireplaces, and help you choose the right outdoor fireplace for you, your lifestyle and your backyard.
Who's this good for?
Couples or families who love to host a crowd and entertain; home builders who want to design a house with seamless indoor-outdoor flow; design lovers who want to create an impressive alfresco feature; the dedicated barbecue cook who takes grilling very seriously.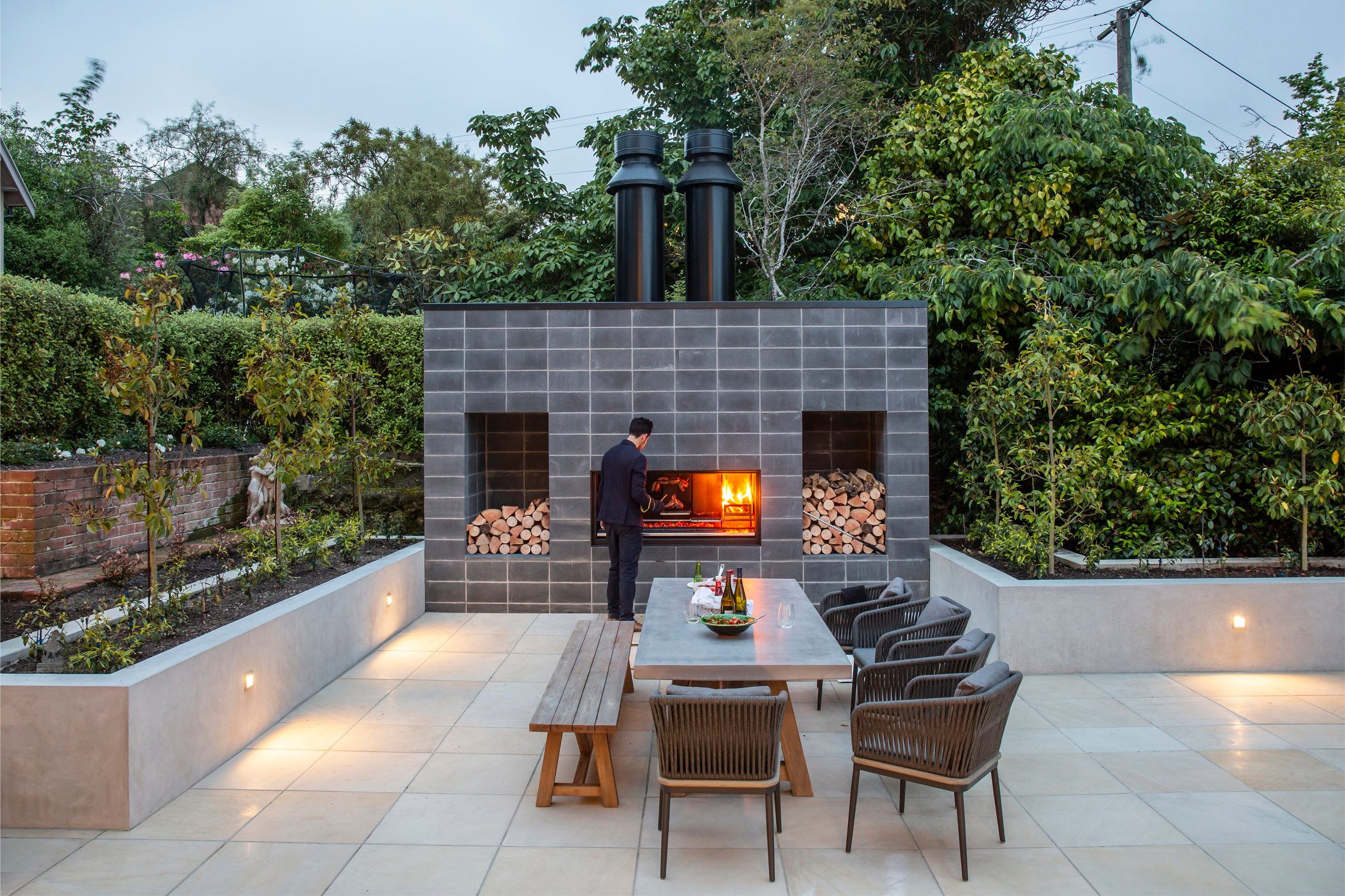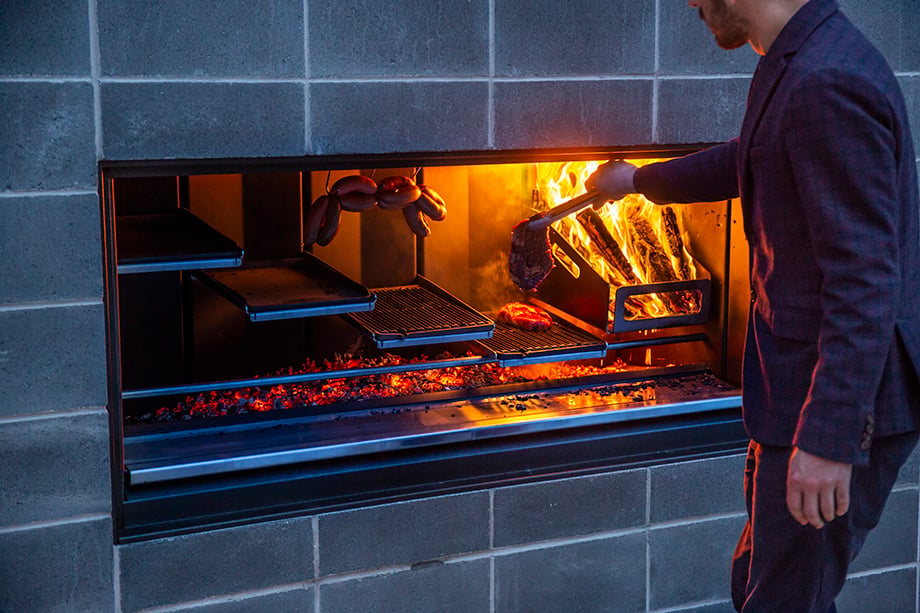 Pros:
Dual function – The biggest of Escea's outdoor fireplace range, the EK Series is the ultimate fireplace statement and cooking experience, all in one. Its dual function means you can cook on this fireplace, and then once the cooking is done, the grills pack neatly away into a hidden draw to leave you with a roaring fire.
Professional grilling quality – The cooking function comes with 13-point adjustable height cooking plates, grills and meat hooks – everything you need to make a smoky meat lovers feast.
Space saver – Instead of having an outdoor fireplace and barbeque, the dual function of the EK means you no longer need both.
Create indoor-outdoor flow – The EK can be attached to house for greater indoor-outdoor flow and convenience to the kitchen.
Built to last – Made from a double layer of 4mm steel, air-cooled fluted stainless steel back plates, and 25mm thick firebricks, the EK is built to last and withstand whatever you throw at it.
Three Sizes available – The EK Series comes in three sizes, so depending on your space there will be one right for you.
Pizza oven accessory - The EK Series Pizza Oven gives you a large, wood-fired pizza in 5-10 minutes. The hooded design directs heat down onto the top of the pizza, ensuring evenly melted cheese, while the brick base gives you a crispy pizza base. The oven's brick base is removable for easy cleaning. Constructed from stainless steel. Long handled pizza paddle also included.   
Things to consider:
Preparation – Being a wood-fuelled fire, you'll need to make sure you have a good dry supply of wood at the ready. It also takes a bit of time and attention to get the fire roaring, so if you're expecting guests, make sure you allow about 45 minutes in your hosting schedule.
Installation – The impressive size of the EK makes installation a little more comprehensive than a standard wood fire. Make sure you, your architect or designer reads through the specification and installation documents thoroughly before installing and check for any council consent requirements too.
Who's this good for?
Families and couples that love to entertain by real flames; new home builders wanting to create an intimate outdoor setting; the everyday barbecue cook and marshmallow toasting enthusiast.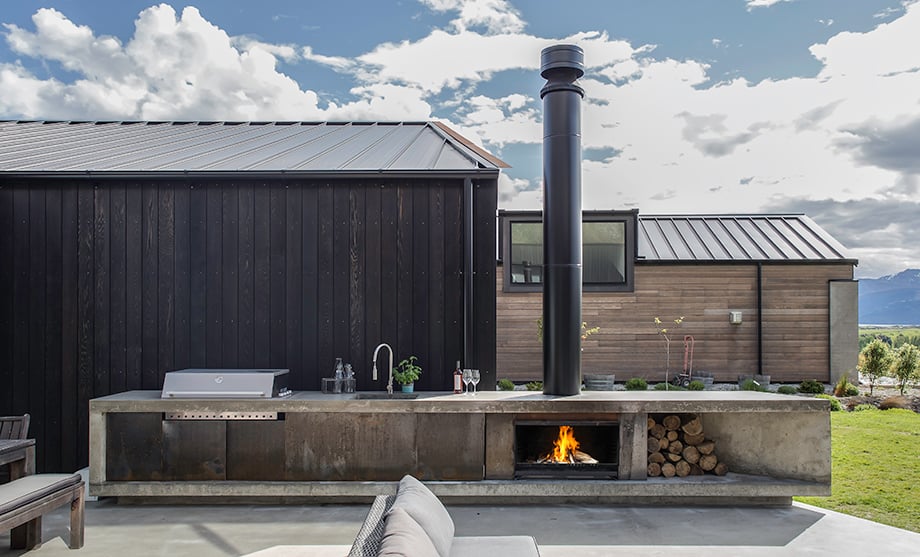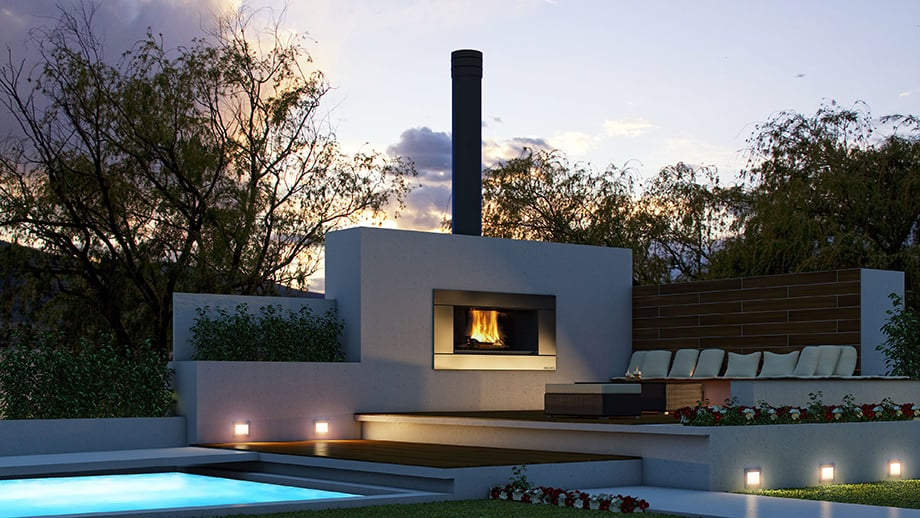 Pros:
Heat output – Being a wood fire, the EW5000 kicks out lots of heat, so will warm your outdoor space through all the seasons.
Dual function – The EW5000 has the same dual function than its big brother (the EK Series) meaning that you can cook on this fireplace, and then bask in front of it too.
Cooking Mode – The cooking plate can be placed at three different heights to regulate heat. When it's not in use, the plate conveniently slots under the ash pan.
No consent required – If the surrounding structure is freestanding, you might not need council consent. Just make sure you read through the specification and installation documents thoroughly beforehand and check with your local authority too.
Kitset enclosure – A ready-to-be assembled steel frame is available for those who don't want to build a structure.
Things to consider:
Preparation – Like all outdoor wood fires, make sure you always have a good, dry wood supply on hand.
Installation – This outdoor barbecue fire needs to be enclosed in non-combustible masonry, stone, concrete or brickwork and unlike the EK Series, this wood fire cannot be attached to a house. Make sure you check out the specification and installation guide for more information.
Who's this good for?
Busy families or retirees who don't have the time (or patience) for the admin of a wood-fire or space for wood storage; renters who want to take their fire with them when they move house; professional couples that want to get home and straight down to the business of relaxing; apartment dwellers or compact homes with small outdoor spaces; milder climates where ambience is more important than heat.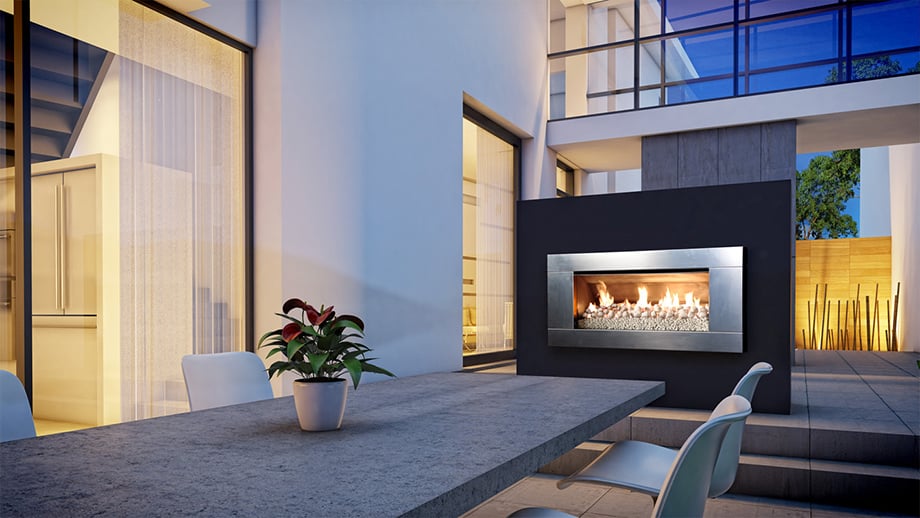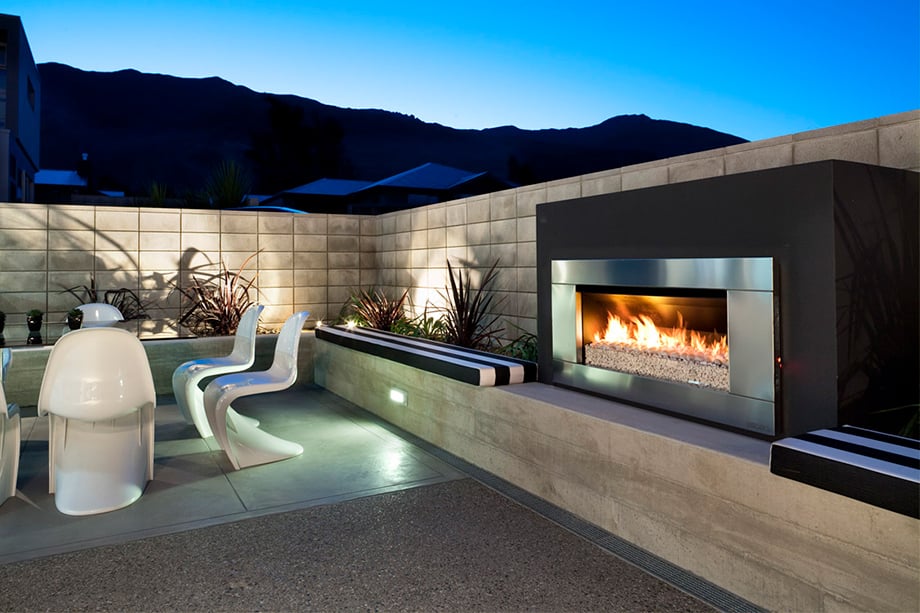 Pros:
Convenience – The EF500 offers quick convenient heat at the touch of a button, so you don't have to worry about chopping wood or lighting a fire.
Simple installation – This outdoor gas fireplace doesn't require a flue, so installation is simple and there's no flue blocking your view – perfect for apartments.
Surround Freedom – A Zero Clearance rating means it can be installed straight into any timber-framed or masonry cavity. This means you can even surround the EF5000 in timber.
Take it with you – Because the EF5000 doesn't need a flue and can be fuelled by a small LPG bottle, it can be installed into a freestanding structure on wheels. This makes it ideal for renters who can take it with them when they move, or for homeowners who want to move it around their backyard with the seasons.
Things to consider:
Heat output – Because the EF5000 is fuelled by gas it won't generate as much heat as a wood fire. It still pumps out 16.5kW of heat but is more suited to sheltered areas and for homeowners that love the ambience it creates.
Who's this good for?
Families who love to entertain a crowd and get everyone involved in the cooking; couples who want to create an intimate alfresco dinner setting; renters that can take their outdoor fire with them when they move; backyards that are tight on space and don't have room for an outdoor fire and barbeque; party-lovers who can't resist a fire-side singalong and marshmallow toasting session.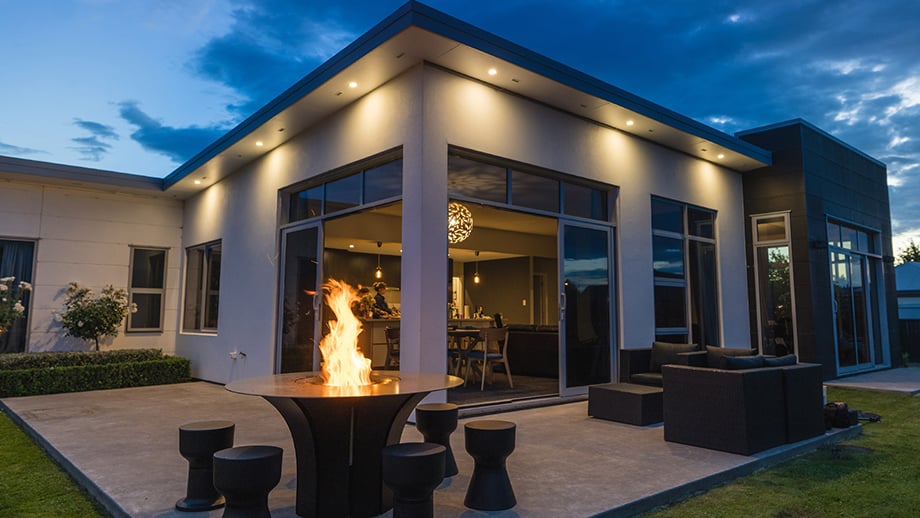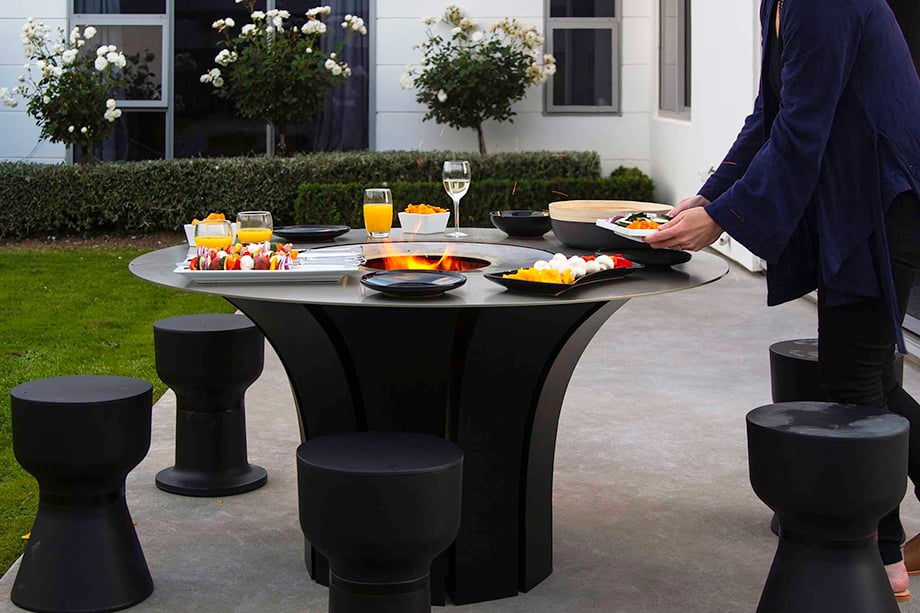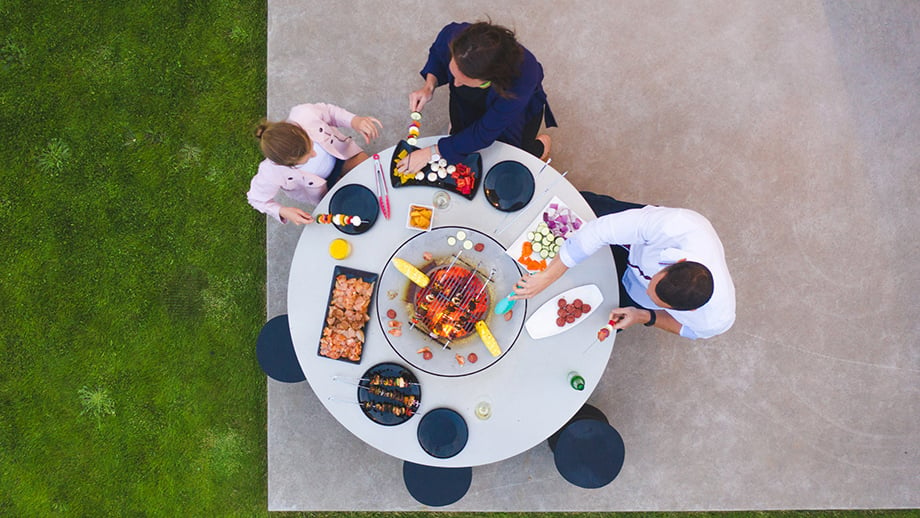 Pros:
Triple function – The Fire Table not only offers both cooking mode and fire mode, when not in use it's also a functional outdoor table.
No installation required – You don't need to worry about building an outdoor structure for this fireplace – it's ready go as soon as it lands in your backyard.
Less smoke, more flame – Because of Escea's Vortex Firecore technology, the flames are bigger and there's less smoke to avoid.
360° social cooking – The circular design of the table means everyone can get involved in the cooking, wherever they're seated.
Cool-touch table top – While the fire in the centre of the table is going, the outer ring of the table stays cool-to-touch. This means your drinks stay chilled and it's safe for little hands and paws too.
Space saver – The smaller dimensions of the Fire Table make it suitable for homeowners and renters who are tight on backyard space and don't have the room for a barbecue, table and outdoor fireplace.
Things to consider:
Preparation – As with other outdoor wood fires, you'll need to have a steady supply of wood or charcoal ready to load.
It's addictive – Once you try the Fire Table, you'll love it so much that you'll never need another outdoor appliance, ever.
Learn more about Escea's outdoor range of fireplaces here: EK Series, EW5000, EF5000, EP1350 Fire Table.