13 Recipes to try on the Escea Fire Table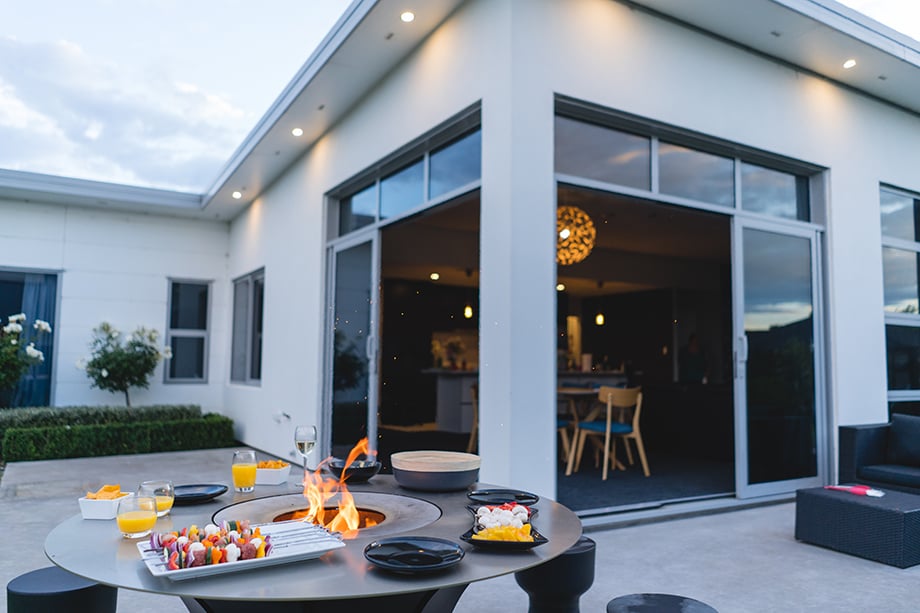 With its ability to bring people, food and flames together in an ingenious new way, the Escea Fire Table can take care of last-minute weeknight cooking, feed the entire soccer team, or host a crowd for late-night entertaining and star-gazing.
Its simple design means that it's easy to use whether you're cooking for two, the whole family or nosy neighbourhood – everyone can get involved and cook their food just the way they like it.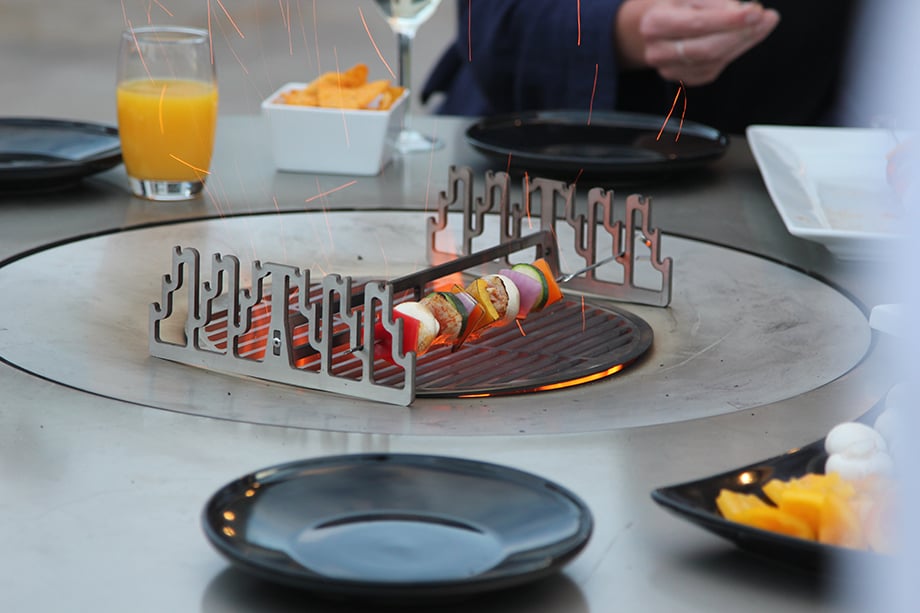 We recommend cooking with charcoal – this means it's easier and faster to get the ideal cooking temperature, plus Escea's Vortex Firecore technology means that smoke won't get in the way of some serious cooking action, wherever you're sitting.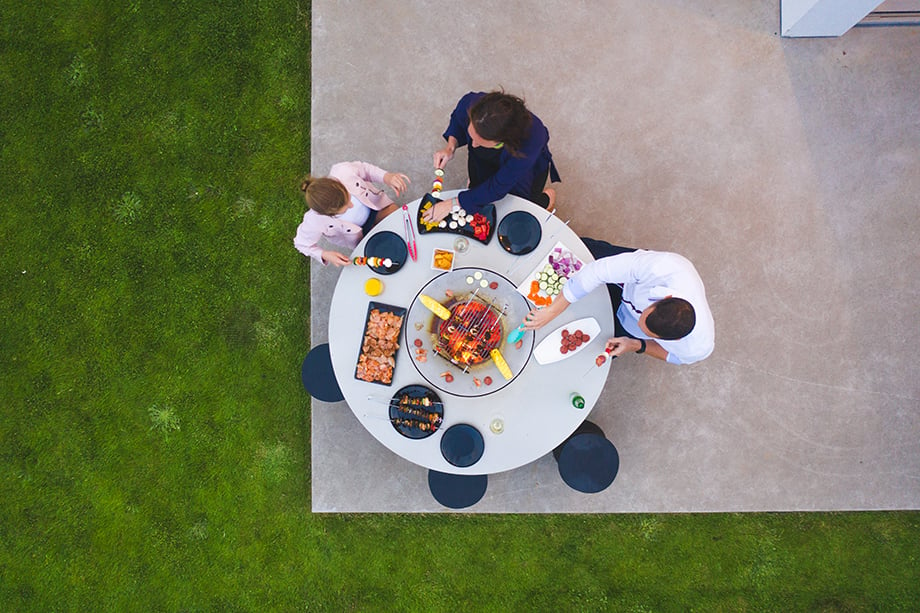 Once the meat is cooked, veggies are charred and the smell is too much to handle, simply serve on the cool-touch outer ring and dig in. No need to move an inch.
And then, just when you thought it couldn't get much better, remove the cooking grills, add some wood and get your marshmallow toasting game on.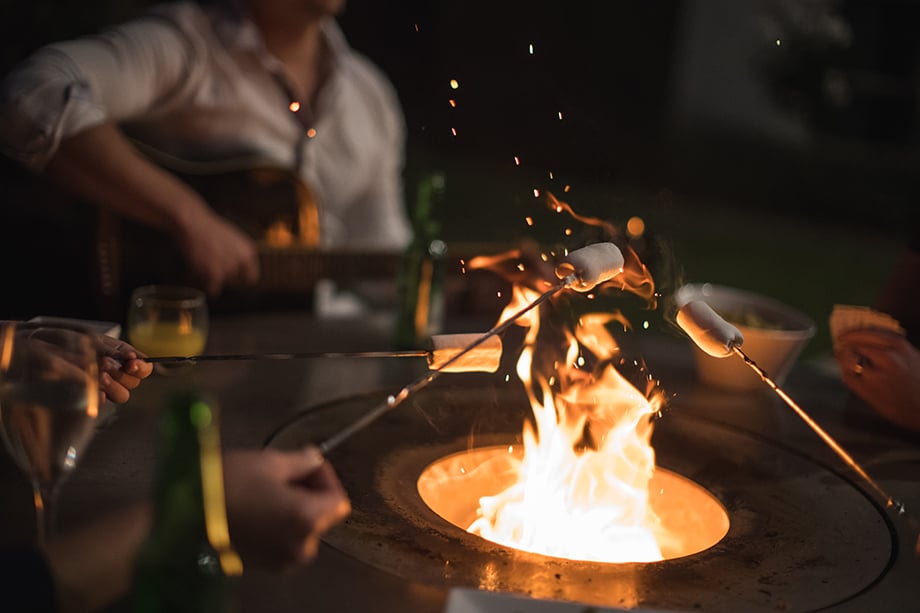 The Fire Table has three cooking modes to choose from – skewer, grill or hot plate.   So whether you're a kebab lover, grilling guru or hot plate perfectionist, your dinner party will be one to remember.  The hardest part will be choosing what to drink, where to sit and who to invite.
If you're in need of some inspiration and grilling recipes to tempt your taste-buds, we've curated some delicious recipes to try on each cooking mode of the Escea Fire Table.
COOKING MODE 1: SKEWER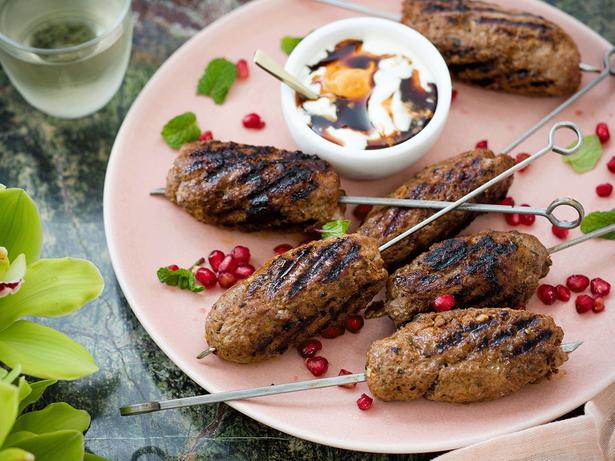 Lamb skewers. Picture / Babiche Martens
Fun to make and easy to eat, kebabs are a great way to get the kids involved and cater for a wide range of appetites and taste-buds. The Fire Table comes complete with a removable kebab holder and 6 skewers that sit over the central grill – the best way to break the ice get the night started. 
Try these delicious lamb skewers with pomegranate or if seafood is more your thing, you can't go past these tasty BBQ prawns with a tangy yoghurt and coriander sauce.
For something a little different, try these haloumi and chorizo skewers with a creamy chipotle dipping sauce. Yum.
COOKING MODE 2: GRILL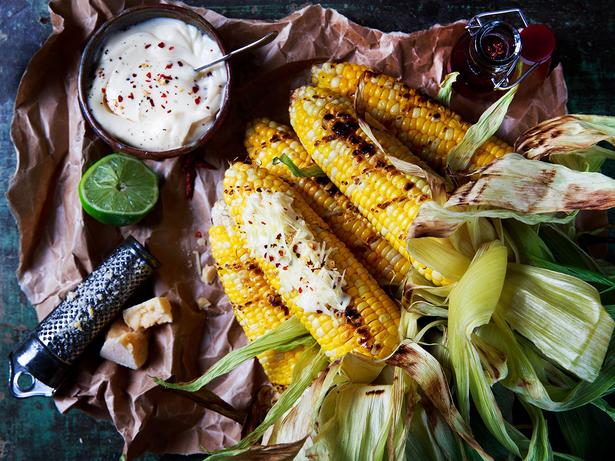 Corn with mayonnaise, parmesan and chilli oil. Recipe by Nici Wickes. Picture / Babiche Martens.
The central cooking grill sits right over the Fire Table flames, ready for your food to soak up that delicious smoky flavour. Keep a firm eye on your steak from every angle of the table (its 360° so you won't lose sight) so wherever you are, you'll always be in arms reach. Whether you like it well-done, medium rare or bravely blue, transfer it straight from grill to plate, cooked just the way you like.
Not just limited to a juicy steak like this buttermilk, jalapeno and coriander dish by Donna Hay, try your hand at grilled beef ribs or fresh snapper with ginger miso sauce. Not to be forgotten, the grill is perfect for veggies too. Try grilled eggplant or chilli corn on the cob as a side or served as a dish in their own right.
COOKING MODE 3: HOT PLATE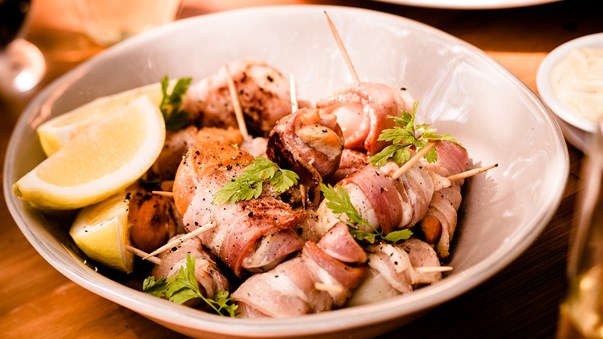 Seared scallops wrapped in bacon
The outer ring (or hot plate) of the Fire Table maintains a consistent medium heat that's perfect for chopped foods like onions or meat strips, or smaller foods like chicken wings with seasame honey. For seafood fans, try Nadia Lim's delicate yaki salmon skewers or seared scallops wrapped in bacon.
DECADENT DESSERTS
Although marshmallow toasting is quintessential to the classic campfire, the Fire Table is capable of so much more. Take your dessert game to a whole new level with tasty treats like a gooey chocolate marshmallow banana by Nadia Lim or Annabel Langbein's spiced fruit pouches.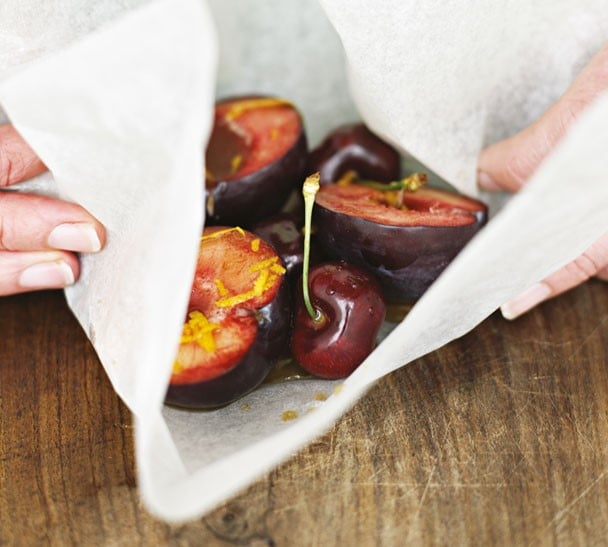 Hungry yet? Learn more about the Fire Table here or find your local stockist.