18 Inspiring Outdoor Spaces for Summer
If you're building, renovating or just looking to update your backyard, make sure you have everything you need to create an impressive outdoor area – somewhere to cook, something comfortable to relax on, something that makes a statement, but most of all, something to keep you warm and gather around – a beautiful outdoor fireplace.
With options to suit almost any outdoor living scenario, Escea has both outdoor wood and gas fireplaces to get your outdoor space summer-ready.
We've curated a gallery of inspiring outdoor areas with fireplaces for you. From wood fireplaces you can cook on, to gas fires that operate by the touch of a button, check out the gallery below to get your outdoor space ready for the upcoming alfresco season.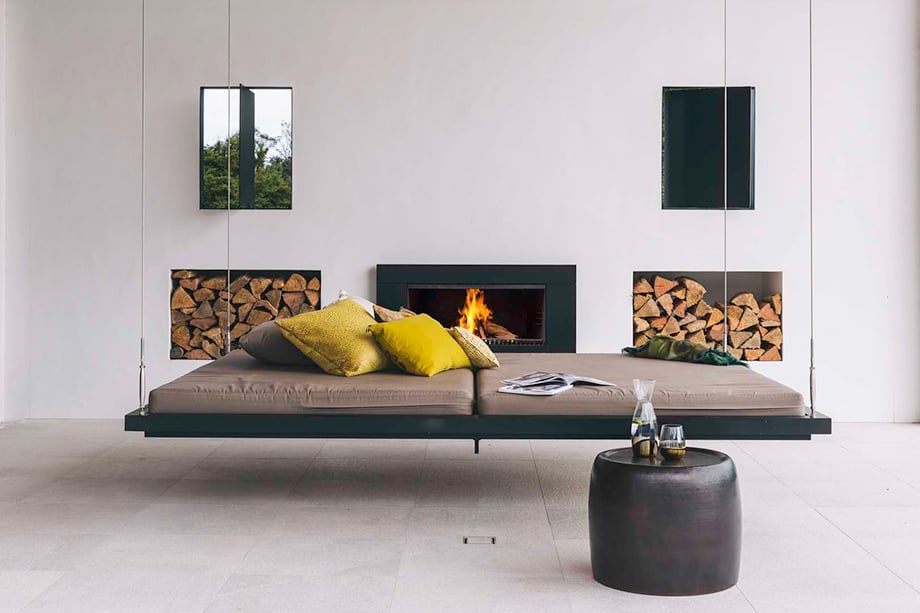 A fresh, modern outdoor space in Coatesville features the ultimate outdoor swing bed and claims prime position in front of the roaring outdoor wood fireplace. Design by Bindon Design Group. Image by Duncan Innes.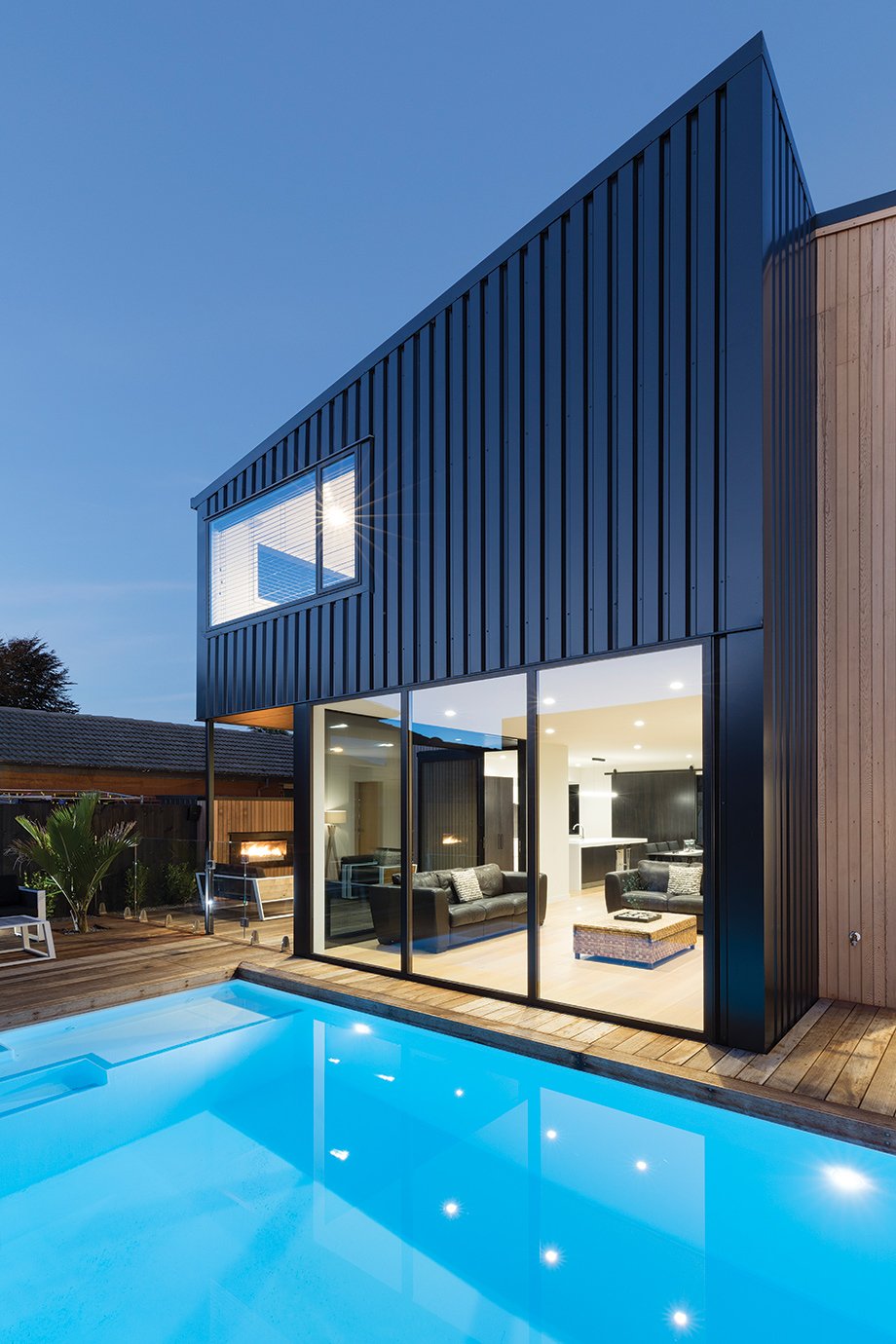 The strong angles and bold lines of this architectural home extend to the outdoor seating area which has easy access to both the kitchen and pool. Image by Amanda Aitken.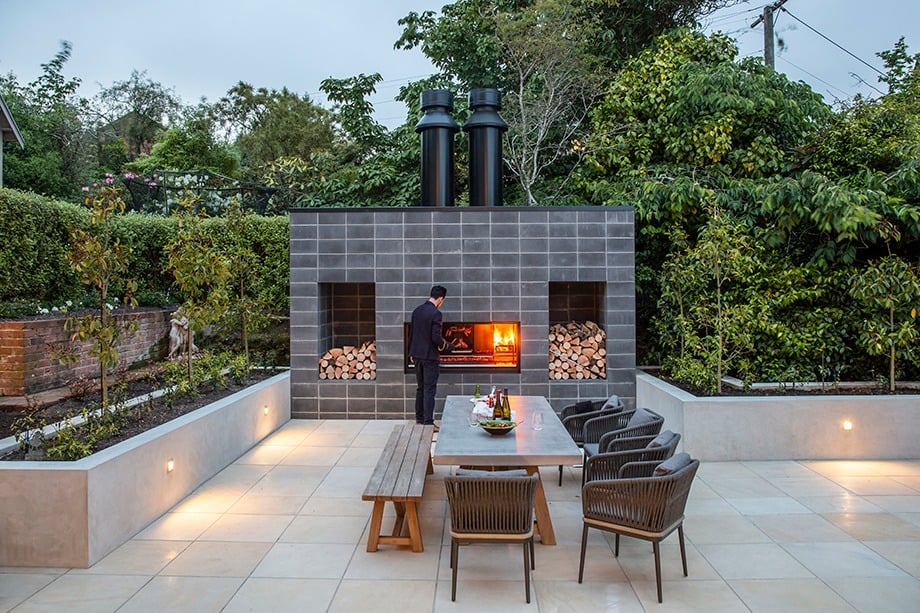 The EK Outdoor Fireplace Kitchen commands attention in the impressive outdoor courtyard by Inside Out Design. The large dining table with ample seating provides the ideal party-hosting spot while the cooking grills and wood supply are within arm's reach so these homeowners can stay outside all night. Image by Graham Warman.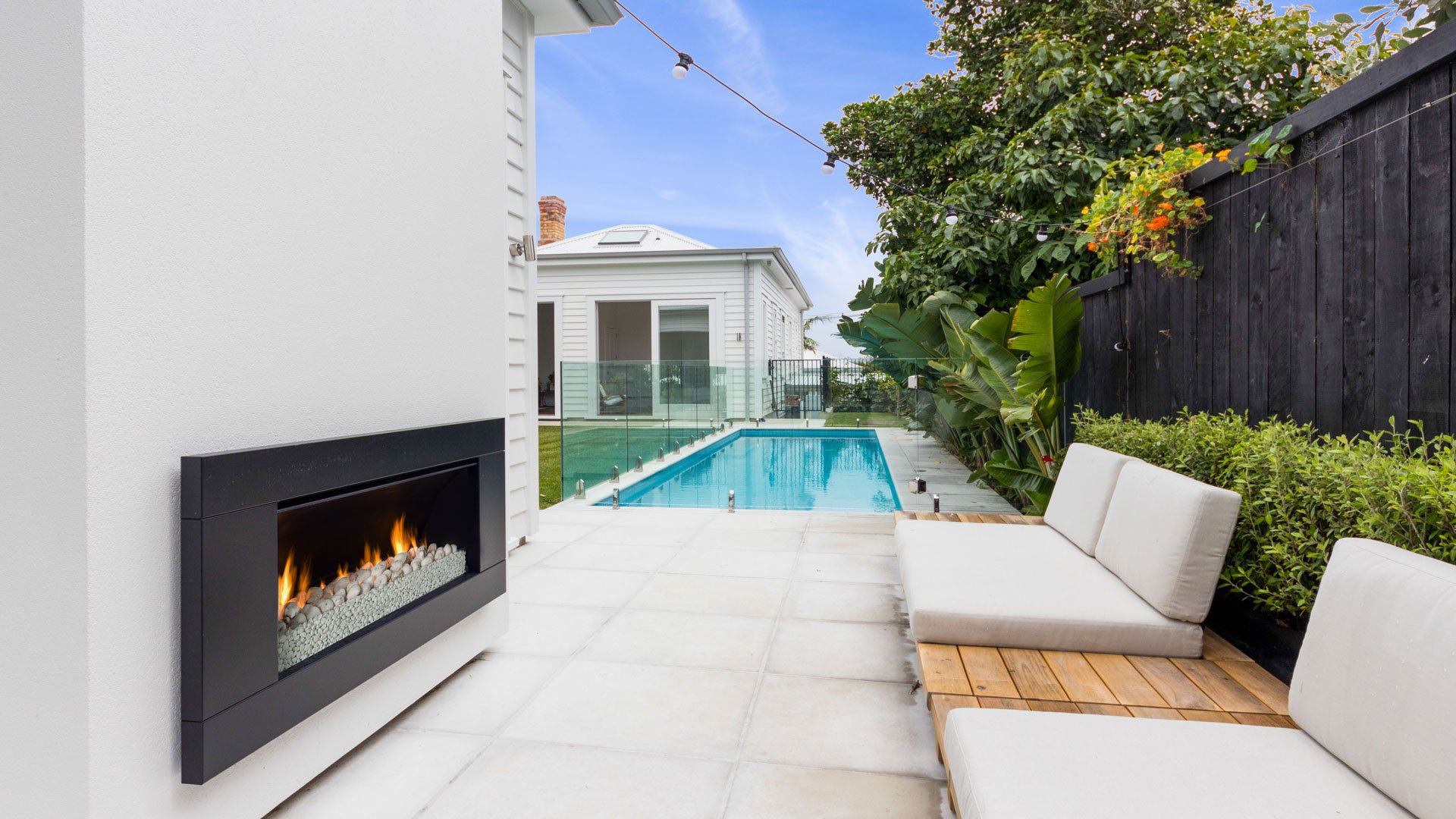 The EF5000 outdoor gas fireplace is positioned in a secluded backyard corner of this renovated Auckland villa. Built-in seating, light tiles and white fireplace surround combine to make the area feel spacious and bright – the perfect setting for an intimate drink at dusk. Design by Next Level Construct.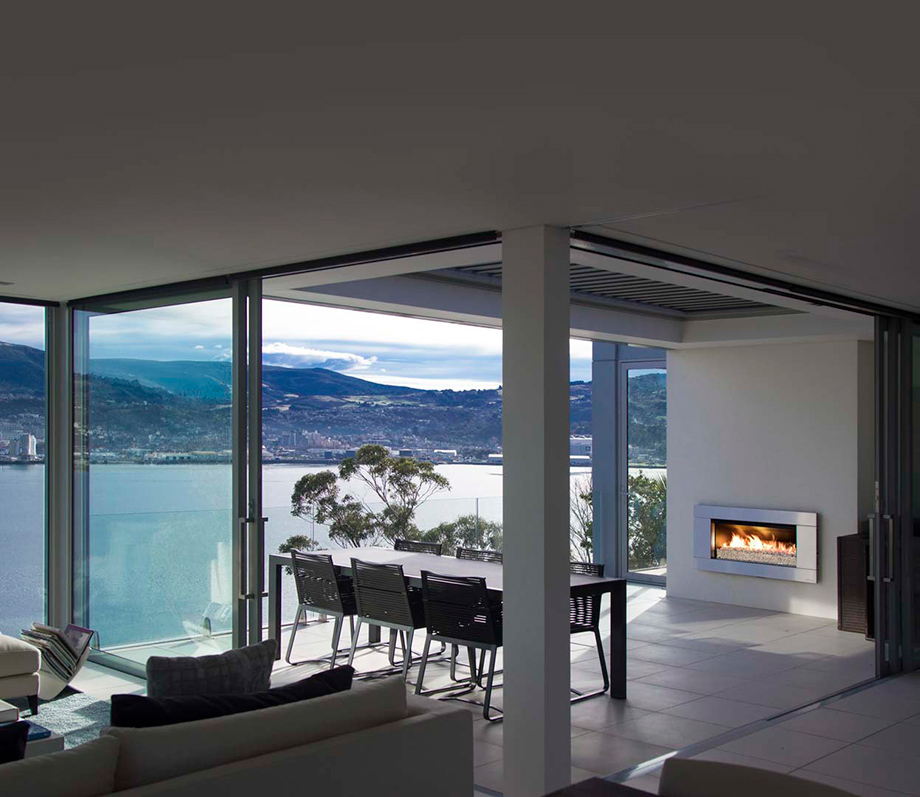 This harbour side sanctuary overlooking Dunedin's Otago Harbour has the perfect setup for entertaining late; the outdoor gas fireplace ensures dinner guests are kept toasty and warm while the close proximity to the kitchen makes trips to the bar a breeze. Design by Mason & Wales Architects.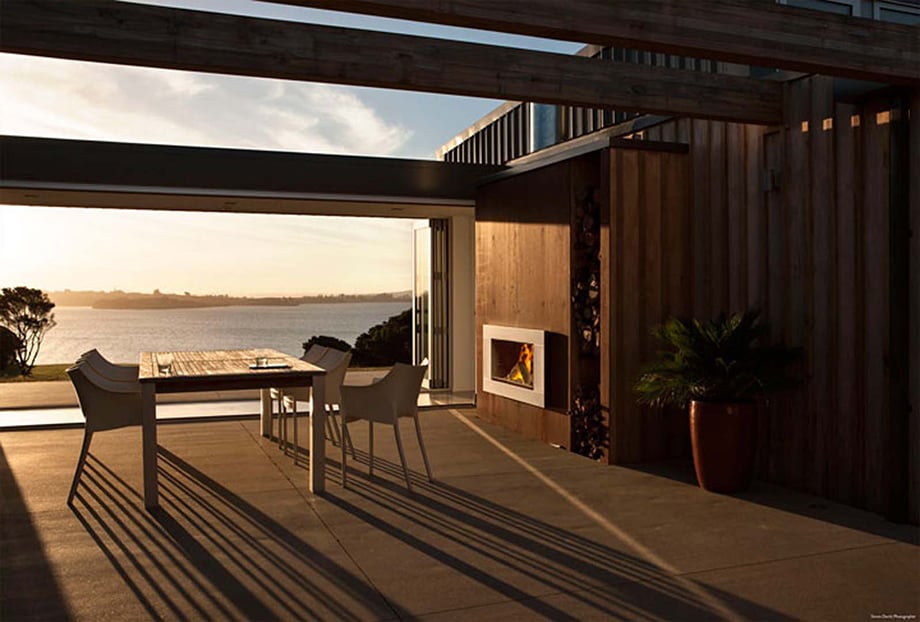 A beautiful view combined with the warmth and ambience of an outdoor wood fire creates the perfect alfresco spot for entertaining under the stars. Design by John Ingham. Image by Simon Devitt.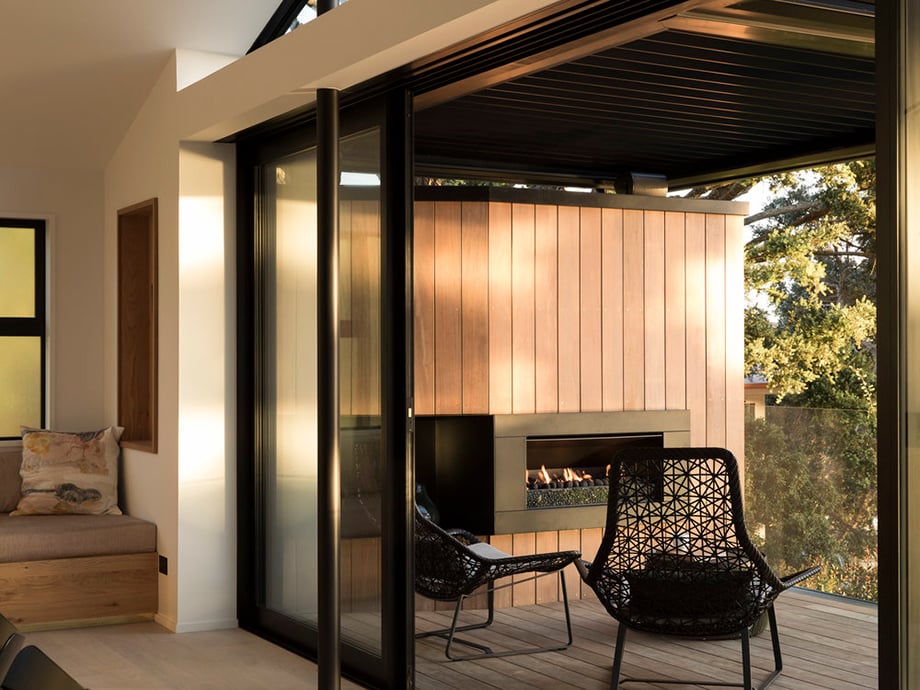 This award-winning home by Lloyd Heartly Architects is set amongst the trees with spectacular water views. The outdoor gas fireplace with timber lined surround, statement black fascia and stylish outdoor furniture create a sophisticated, serene balcony setting. Image by Simon Devitt.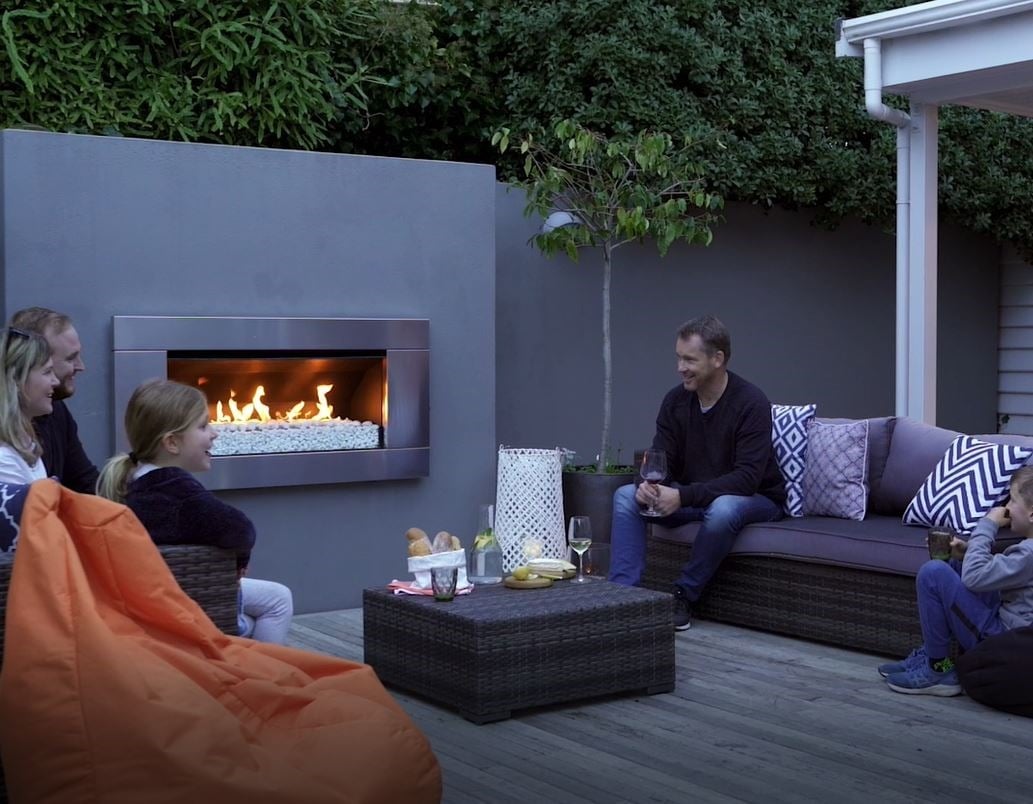 This impressive outdoor area by Dravitzki Brown features a custom built concrete kitchen to house the barbeque, sink, wood fire and storage – everything you need for entertaining this summer in Central Otago.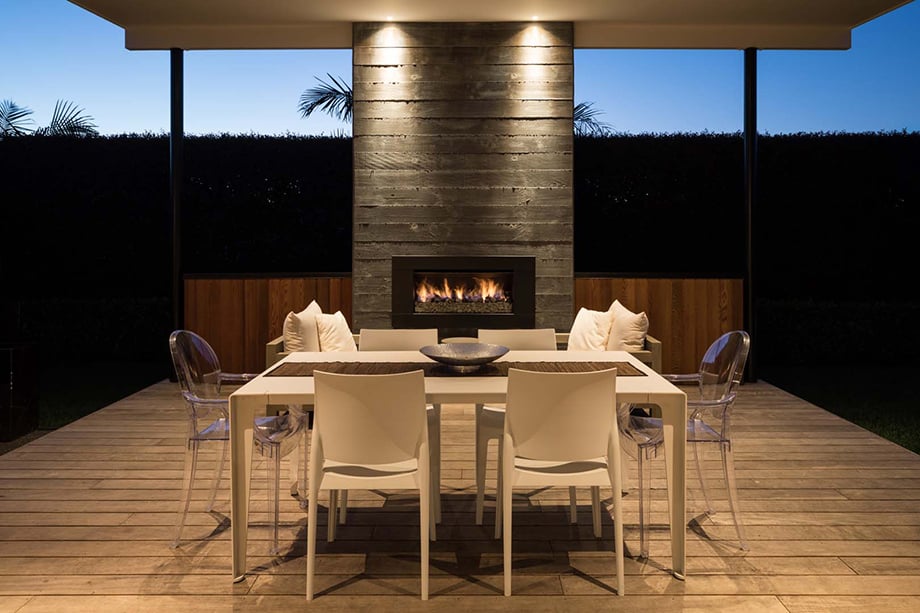 A full height concrete fireplace surround with spot feature lighting ensures the focus in this outdoor space is on the flames. Design by Creative Arch. Image by Mark Scowen.
This country retreat has the luxury of multiple outdoor living areas. The sunken lower level features the EW5000 outdoor wood fireplace that sits within an enclosed courtyard surrounded by vast lawn and idyllic views. Design by Dravitzki Brown.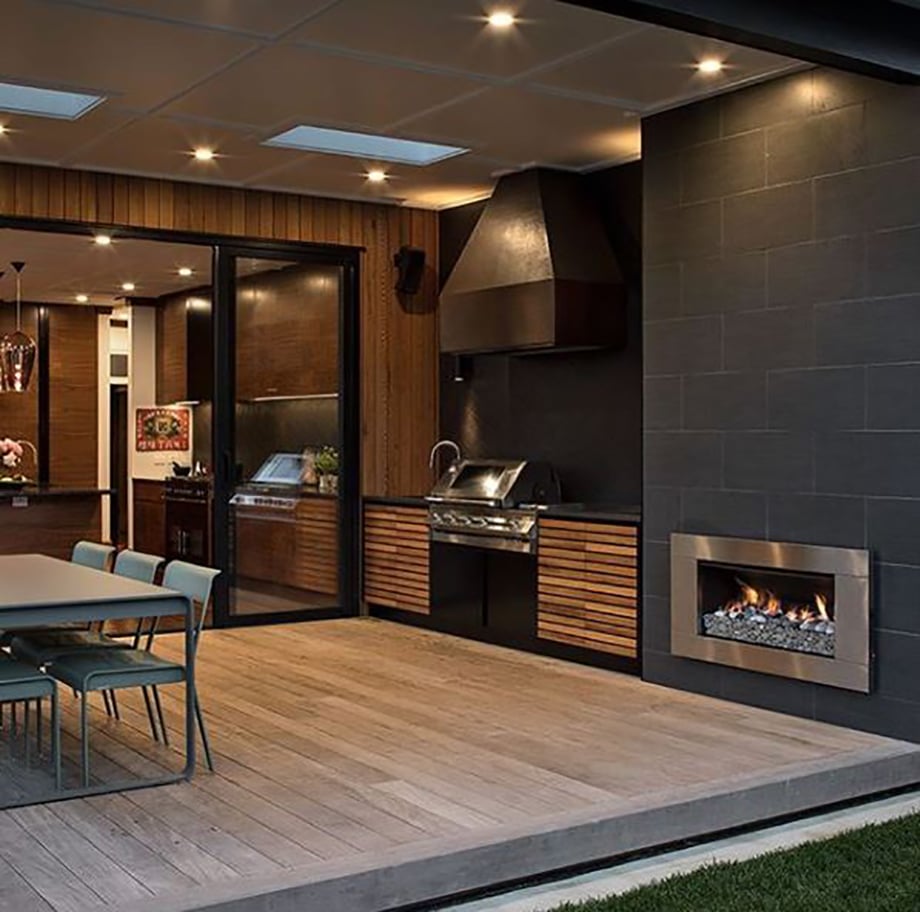 Designed by award-winning architect duo, Rogan Nash Architects, this home's kitchen flows directly from indoors to out via large sliding glass doors – the ultimate way to create indoor-out flow and maximise space.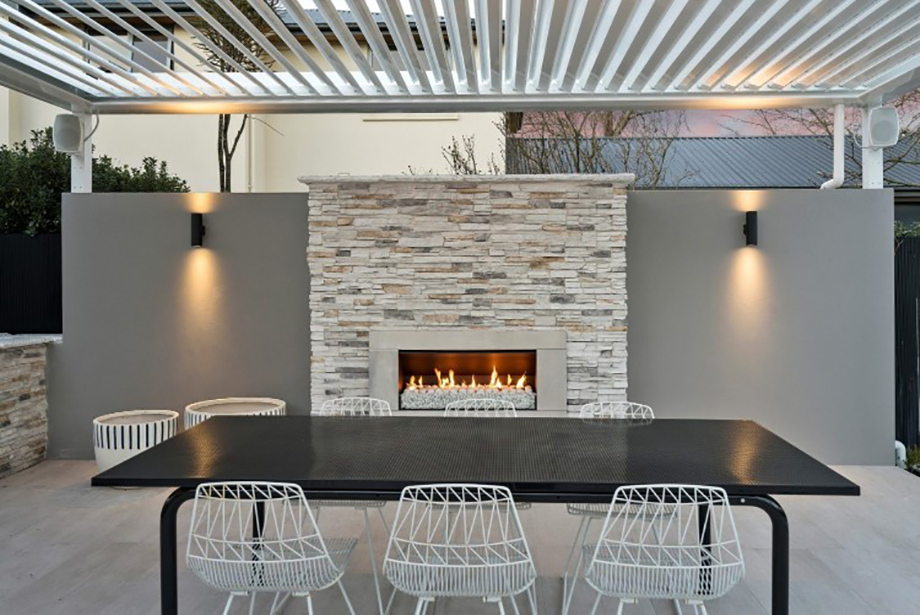 A mix of stylish outdoor furniture, feature lighting and stone tile fireplace surround create a light, fun space that's perfect for long nights stargazing and entertaining. Design by Foley Group.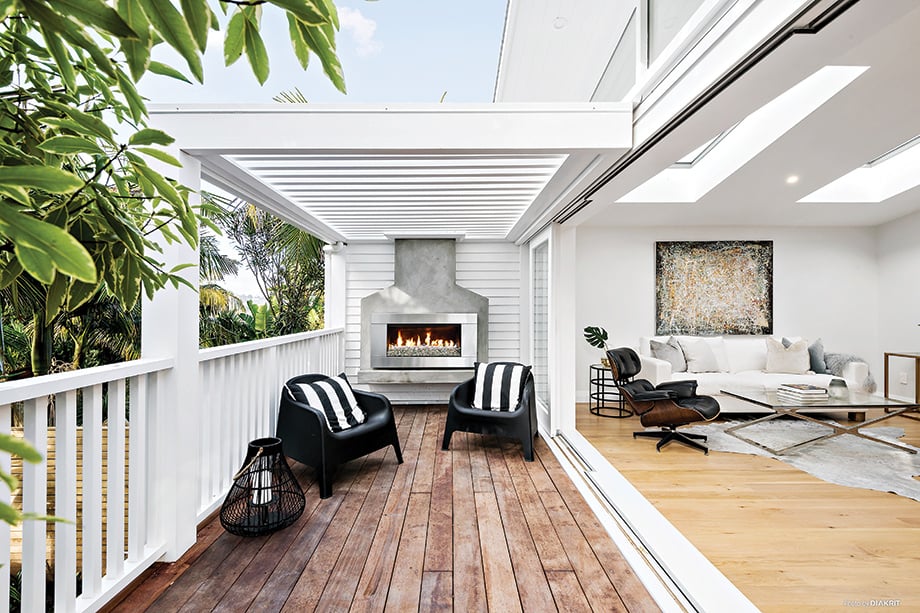 A renovated Californian bungalow in Auckland's Herne Bay features an outdoor gas fireplace with feature concrete surround. The weatherboard home with modern, minimalist furniture is set up for after-work drinks or long weekends grazing on the balcony. Build by John Kearney Builders. Image via Diakrit.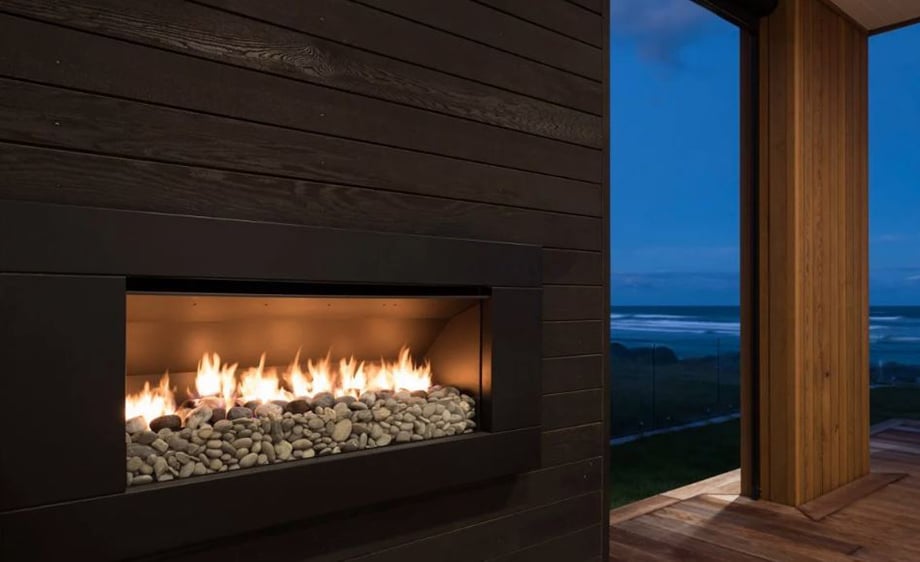 With unbeatable beach views, this outdoor area features an outdoor gas fire with NZ River Rock fuelbed – a fitting connection to the natural world and ocean beyond. Design by JMAC Architecture.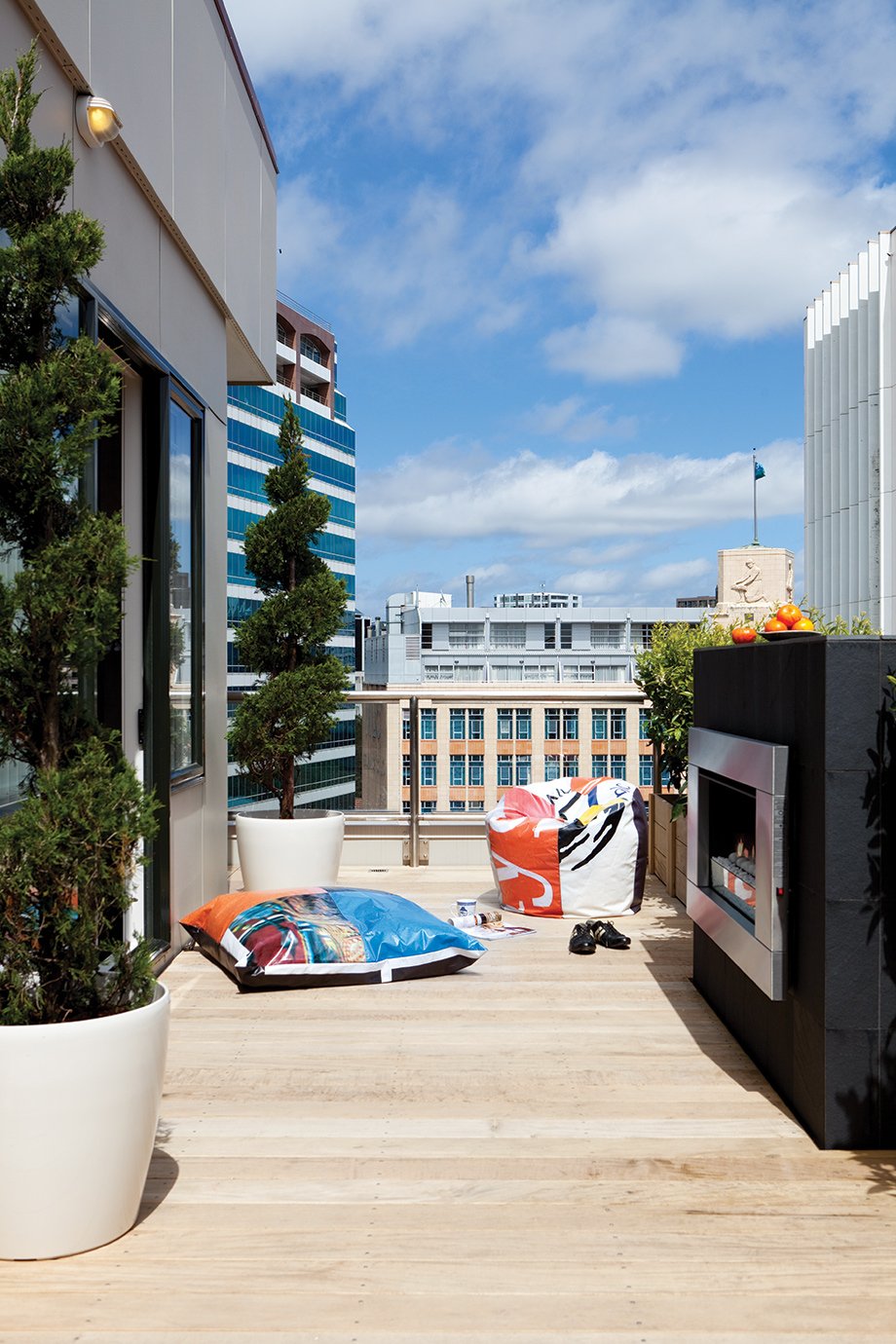 Stylish apartment living like this is possible with the Escea EF5000 gas fireplace. Statement pot plants and floor cushions add personality and flair to the compact outdoor space.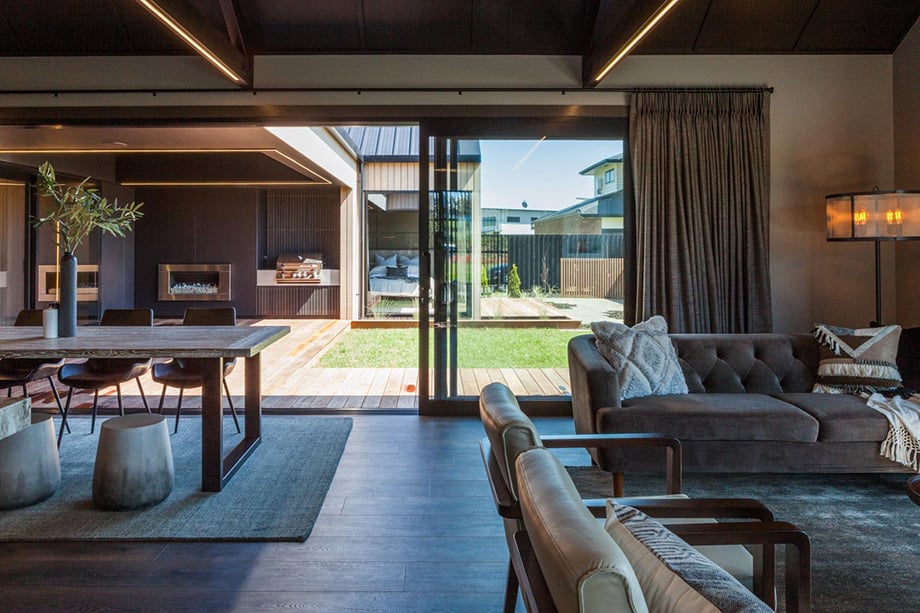 This country-style home features an outdoor kitchen that's central to the home's design and layout. Sliding doors and a floor level deck blurs the lines between indoors and out. Image via Turton Oliver Interior Design.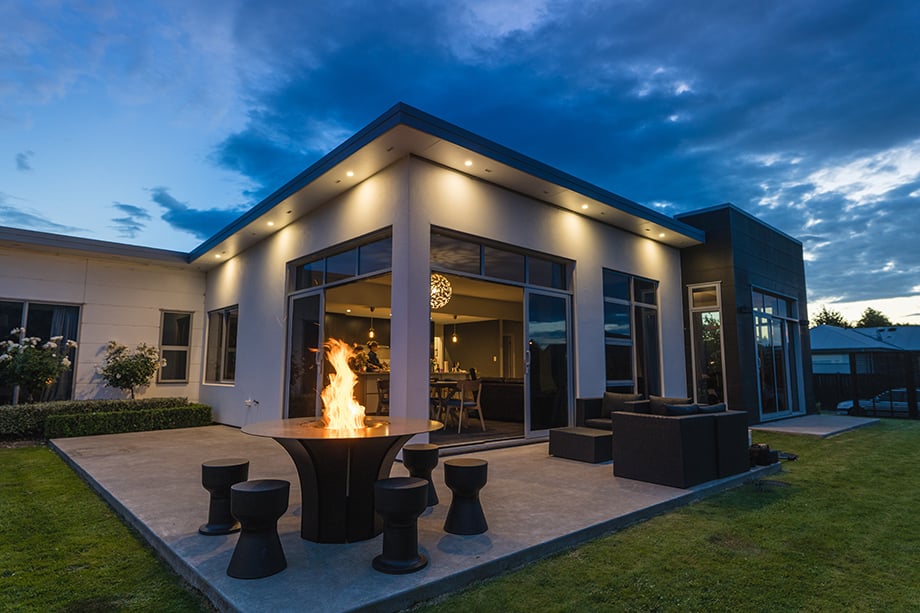 This modern Dunedin home ticks all the boxes for easy entertaining – indoor–outdoor flow, open plan living and an alluring outdoor space. Doors wide open, the patio becomes and extra room with the roaring Fire Table, the social hub of the house.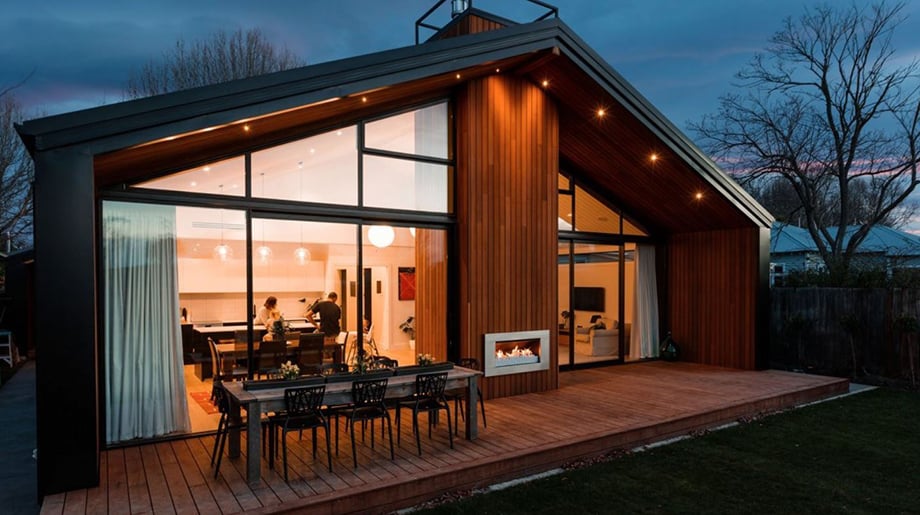 An outdoor gas fireplace attaches to the rear of the internal chimney, creating the perfect focal point for both indoors, and out. Image via Brad Richards Building.
Learn more about Escea's outdoor range of fireplaces here: EK Series, EW5000, EF5000, EP1350 Fire Table.