6 Steps to a New Gas Fireplace
If you've taken the first step and decided on a gas fireplace for your new home or renovation, you might be wondering 'what's next?'
We've put together this post to help you understand more about the steps involved in getting a new gas fireplace: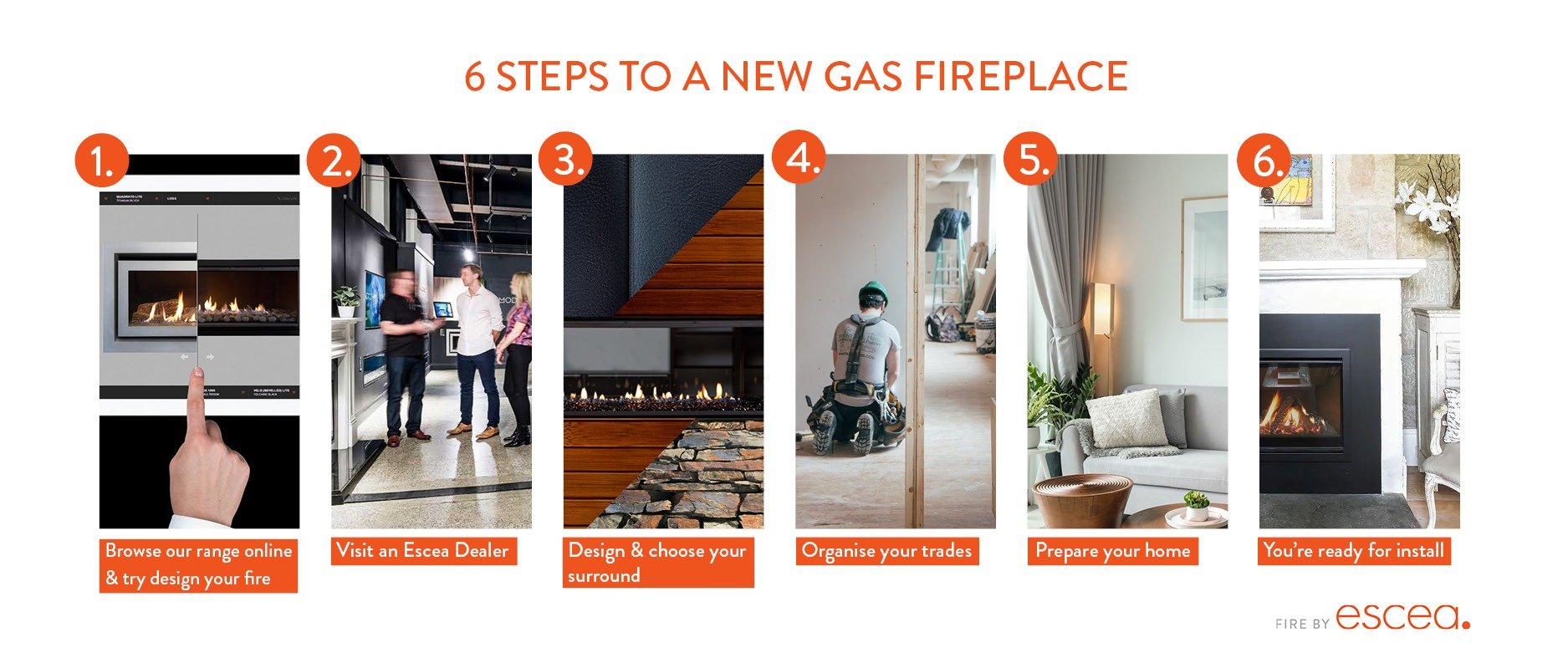 1. Browse our range online & design your fire
Have a browse through our product pages to learn more about our range and see what might suits your needs. And if you haven't already, check out Escea's online visualizer tool, Design Your Fire. The tool lets you visualise what your fireplace might look like by choosing a particular model, size, fascia, fuelbed, and surround. Have a play around until you find a look you love.
If you've got some further questions, take a look at our frequently asked questions section here.
2. Visit an Escea Dealer
By visiting an Escea dealer in person, you will ensure you get the best fireplace solution for you, your home and your lifestyle. The dealer will be able to discuss your personal requirements, for example, the size of the fireplace, heat output and budget, and find a fireplace that will fulfill all of your needs.
If you have house plans, make sure you take these along with you too. Once you've decided on a model that will be suitable for your home, you will also need to select the fuelbed, fascia and size (if applicable). Your dealer will then order the fireplace for you and get this process underway.
Find your nearest Escea Dealer here.
3. Choose your surround
If you're retrofitting a gas fireplace into an existing surround, you won't need to worry about this step. However it might be a good opportunity to update or refresh the surround with a sand, coat of paint, or even a good clean.
If you're installing a fireplace into a new surround, you'll need to decide what look you want to achieve and which materials you want to clad your fireplace with. It's a good idea to consult with your builder or architect early on in the process so you can design the surround, make plans and measure how much cladding you will need.
If you're working with a designer, they will help guide you with this step. Otherwise, you'll need to visit your local tiling stores, stonemasons, paint and wallpaper shops or consult with your builder if you're using timber cladding.
4. Organise your trades
Once you've designed the surround and chosen your cladding materials, you'll need to ensure all your trades are organised for the job.
You might need:
A builder or bricklayer for the surrounding structure and/or any other building-related work
A gas-fitter to install the fireplace and issue you with a code of compliance certificate. If you don't already have gas connected to the property, they will need to connect this too
An electrician will be required to install a power and data connection in the position the fireplace will be going
A plasterer, painter or tiler might be required depending on how you choose to clad the fireplace.
5. Prepare your home
If the rest of the room where the fireplace is going will remain intact, it's a good idea to put away precious items and cover furniture with dust sheets. If the rest of the room is getting renovated, then no doubt the room will be clear anyway so there's not much you need to do!
6.You're ready for install!
If you've followed all the above steps and have your trades organised to arrive in order, then simply keep an eye on the job, make sure everything is going to plan and be on hand to deal with any last minute decisions or issues that might arise.
Lastly, your gas-fitter will issue you with a code of compliance certificate and show you how to operate your new gas fireplace!