Renovating is in our blood. As Kiwis and Aussies, it's engrained in our DNA. We're not afraid of a little hard work or a challenge, whether we're DIYing or project-managing the process.
The trick to a smooth renovation (if there is such a thing), is knowing your strengths – what you can do yourself, and what you need to get the professionals in for. While it can be a rewarding journey, it's also quite a stressful time, with all the overwhelming amount of choices, decisions, deadlines, compromises and sacrifices.
That's why we've put together some helpful information and advice when it comes to choosing and installing a gas fireplace. At least we can help make this part of your renovation as straight forward as possible.
Whether you already know what you want, you're guided by your builder or designer, or you have completely no idea (don't worry, we won't judge) then great, you've come to the right place!
Let's start with the basics…
Why should I choose a gas fireplace?
We might be biased, but we love gas! From retrofitting (that's replacing an old fire with a new one) to installing brand new, heat output and fireplace surrounds, find out all the reasons why gas is the way to go:
And just in case you were wondering what all this fireplace jargon is about, get up to speed with our lingo here:
Are there different types of gas fireplaces?
Yes. Essentially there are three main types of gas fire installations: that's insert (or retrofit), in-built or freestanding.
The fireplace you choose will depend on a combination of things – like where in the house it's going, looks, heat output, efficiency and what type of installation you are doing.
For renovators, there are a few different options and looks you can go for. Find out about these options and see which will suit you and your home the best:
Help, I need some ideas!
Don't stress – we've got lots of examples and ideas to inspire you.
We've created a lookbook and it's full of gas fireplace design ideas for renovators like you.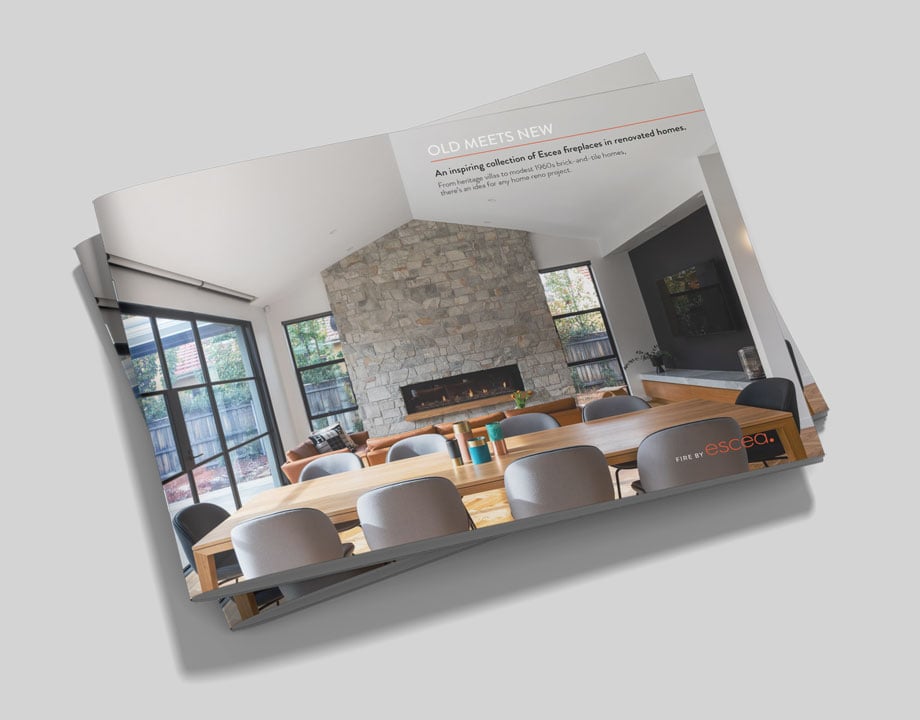 Download the Fireplace Renovation Lookbook here
See our fires in real homes & renovations
Take a look inside some real home renovations and see which type of fireplace installation they went with:
A Dunedin Edwardian Villa
Step inside this Dunedin villa and see how the homeowners transformed their character home with Escea's retrofittable fireplaces.