Sleek Modernity, Economic Heating in Seaside Suburb
A seaside suburban house floats above its flow path site and is "packed with good design," including an Escea DX1500 fireplace.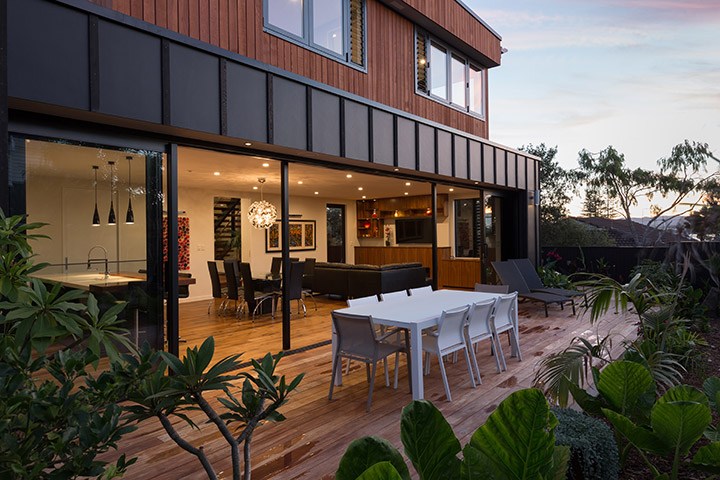 This striking home's flow path site constraints were a challenge to award-winning Architecture Smith + Scully. The requirement of a higher above-ground floor level resulted in tighter Height to Boundary and maximum height constraints, but there was an ensuing benefit: straightforward installation of heating for the whole house via an Escea DX1500 Gas Multiroom fireplace.

The 'Garden House' is a new home built in a seaside suburb on the city fringe closely surrounded by neighbouring properties. The clients are passionate gardeners but were content to be without a lawn. Although the site is landlocked, the clients wanted to be able to enjoy indoor and outdoor areas privately, at different times of day. As the home has a raised timber floor inside, it follows that outside a series of boardwalks also hover (above succulent tropical planting). The house directly accesses its above ground decks and has a resort-like feel.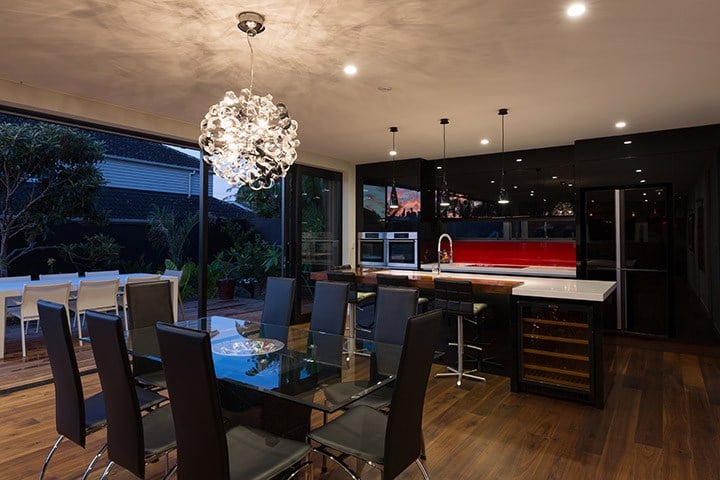 Clad in a combination of vertical cedar and cement sheet board & batten, the house weaves its way down the site around a set of courtyards which capture the morning, middle and afternoon sun. "We catch glimpses of the garden as we move around the house and we love that when we are outside – even though we are surrounded by houses – no-one looks in at us and it feels very private," the clients report.
The family speak of their new home's "comfortable living, with an element of luxury." To keep its light, airy feel but retain the house's heat, Architecture Smith + Scully ensured the house was well insulated and double glazed.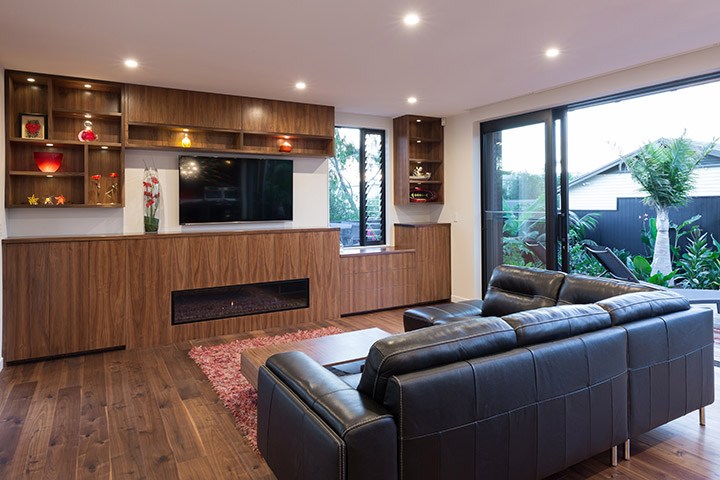 Heating for virtually the whole house is provided by an Escea DX1500 gas fireplace. The raised timber floor allowed for straightforward, economical installation. The fireplace is ducted to all downstairs areas and up to the master bedroom. "We chose the fireplace as our heating system for the look you get: it adds visual warmth to the house and is a focal point," tells the client. "Friends who had just built installed the same fireplace, and we were impressed by how it worked in their house."
The client also reports that the Escea DX1500 heats the house quickly – after just 10 or 15 initial minutes they turn the heat down. Coupled with their well-insulated house they find it's an economical heating system to run.
Architecture Smith + Scully report that well-documented technical information coupled with the services of Escea's architectural representative made installing the television directly above the fireplace fairly straightforward. Equally importantly – the Frameless model with Black Coal Fuel Bed met the "sharp, modern, contemporary" design aesthetic the client had requested. "The black coal fuel bed tied into the black kitchen at the other end of the room." the client says, "and we chose the frameless option because we wanted it to look sleek."