Jimmy and Tam, a married Plumber and Bar Manager from Brisbane, were assigned with turning House No.5 into a Modern Mid Century retreat – the most recent era of styles used for inspiration on this year's season of Three's The Block Australia.
Take a look inside and see how they incorporated the Escea DF960 into their renovated living room.
The Living Room
Big on functionality and simplicity, Mid-Century Modern style is probably the most understood and iconic of all the eras on Three's The Block Australlia, but it's also one of the hardest to pull off! With clean lines and gentle organic curves, the style is known for its mix of materials, shapes, patterns and designers, and it isn't uncommon to see all these features used in contrast together – in fact, that's what makes Mid-Century Modern what it is.
Timber furniture was (and still is) a staple of the era, as are bold prints and futuristic design elements. Metallic materials like chrome and brass were popular while oversized leafy plants were making their way indoors at this time too. Large pieces of statement art were also essential, and lamps were often used for their artistic element. When it came to fireplaces, stacked brick surrounds and even rounded, suspended fireplaces were the go-to.
Jimmy and Tam had great fun experimenting with the bold style in living room week. Although they finished in 5th place, there's no doubting what era their living space was inspired by. Timber furniture was used throughout, while plenty of indoor plants add life to the space. A metallic floor lamp adds contrast against the white walls and a large pastel artwork sits proudly about the built-in stacked brick fireplace.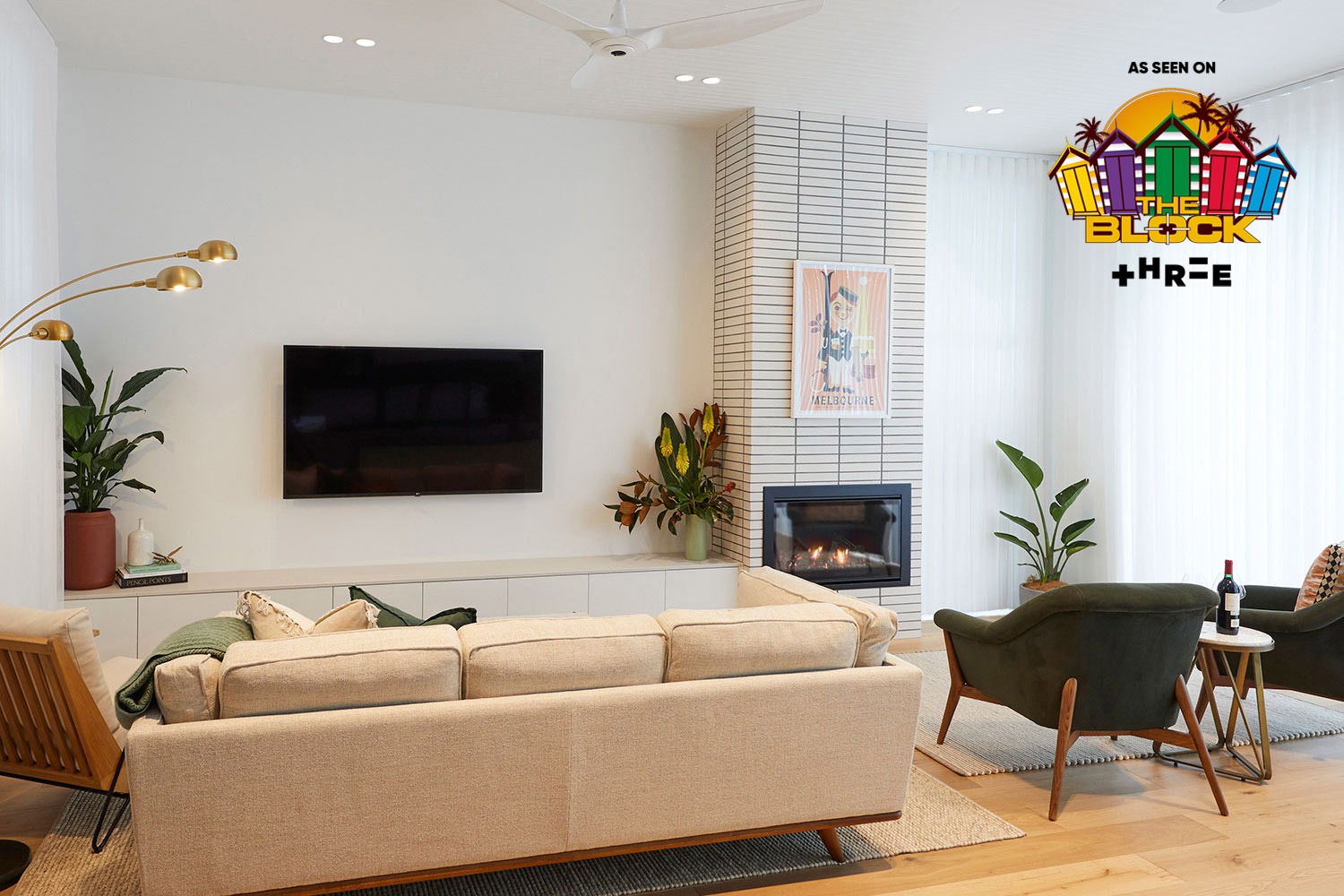 The Fireplace
Jimmy and Tam chose the Escea DF960 gas fireplace for their living room, and like Luke and Jasmin, they chose to position their fireplace over to one side of the room. By doing this, they created two smaller, subtle zones within the same living space. The zone around the fireplace uses two armchairs and coffee table to create an intimate area for flame watching, while a sofa is positioned facing the TV for comfortable screen viewing. Because the armchairs are easily movable, the room can easily be reconfigured to suit its homeowner's lifestyle or mood at the time.
The stacked brick fireplace surround is typical of Mid-Century Modern homes and makes the fireplace a real focus point. The slim clean lines of the DF960 gas fire ensures it fits into the era's aesthetic, as does its combination of form and function – a fireplace that not only looks stylish but actually heats too.
Escea DF960 Gas Heater
Escea had renovators in mind when designing the DF960. Smaller dimensions and flexible installation make the DF Series ideal for retrofitting into existing cavities. Like other Escea gas fires, the DF960 uses Direct Vent technology, drawing from outside the home into its sealed unit, keeping your home free of moisture and fumes.