Luke and Jasmine, the dynamic duo from Perth and parents of two, were challenged with transforming House No.4 into a 1910s Edwardian masterpiece. The carpenter and kindergarten teacher created a room that Darren said was 'photo shoot-ready' and fits in with the rest of the house perfectly.
Take a closer look at their living room and the Escea DF960 gas fire featured to finish in 4th place.
The Living Room
In the early 1900s', Australian's created their own spin on traditional Edwardian style – a light, bright and airy interior that captures 'expensive simplicity'. From the outside, the Australian-influenced Edwardian style of home is similar to Tudor style or the popular cottage look, often with steeped pitch roofs and red brick cladding.
On the inside, you'll see Victorian influences and embellished detailing, especially in the way of plaster ceiling roses and cornices, skirting and architraves. The interior walls were mostly timber painted white, with a hint of pastel and informal, feminine touches.
Luke and Jasmin nailed the brief – their renovated living space reflects everything we love about Edwardian style in a uniquely Australian way. The room has been painted white, with soft white curtains and creamy lounge furniture. Timber detailing has been introduced in the herringbone coffee table and doweling at the base of the fireplace hearth. And to complete the look, timber and wicker furniture has been chosen for the dining table to create a laid back all-Australian living space.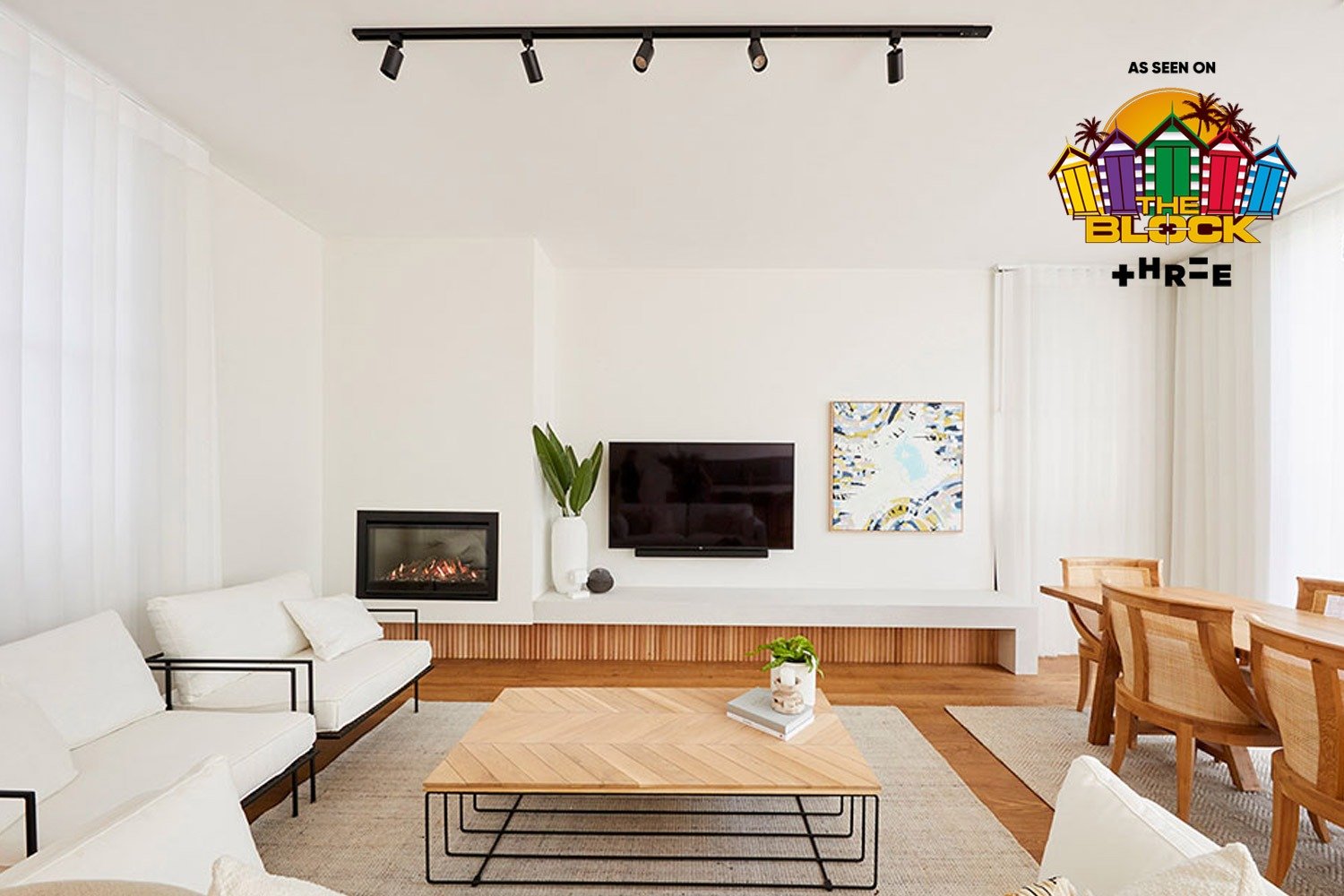 The Fireplace
Luke and Jasmin chose the popular Escea DF960 for their Edwardian influenced living space. Unlike most other houses on Three's The Block Australia this year, Luke and Jasmin chose to position their fireplace off-centre – a great choice if you want to choose between TV watching or soaking up the flames. The white, full width hearth lengthens the room, while the full height built-in surround accentuates the room height – both clever techniques to make the space feel roomier than it actually is. The timber doweling used underneath the hearth is a contemporary reference to Edwardian timber embellishments, while adding interest and drawing our attention to the stylish fireplace at the same time.
Escea DF960 Gas Fire
Smaller dimensions and flexible installation make the DF Series ideal for retrofitting into existing cavities. Like other Escea gas fires, the DF960 uses Direct Vent technology, drawing from outside the home into its sealed unit, keeping your home free of moisture and fumes. With a number of fascias and fuelbeds to choose from, the DF series can be customised to your personal taste, plus it's available in 2 different sizes.