Struggling with design ideas for gas fireplace surrounds? We've put together our top 10 ideas for you.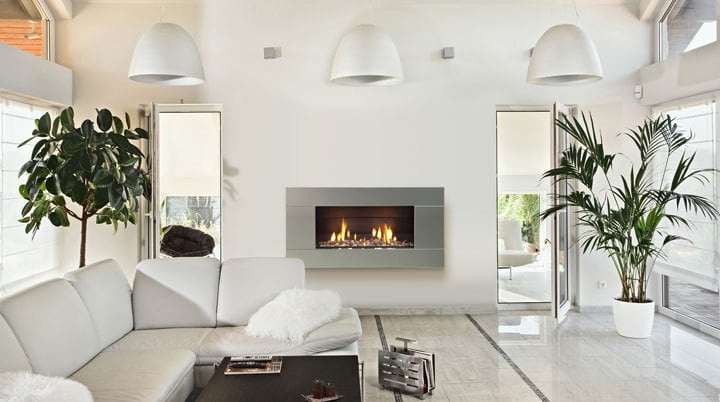 1. Sleek and Modern
If modern and minimal is your style, then give your gas fireplace a streamlined effect with a sleek Stainless Steel fascia. The Escea ST900 has zero clearance, so can be installed directly into a plasterboard timber framed cavity. Set into a white wall, the crisp shade will beautifully highlight the Stainless Steel fascia.
Top Tip:
Tie the steel theme into your overall interior design with metallic touches throughout the house. A steel fruit bowl or metal magazine rack is an easy way to do this.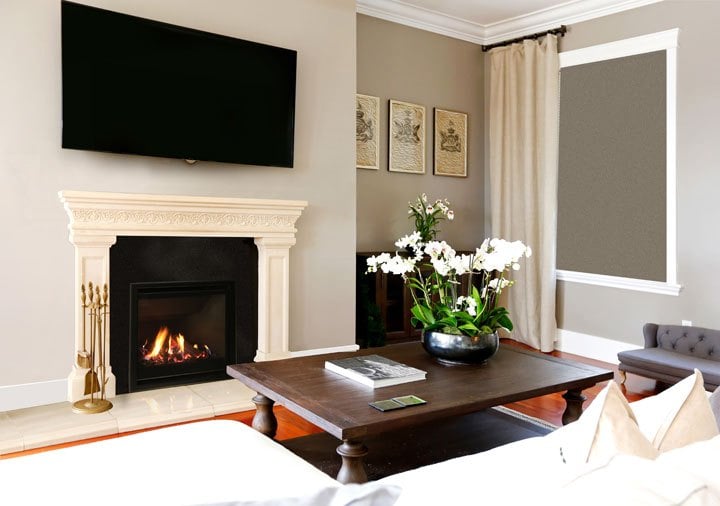 2. Classic Beauty
If classic style is more your taste then install a traditional wooden mantel around your fire. The fretwork can be as simple or as ornate as you like, but make sure you paint it a traditional shade like white or cream. A square gas fireplace like the Escea AF700 suits this look best. Paint the backboard surrounding your fireplace black to mimic an old fireplace cavity, and select a slim black fascia like the Slim Volcanic Black.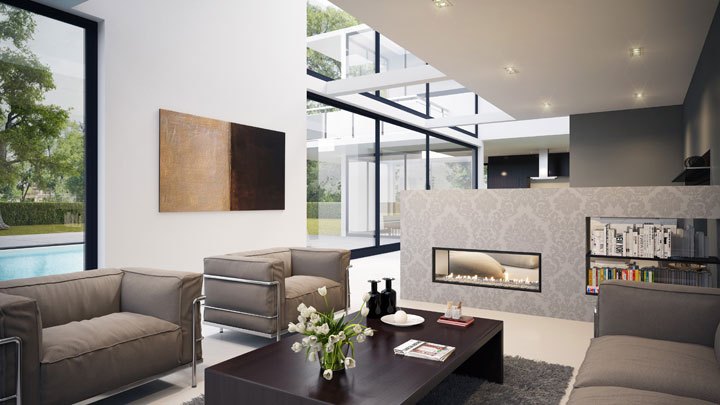 3. Work With a Half Wall
Trying to heat a room with a half wall? A double sided fireplace like the Escea DX1000 will allow you to access the fireplace from both sides of your half wall. It can also heat the rest of the house with its Multiroom Heat Ducting Technology. Escea gas fireplaces can also be installed into an island in the centre of a room.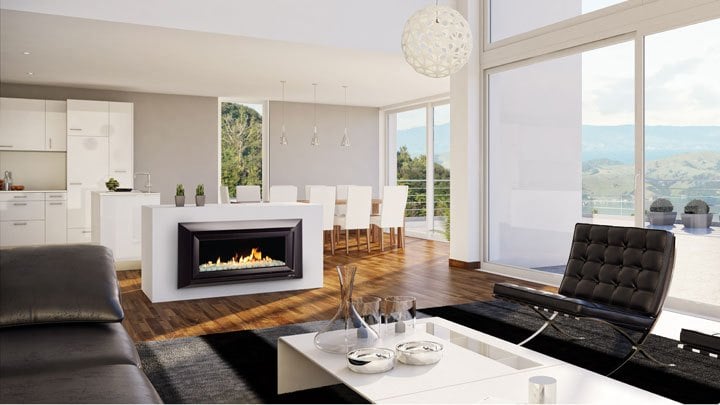 Top Tip:
Add a lush touch to your living space and have fun with textured wallpaper on your fireplace surround. Select a wallpaper design that fits with your overall colour scheme in the room. If your chosen wallpaper is busy, then balance it out with a simple Frameless fireplace.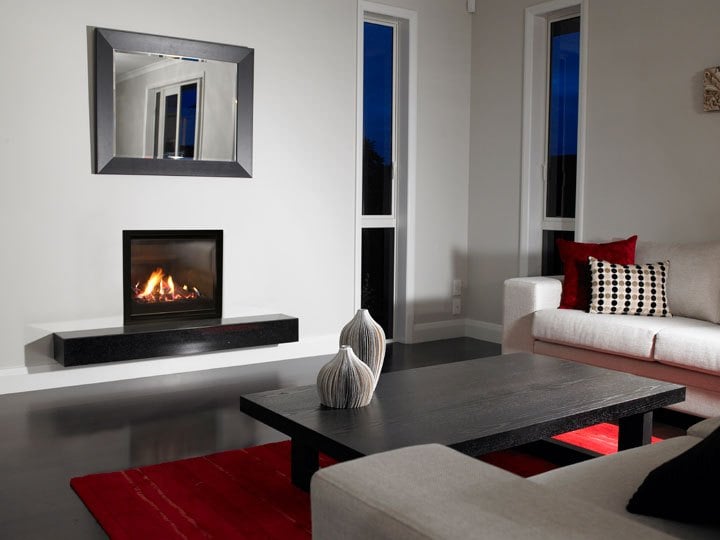 4. Floating Hearth
A stunning modern design feature, a floating hearth can also double as a bench for ornaments. A Floating hearth is easier to build than it looks; with support brackets easily hidden beneath the bench. The material you choose for your hearth is up to you, but popular materials include marble, concrete (available in a variety of different finishes), stone slab and wood. Pictured here is a dark marble effect floating hearth, with the Escea AF700 High Output gas fireplace with a Slim Volcanic Black fascia.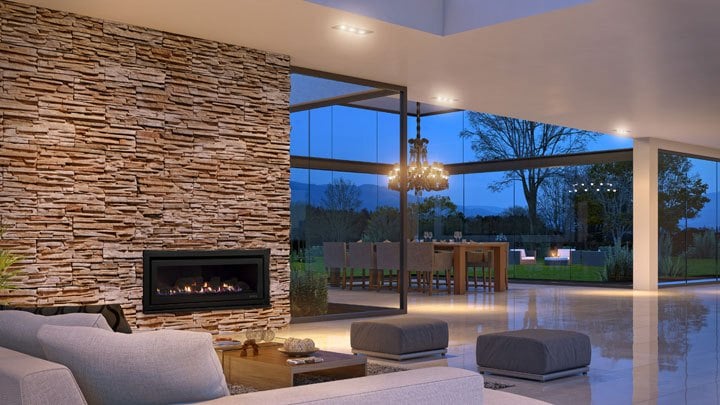 5. Stone Surround
For a raw and rustic touch try a stone surround. While some home owners still opt for using real stone in their surround, cast stone veneers are a cost effective option and look like the real thing. These days you can get everything from round river stone to schist in a cast veneer; it's simply a matter of selecting the style that best suits your home.
Top Tip:
If you're going for a stone surround, you're probably after a rustic look in your home. Finish off your rustic look with a generous wide fireplace fit for a hunting lodge. With its 5 star efficiency, the Escea DL1100 will heat even the largest of living areas, and its adjustable Powered Direct Vent flue technology and zero clearance rating means it is perfect for installing underneath a TV.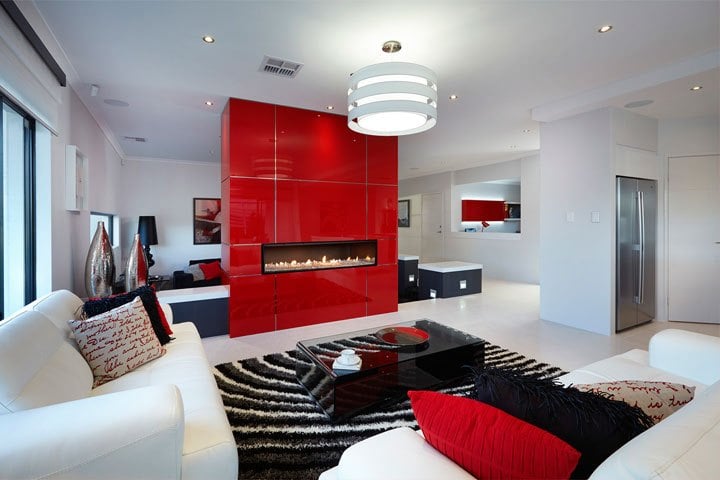 6. Colour Feature
Looking to make a statement? A coloured fireplace surround is a bold and modern way to add a point of difference to your home. When choosing colours for your surround, consider the way you'll be styling the rest of the room. Like a feature wall, your coloured fireplace surround will become the centrepiece of the room. A common styling technique is to pick one or two shades to run as a theme throughout the space. Your fireplace surround should be one of these key colours. Tie the look together with a few objects in the same shade such as a cushion, a lamp or a piece of art on the wall.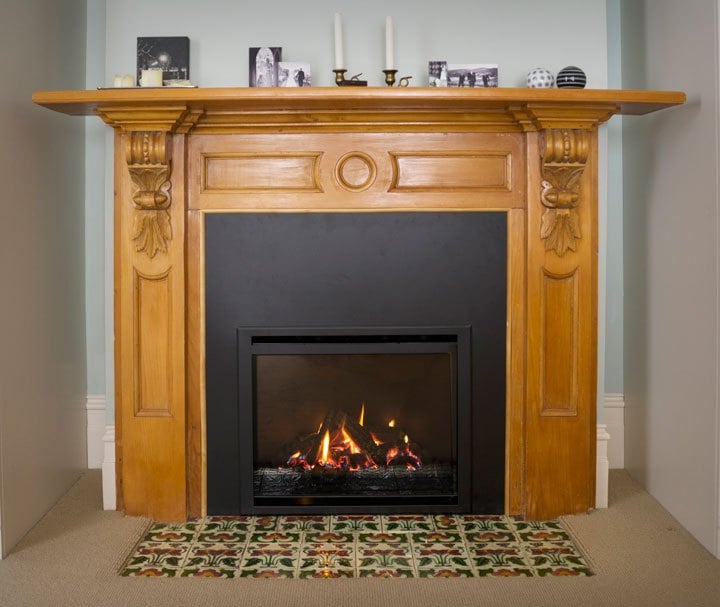 7. Existing Mantel
Got an existing fireplace in your home? Why not upgrade, and install a modern gas fireplace into your old fireplace cavity? It's a great way to create a more efficient heating source, while still retaining the look and feel of your traditional wood fireplace. A square gas fireplace like the Escea AF700 will fit perfectly into your existing mantel, and a Log fuel bed adds a classic finish.
Top Tip:
Keep the fireplace fascia and the backboard black to make the flames the focal point.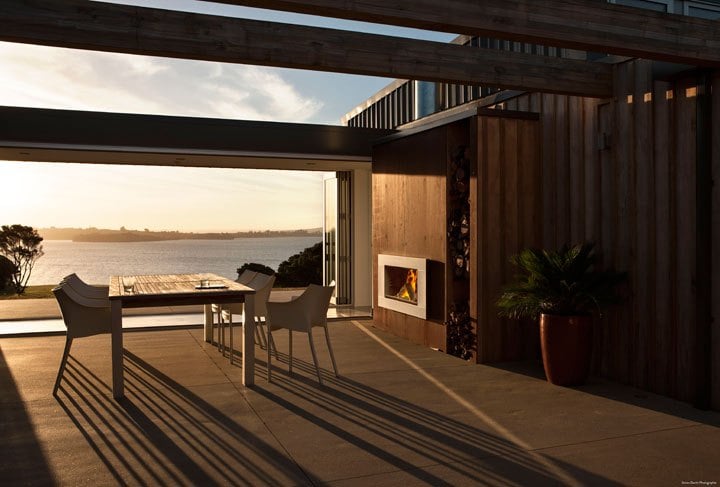 8. Weathering Steel Surround
Weathering steel gives an industrial feel to a home, and can make a great feature surround for your fireplace. Commonly known under its trademark as Corten®, weathering steel is a raw metal that forms a rust-like layer over time when left out in the weather.
Top Tip:
Depending on where your steel is in its weathering process, rust may come away when it is touched and mark clothing and other surfaces. Check with your steel supplier as you may need to apply a sealant to the metal before installing it indoors.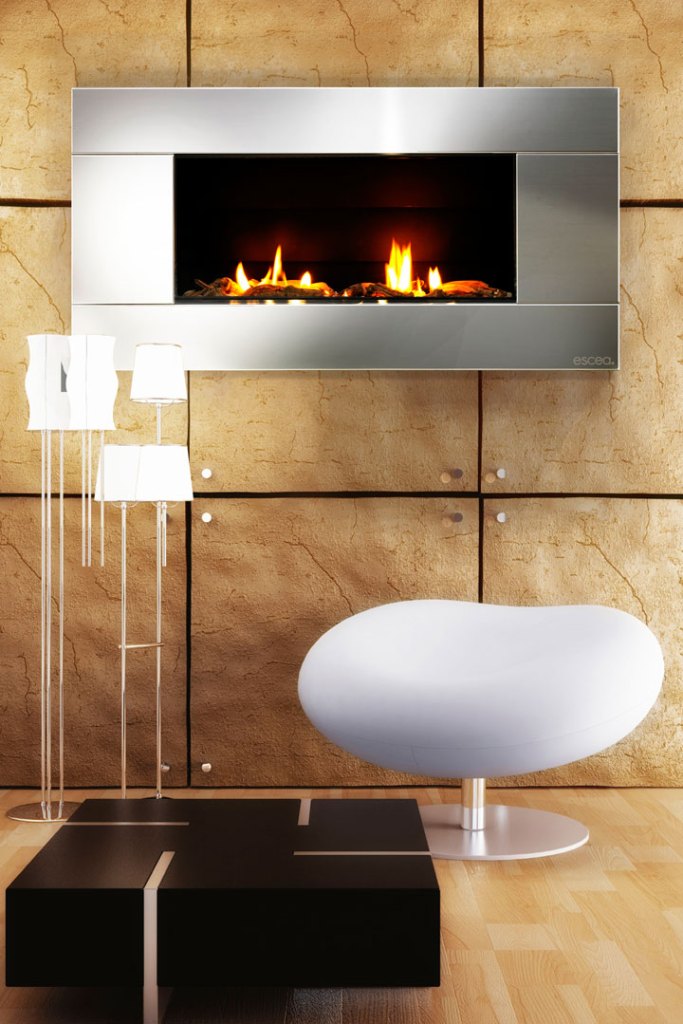 9. Art Feature
A fireplace doesn't always have to sit on the ground. Flames are mesmerising to look at, so why not present your fireplace like a piece of art at eye level on the wall? Consider your fireplace fascia like the frame of a painting, and the flames as the art inside it. A wide fascia like the Slab Stainless Steel pictured on the Escea ST900 fireplace makes a modern statement and draws the eye into the flames.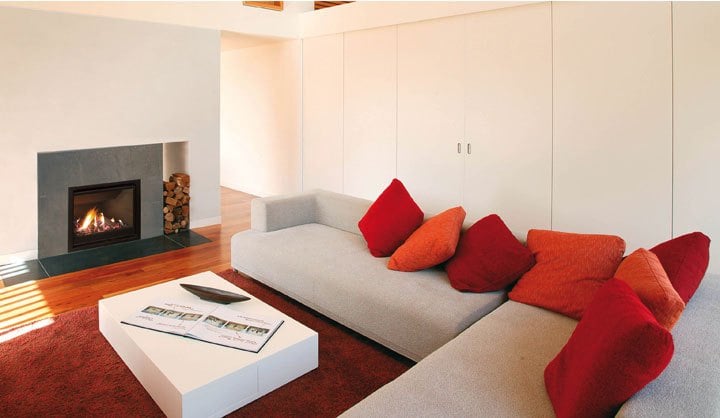 10. Design Inspired
Give your living space a designer edge with a gas fireplace surround that incorporates both positive and negative space. An alcove off to one side of your fireplace creates tension, and turns your fireplace into a design feature. Fill the alcove with stacked firewood or pinecones for texture, and contrast this with a surround in a raw material like concrete or stone.