5 Ways to Reconnect Around the Fire this Winter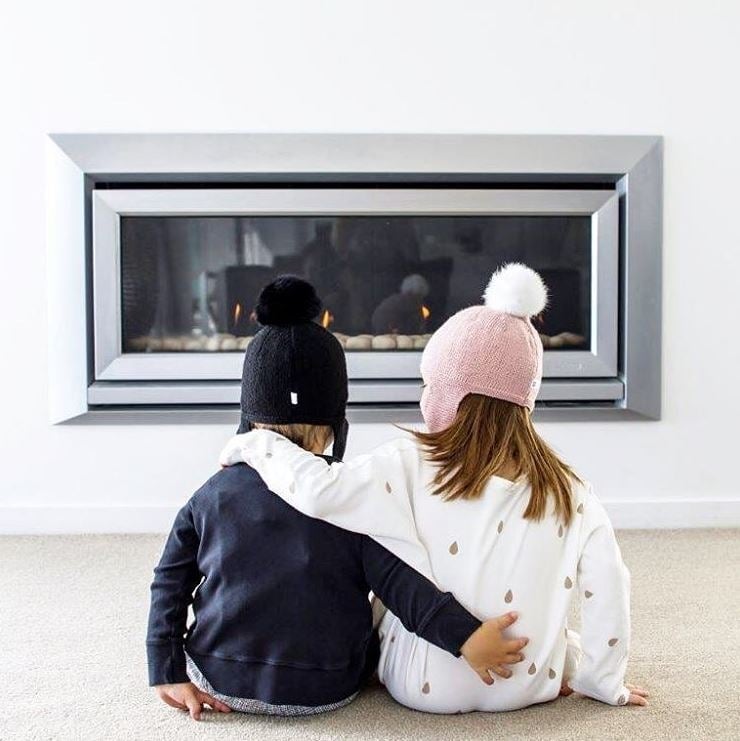 During challenging times like these, it's more important than ever to reconnect with loved ones. Especially those who are often right under your nose - it could be your family, your friends, your pets, and even yourself.
The problem is we can get lost in the routine of daily life – work, chores, family and basic life admin. Distractions like social media, constant news updates and TV don't make it any easier to switch off either.
Now more than ever, it's important we take a step back, slow down and reconnect. And, there's no time or place better to do so than in our own homes, by the fire this winter.
There's no doubt we're innately drawn to sparks and flame, and there's science behind that theory too. A 2014 study proved that flames lower our blood pressure and make us feel more relaxed. The theory dates back to pre-historic times when stone-age men gathered around a campfire for comfort and warmth with friends. The fire provided light into the night, warded off predators and facilitated cooking. This made them feel safe, so it's no surprise that it's engrained in our DNA – we associated flames with relaxation and friendship then, and we still do now.
If you're spending more time at home right now, here are some ideas to encourage you to relax and reconnect by the fire this winter.
1. Get your game on

There's nothing like a good old fashion board game by the fire – think Scrabble, Cluedo or Trivial Pursuit – they never get old. For the little ones, Pictionary or charades is a fun one too – you can make it as easy or as difficult as you like.
Various studies have proven the health benefits of board games too. They can provide mental balance, stress relief and relaxation, increase family cohesion, memory formation and cognitive skills, just to name a few.
Card games are also a good 'go-to' this time of year. Poker, gin or even just a quick game of snap for the kids, there's something for everyone.
So, make a habit of it. Put your phones away, get the fire cranking and break out a board game one night a week this winter. 
2. Club night
Nothing goes together quite like fire and wine, and there's no better time than now to get practising.
If you're a foodie and can catch up in person, and you don't mind a pinot (or two), starting a wine, beer or supper club might be right up your alley. Wine tasting, craft beer or pot lucks are a fun and fuss-free way to get social and try things outside of your comfort zone. Plus they spread the load, minimising duties for the host too.
If you can't get out and about, services like Wine Friends offers a bespoke wine delivery service – wines hand-picked for you delivered to your front door every month.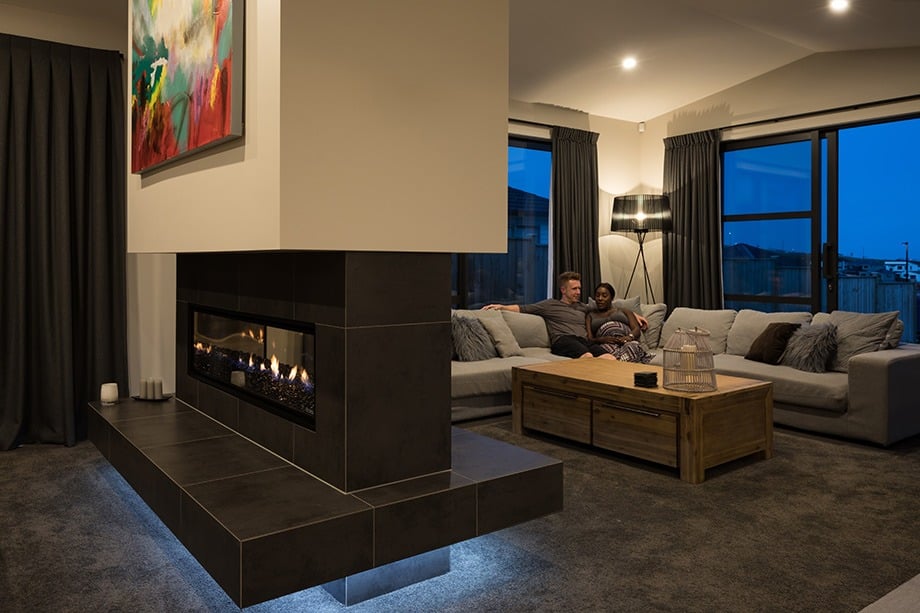 A book club is another great way to organise regular catch ups with friends (and another excuse for a social beverage too). Choose a theme for the month, read, get together, discuss then repeat. Book clubs also work really well over Zoom too.
No matter how you catch up with friends - whether it's in person, over the fence or via Zoom – it's important we continue to socialise and nurture our friendships.
Either way, combine your catch ups with a roaring fire, toasty living room and good friends, and you've got a sure fire recipe to beating the blues this winter.
3. Device detox
With a constant stream of technology in our homes, work places and schools, it's pretty hard to avoid these days. Rather than going complete tee-total, there are a few simple things we can do to reduce the amount of screen-time, starting with simple family conversation.
Parenting expert and author Dr Justin Coulson recently highlighted the importance of timing when sparking up conversation with your children. She explains that it's best not to bombard your kids with questions as soon as they get home from school. Instead she recommends waiting till later in the evening when they're more relaxed, wound down, and more likely to open up and share snippets about their day. And what better way to do this with the kids and a hot chocolate by the fire.
Listening to music is also another great way to tune out of the digital world, plus it's proven to have health benefits too. Research has shown that listening to music can reduce anxiety, blood pressure, and pain as well as improve sleep quality, mood, mental alertness, and memory. Combine that with the relaxing nature of flames and you've got a winning combination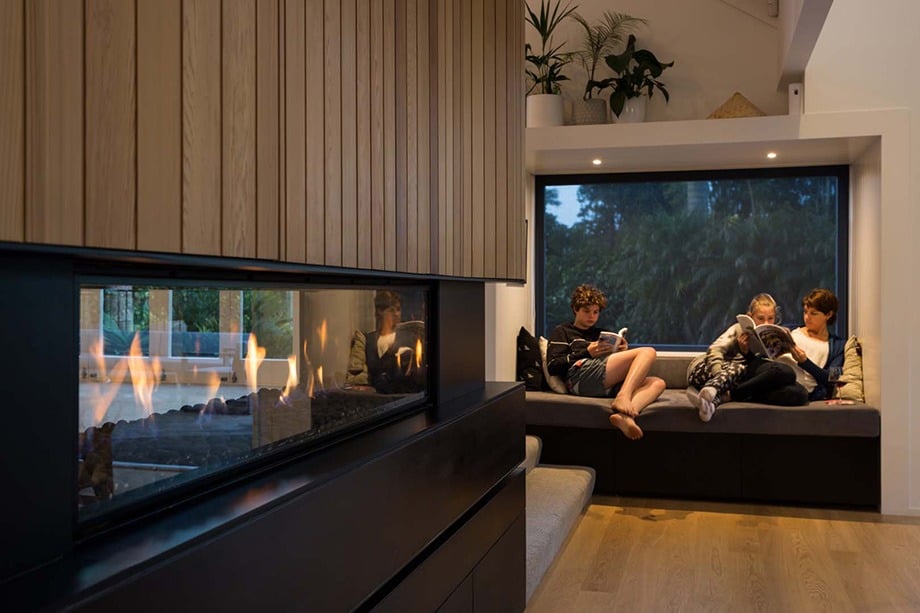 4. Brave the cold
Although it might be the middle of winter, don't be afraid to get outside and brave the cold. There's something special about being rugged up outside, under the stars. If it's not too chilly, try taking a hot platter outside, or even better, a warm dessert like fondu or hot chocolate after dinner.
Escea's outdoor Fire Table is perfect for crisp nights huddled around some crackling flames. The table gives you the best of both worlds – cooking capabilities over flames for your favourite gooey dessert, then watch as it transforms into a roaring outdoor fire, ideal for the perfect toasted marshmallows. What more could you want?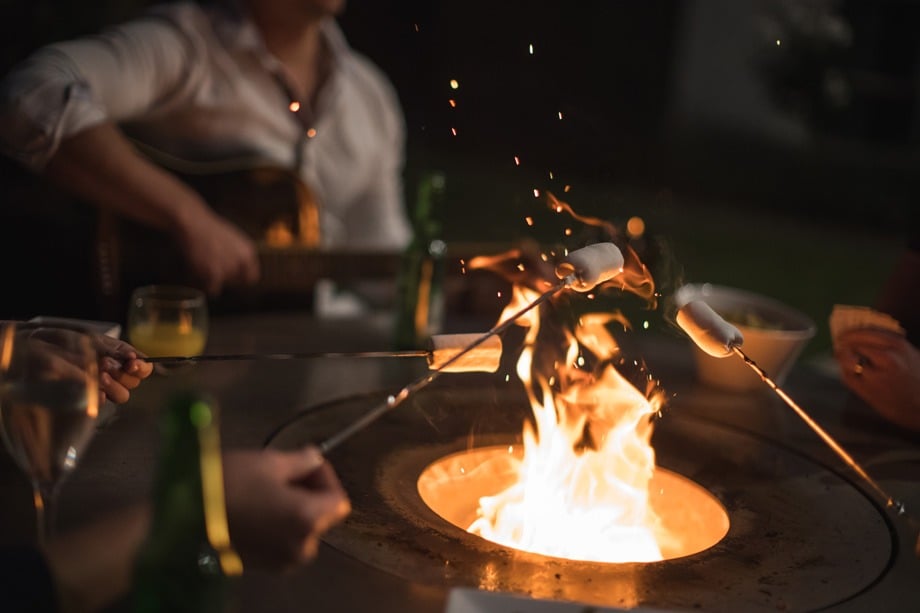 5. Get creative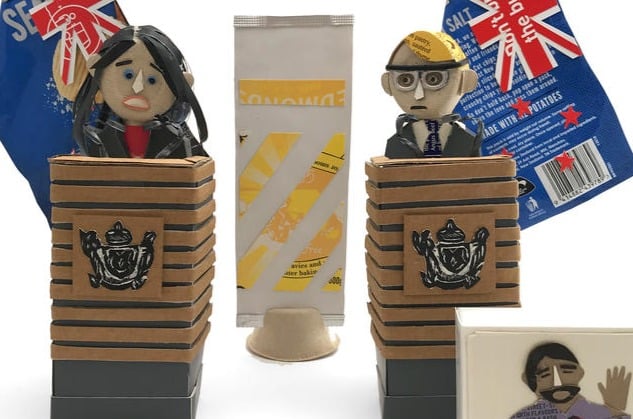 During New Zealand's lockdown, Kiwi's Scott Savage and Colleen Pugh made figures of Prime Minister Jacinda Ardern and Dr Ashley Bloomfield made entirely from recycled materials found around their home.
Channel your inner creativeness with crafting activities like macramé, crochet, knitting or drawing by the fire. Not only are activities like this therapeutic and satisfying (and sometimes a little challenging), they're also a great way to practise mindfulness.
At its core, mindfulness 'is about paying attention and being present in the moment' and hobbies like this provide us with a single focus – our mind isn't wandering off to the past or worrying about the future. A simple loop, knot or pencil stroke keeps our mind in the 'now' and increases our awareness, letting us concentrate our thoughts on the task at hand.
Mindfulness isn't just for adults either – check out these great resources for kids mindful colouring here. It can also be a great time to educate kids about recycling - see what they can make from household cardboard and plastic waste too.
Whether you love winter or hate it, you can't deny the feeling of warmth, comfort and relaxation that flames give us – remember, it's deeply engrained in our DNA.