Parents of three, Daniel and Jade had tried four times to get on The Block Australia, and this year their dreams finally came true. The farmer/carpenter and hairdresser from north of Adelaide were tasked with transforming a run-down 1930s home into a surprisingly sophisticated Brighton abode.
The Living Room
When it comes to 1930s style of homes, Art Deco with a Spanish Mission influence was common place on the streets of Melbourne. And this year, Daniel and Jade's mission was to transform House No.3 into a modern-day version of the popular style of home.
On the outside, Art Deco/Spanish Mission homes usually featured brick cladding in a white or cream stucco finish, with Spanish terracotta roof tiles. You would also find plenty of curves and archways both inside and out. The era took inspiration from Hollywood opulence and trends (think Great Gatsby style), and used imported fabrics like zebra and leopard print. Pastel tones such as neutral greens, salmon, marble and timber were also used, and textured plaster walls were pretty popular during this time too.
Daniel and Jade incorporated aspects of the glitzy era into their living space in a variety of subtle ways; the wall the fireplace is built into gently curves at both ends – a clever nod to the 1930s decade without being too over the top. Animal print cushions have also been chosen, and the cream textured plaster wall is typical of the decade too. To complete the look, a mirrored television above the fireplace captures the Hollywood glam influence.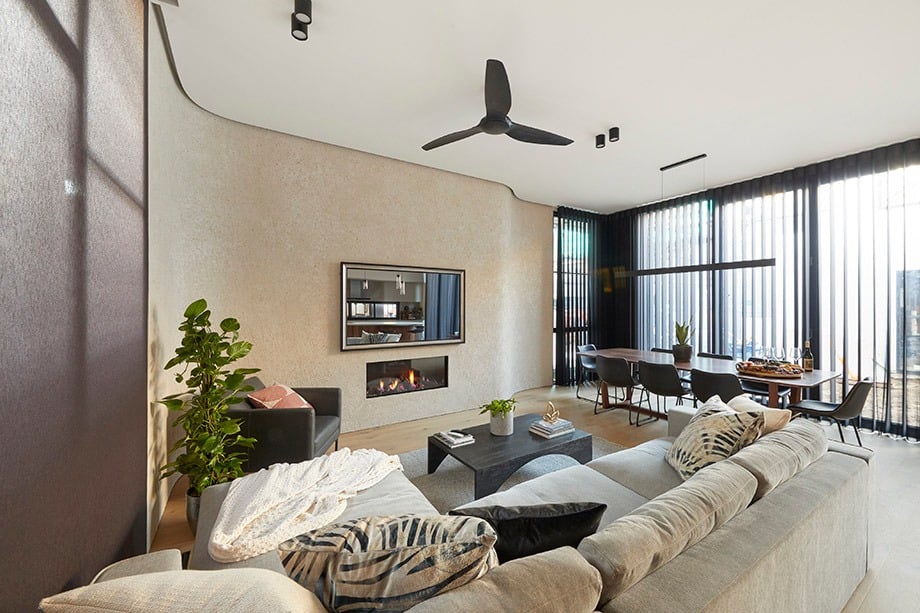 Daniel and Jade incorporated an Escea DS1150 Gas Fireplace into their art deco living space. 
The Fireplace
Daniel and Jade chose Escea's DS1150 linear gas fire for their living room – a modern yet subtle choice that allows them to embrace the Art Deco era. The simple, clean lines of the gas fire and easy installation requirements meant it was the perfect choice to integrate into the feature curved wall. Escea's Zero Clearance technology meant the TV could be placed just a minimal 200mm above the fire, giving the lucky homeowners TV and flame viewing in the same spot.
The innovative technology also means the textured plaster wall could be finished right up against the frame of the fire, making the fireplace look and feel as if it was part of the wall.
The Escea DS1150 Gas Fire
The Escea DS1150 gas fireplace has taken away everything you don't need for a minimalist look that focuses on the flame. These fires are truly frameless – where the wall ends the glass begins. With a number of fascias and fuelbeds to choose from, the DS series can be customised to your personal taste, plus it's available in 4 different sizes and double sided options too.