The first ever father-daughter duo on The Block Australia, Harry and Tash created a winning living space that judge Neale Whitiker said 'looked like it was completed by a professional designer.'
The IT Manager and Social Media Project Manager from Melbourne narrowly beat out Daniel and Jade with their 1920s Art Deco home. Take a look at their winning room below and learn more about how they integrated the Escea DS1400 gas fire into their living space.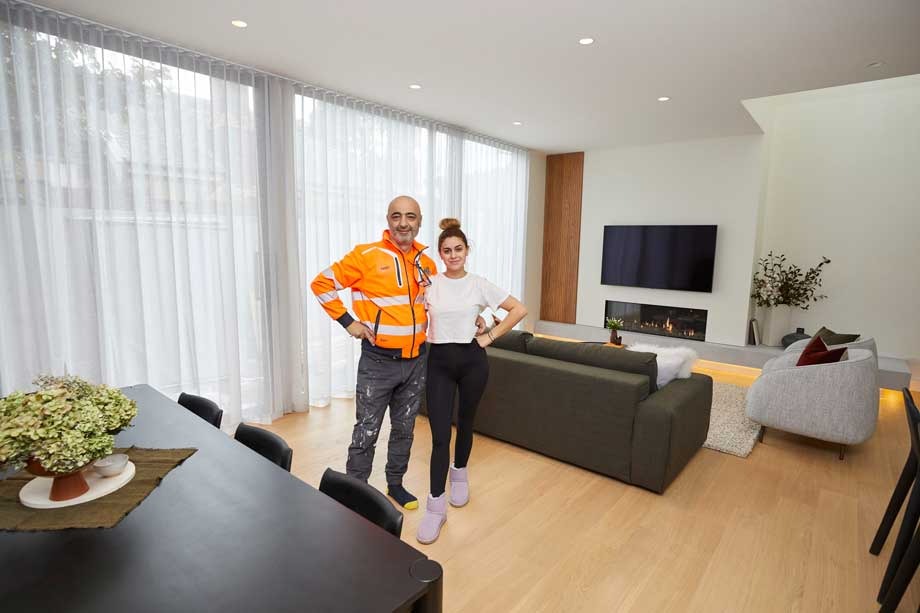 Living and dining room week taken out by The Block's first ever father-daughter duo, Harry & Tash.  
The Living Room
Art Deco style is known for its cheap and functional nature with a focus on decoration and styling. Darker, moody colours were initially used in this period but soon evolved to include brighter, warmer tones and colours. Materials usually consisted of bricks and timber while their roofs often took a gabled form.
Although subtle, Harry and Tash incorporated aspects of Art Deco style into their contemporary living space; they used warm timber on the floors along with a wooden panel feature to the left of fireplace. And although they don't have a traditional gable ceiling, the light well is an understated nod to the era.
Sharp lines have been softened with feature lighting and round-edge furniture while texture has been introduced through soft furnishings of plush rugs and cushions.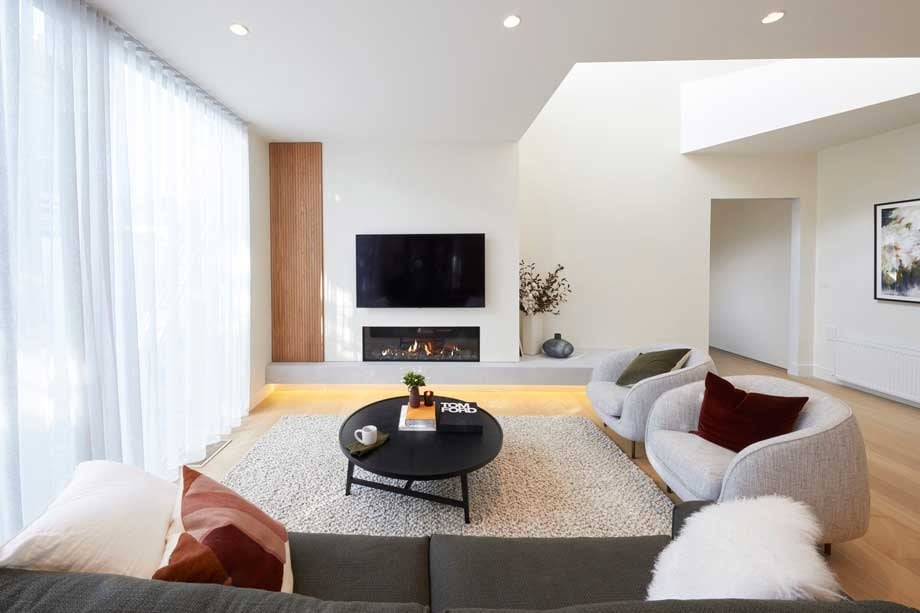 Harry and Tash incorporated the Escea DS1400 gas fireplace into their Art Deco living space.
The Fireplace
When it came to the fireplace, Harry and Tash chose the Escea DS1400 gas fire. It's frameless, linear design allows it to complement their sophisticated Art Deco style.
Its centralised position within the living room lets the fireplace really shine, while the simple painted surround lets it blend into the space without overpowering other aspects of the room. 
The floating concrete hearth grounds the fireplace within the room, and the TV placed directly above the fire will allow the new homeowners to enjoy ambience, warmth and entertainment, without moving an inch.
Escea DS1400 Gas Fire
Pumping out up to 9.5kW of heat, Escea's DS1400 not only looks stylish, it actually heats too. With a number of fascias and fuelbeds to choose from, the DS Series can be customised to your personal taste, plus it's available in 4 different sizes and double sided options too. The DS1400 gas heater can be controlled from your smart phone and thanks to Escea's flexible flue technology, it can be installed in most places around the home.