Hailing from Western Sydney, Sarah (a teacher) and George (an electrician) were tasked with renovating a 1940s style home on this year's season of The Block Australia.
Finishing in third place, take a look through Sarah and George's renovated living room and see how the used the DS1400 gas fire in their living space.
The Living Room
1940s homes' typically fit into the 'Waterfall' style: an evolution of the popular Art Deco style.
The era's design is based on the notion of 'modern efficiency' and often features mass-produced fixtures and fittings (think aluminium windows and doors). On the exterior, you would expect to see sweeping curves in chimneys and fence pillars. And on the inside, you'll find inter-connected living spaces and plenty of texture on the walls, particularly brick veneers with a white or cream rendered finish.
Sarah and George took inspiration from the Waterfall era to create a modern-day take on the iconic 1940s style. What's perhaps most relevant to the era is the cream brick fireplace surround and rounded hearth design – a clever combination of features that speaks directly to their assigned era.
Warm tones of tan leather, timber flooring and terracotta cushions have also been used which help to create a cosy and inviting living space for the lucky new homeowners.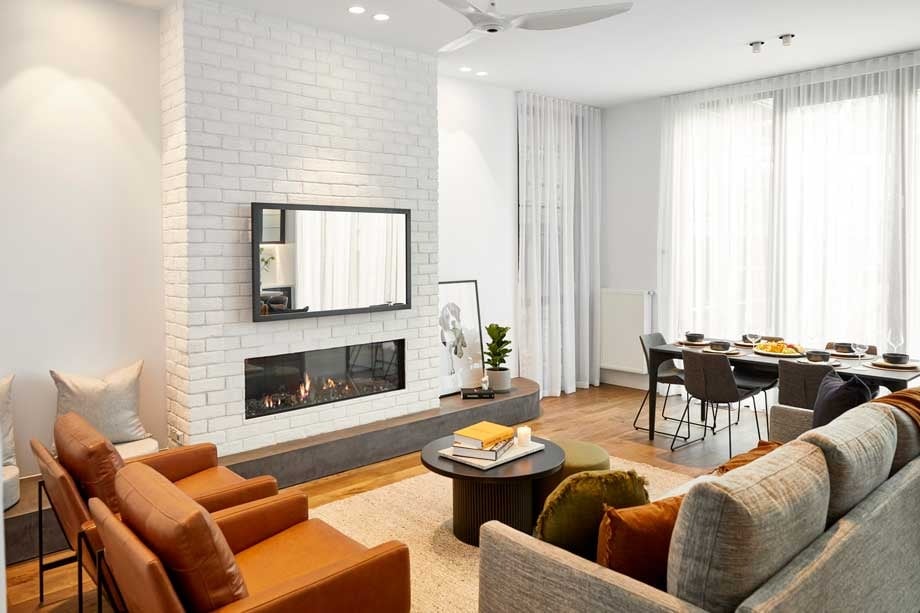 George and Sarah's modern-day 1940's living space features the Escea DS1400 Gas Fireplace. 
The Fireplace
The Western Sydney couple chose Escea's frameless DS1400 gas fire for their Waterfall-style living space.
Positioned centrally within the room, the full height brick surround and concrete hearth adds drama and impact, ensuring all eyes are on the fireplace. The TV is positioned directly above the fire which creates a stylish yet functional living area for the new homeowners to enjoy flickering flames and TV, all in the one place. And the built-in frameless design of the fireplace enables it to blend seamlessly into the brick feature and 'become one with the wall'.
Escea DS1400 Gas Heater
Escea designed the DS Series thinking about high heat output and efficiency. With a number of fascias and fuelbeds to choose from, the DS series can be customised to your personal taste, plus it's available in 4 different sizes and double sided options too. Thanks to Escea's flexible flue technology, the DS series can be installed in most places around the home.