When it comes to the difference between flued and unflued gas heaters it is worthwhile to consider all of the variables, including aesthetics, gas type, energy efficiency, heat output, cost and combustion systems.
Unflued Gas Heater
Let's begin with unflued gas heaters. Unflued gas heaters burn gas for heat, but do not have a flue to carry exhaust gases away outside of the home. Outdoor, patio or alfresco heaters are also another type of unflued gas heater, but should never be used indoors. You can also get fixed or in-built unflued gas heaters.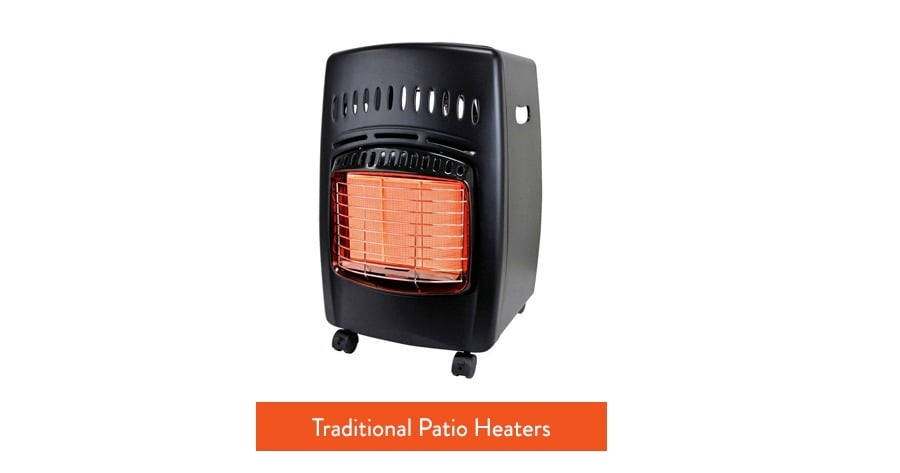 Traditional Patio Heaters by Niles Fireplaces GHP Group Inc.

Unflued gas burners are available as large, freestanding units which can be plugged into a gas outlet (gas tanks or natural gas) or use an LPG gas tank (purchased from your local petrol station). You can also buy unflued fireplaces which use ethanol.
Because it is an unflued gas burner, it uses the oxygen from the room for combustion and expels exhaust gas straight out the front of the heater into the room.
1. Unflued Gas Heating - The Cons
Air pollutants are a major concern when it comes to using unflued gas heaters. As a result of combustion, they can produce nitrogen dioxide and carbon monoxide which can both be damaging to your health.
Another danger associated with gas burners include indirect effects such as water vapour which increase the growth of mould and dust mites.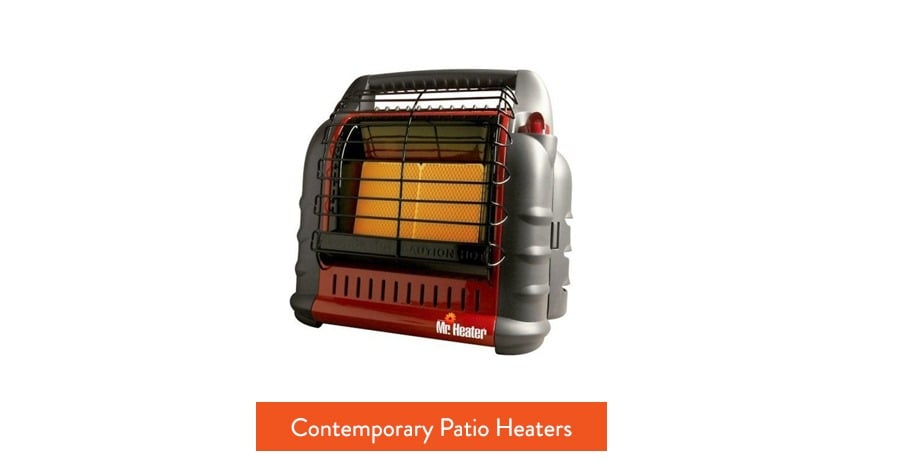 Contemporary Patio Heaters by Valley Center Furniture & Accessories BuilderDepot, Inc.

Because unflued gas heaters do not have a flue to carry the combustion materials away, they have an open front and the flame will be exposed. Obviously in terms of small children and animals, this is not an ideal heating option.
Modern homes are built air tight with thick insulation and little air flow from outside. This is to make sure the home retains heat and limits moisture. However, if you are using an unflued, open fronted or natural vent gas heater, the oxygen is depleted over time, which can cause issues with combustion. This in turn means that the fire is trying to ignite but it can't with the limited oxygen available inside the room and instead keeps leaking gas. This is especially true with an unflued gas burner which uses an LPG bottle because it is controlled manually. However, in some cases with an open fronted gas fire, it will have systems in place to ensure the gas is disabled if ignition is unsuccessful.
2. Unflued Gas Heating - The Pros
Most of these heaters are cheap to buy, which is why they are attractive to some people. However, they are the most expensive form of heating. The Gen Less (formerly Energywise) New Zealand Government website recommends a portable electric heater if you can't afford a fixed heating option. We would recommend it is more suitable for usage inside a garage or shed – away from young children, furniture, animals and air tight, well insulated rooms.
3. Unflued Gas Heating - Aesthetics
When it comes to aesthetics with this style of unflued heaters the majority of these gas heaters are the most unattractive. Some are large, bulky, metal devices with metal grills. Although there are some unflued gas burners that are more stylish than others – these will be more expensive and will be more suited for large open areas, for example bars and restaurants.
Unflued outdoor patio fireplaces are a very different story. Because these heaters are outside, the fresh air will carry the exhaust gases away.
In addition, a majority of these outdoor fireplaces will be unflued, so they are much more stylish than the indoor models. Our Escea EF5000 outdoor gas fireplace is an unflued outdoor gas fireplace which is a modern styled gas fire. No flue means you can have uninterrupted views in your outdoor entertaining area.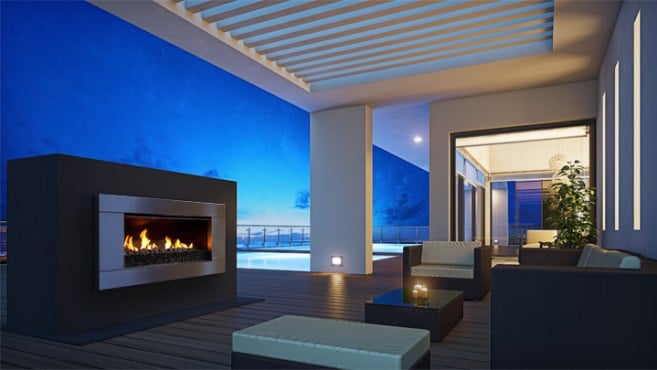 Flued Gas Fireplaces
Now, let's discuss flued gas fireplaces.
Flued gas fireplaces burn gas for heat, but they have a flue which carries the exhaust gases away from the fireplace. You can get both open fronted and glass fronted flued gas heaters.
Flued gas fireplaces use both natural gas and LPG. The LPG tanks for these gas fires must be installed appropriately by a registered gas fitter.
1. Open fronted vs glass fronted flued gas fireplaces
Open fronted flued gas fireplaces use the oxygen from the room for combustion and carry the exhaust gases away. While these fireplaces are definitely easier on the amount of exhaust gases that are released into the room, there is still an exchange between the exhaust gases and the room air.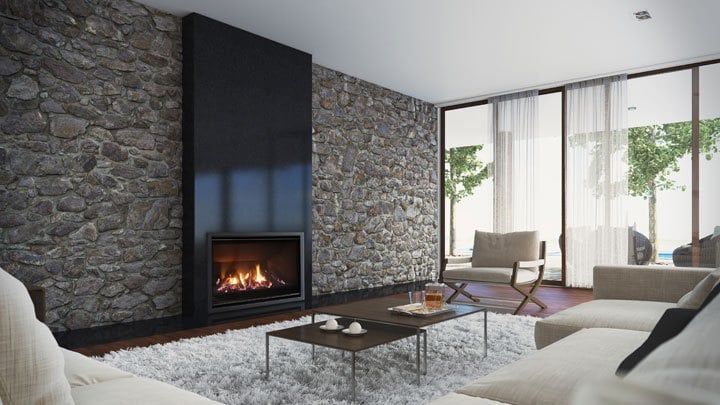 Glass fronted flued gas heaters have a special type of flue which pulls oxygen in from outside of the house for combustion. This system means there is no exchange between exhaust gases and the room air. These flues are called Direct Vent and Powered Direct Vent, which are available with all of our Escea fireplaces.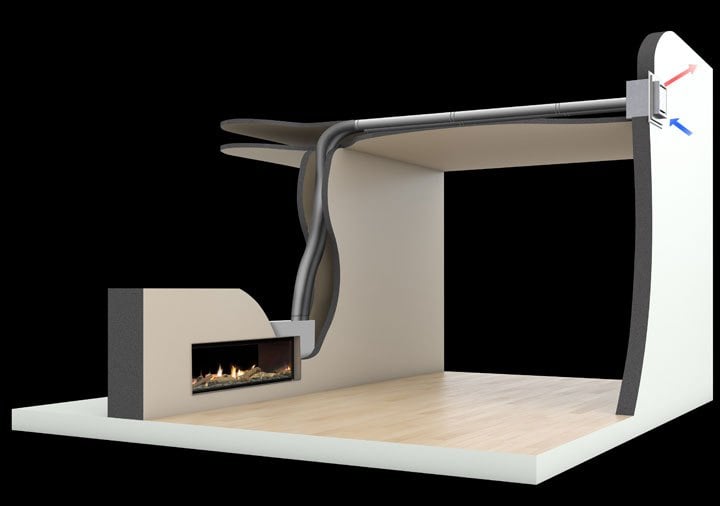 Flued gas heaters – both open fronted and glass fronted – are significantly safer gas fireplaces in terms of exhaust exposure. However, if you are looking for the healthiest option it is better to go for a glass fronted fireplace.
Open fronted flued gas fireplaces are also a lot less efficient than open fronted ones. If you decide to go with a glass fronted gas heater this will be kinder on your gas bill and the environment. However, you will find that these fireplaces are generally more expensive. This is where it is good to weigh up the pros and cons of paying more money for a heating system that is more economical and healthier for your home.
Learn more about the types of fireplace flues here. 
2. Flued Heaters - Aesthetics
Finally, because the range of these gas fires is far more extensive, aesthetics are a primary focus for these fires. You will find a huge range of style options, and depending on your budget you can have any look you desire.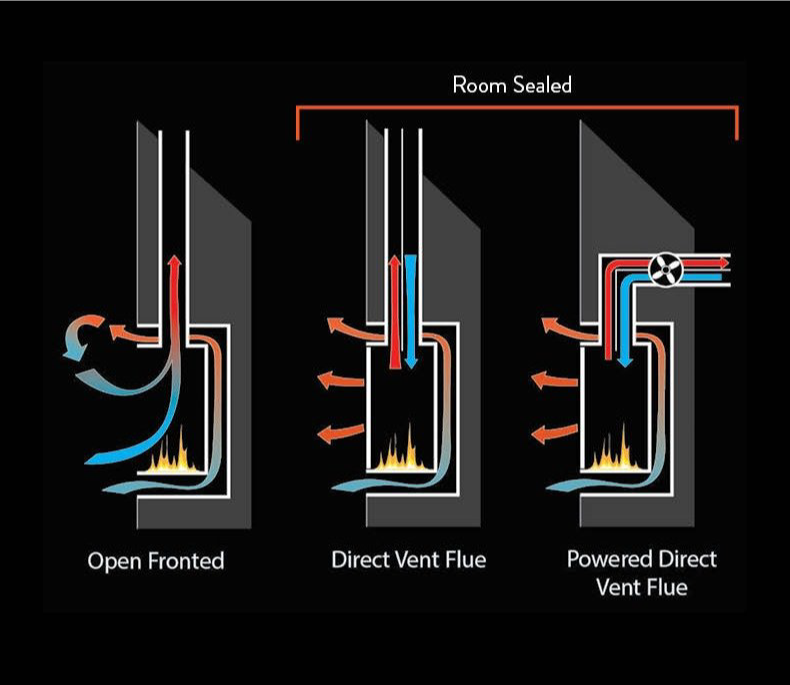 Did you know Escea can flue up to 40 meters?
Architects and Specifiers: One-on-one bookings can be made with the Architectural Advisory team at Escea for project specifications, training and more. Book now to lock in time with a team member best suited to your needs.