Experts in fireplace manufacturing and famed for their innovative and no-compromise approach to design, Escea's debut wood fireplaces have been anxiously awaited by architects, designers and homeowners – but what makes them so special?
We take a look at the unique features of Escea's wood fireplace range to find out.
Direct Vent Technology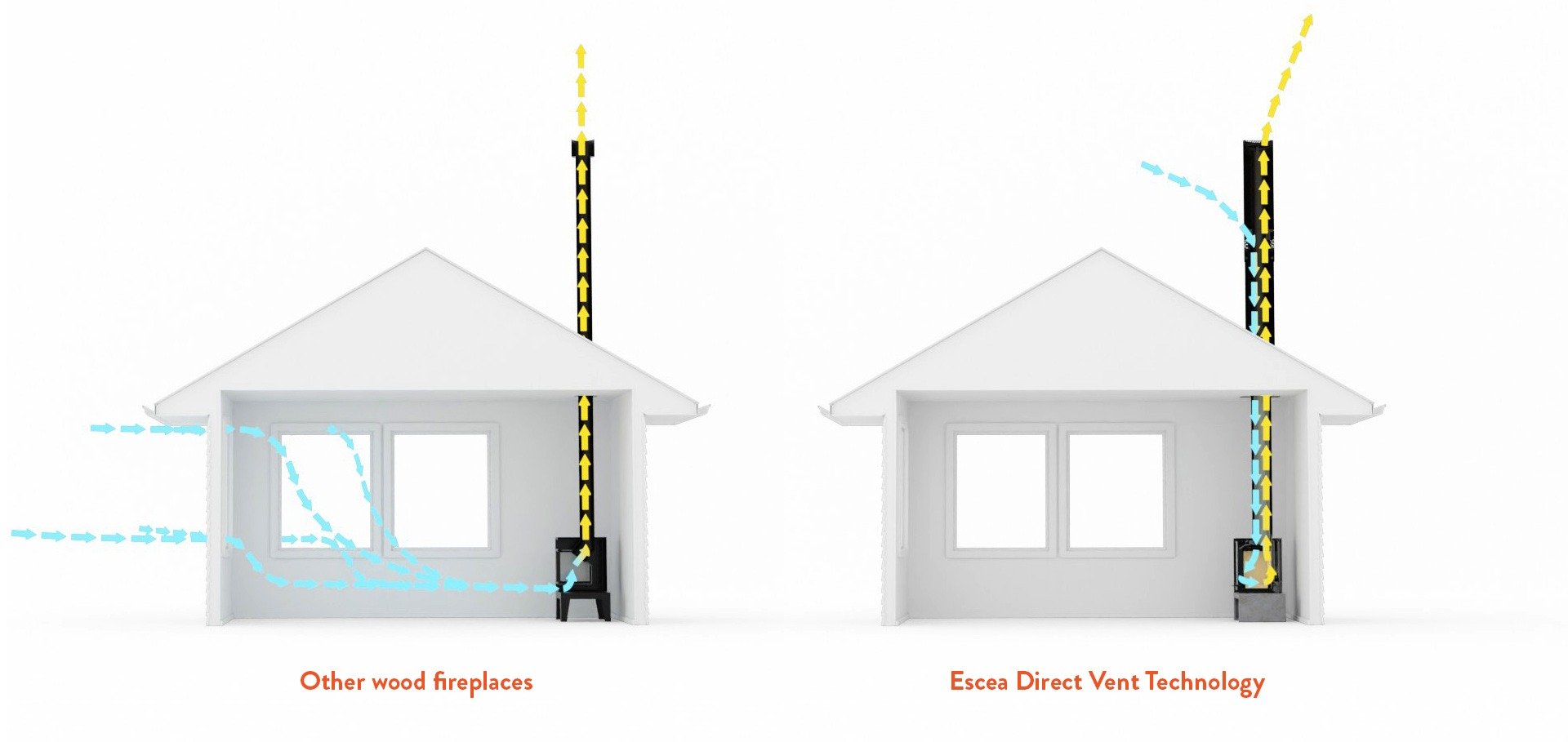 Escea wood fireplaces feature Direct Vent Technology – an innovation based on years of success with their popular gas fireplace range.
In their wood fireplaces, Direct Vent controls the airflow that fuels the fire – where it comes from and ultimately, where it ends up.
Most wood fireplaces draw air from inside the home to fuel the fire, creating pesky drafts and poor indoor air quality.
With Direct Vent, the firebox functions independently of the room, with all the air needed to fuel the fire coming from outside the home; and the exhaust air being returned out. By controlling the air in and out of the firebox you get less drafts, less smoke and less wasted heat – ultimately a healthier, more efficient warmth.
Watch a detailed video about Direct Vent here.
Built to Last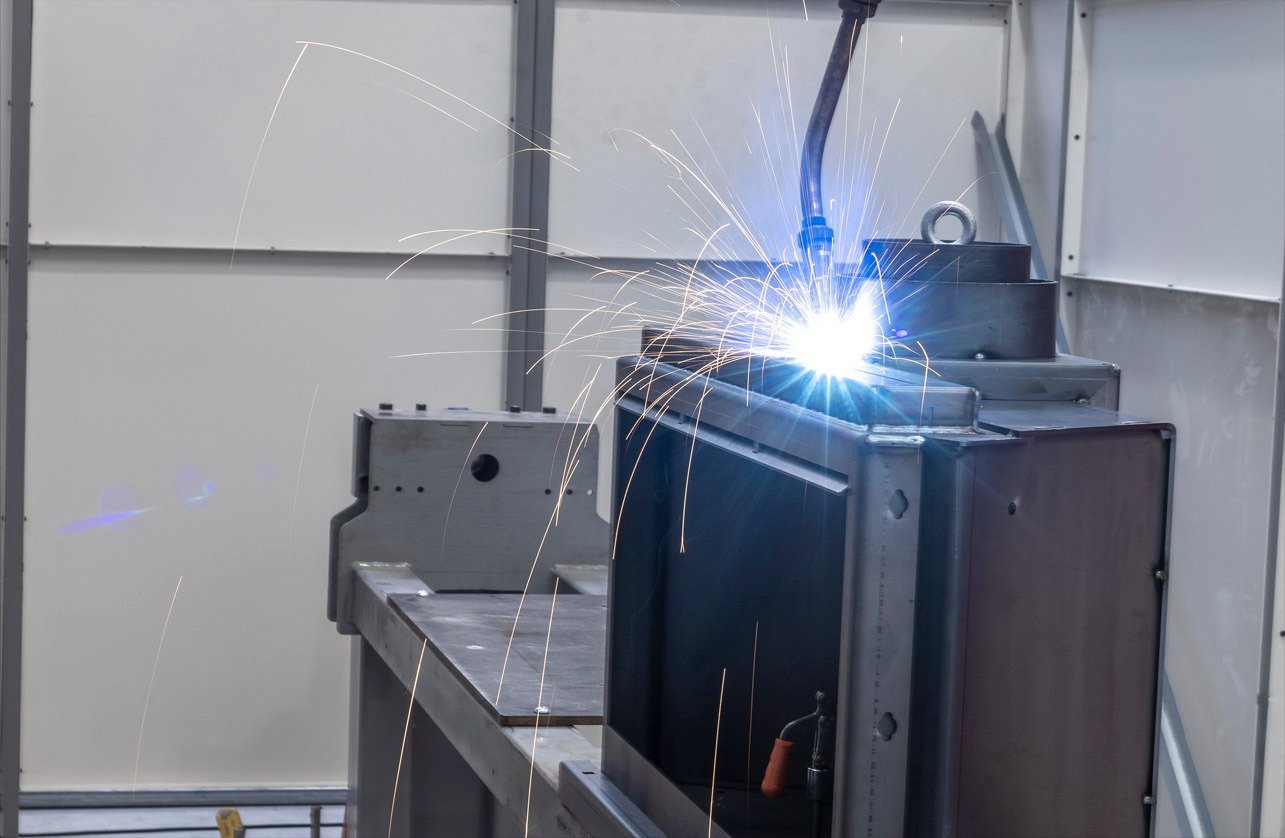 Proudly made in the deep south of New Zealand, Escea wood fireplaces are designed to stand the test of time.
Expertly built by our skilled craftsman using the most robust materials and state-of-the-art technologies, the fireplaces are robotically, precision-welded in our Dunedin-based factory and at arms length from our engineering team at the Escea HQ.
Firebox Design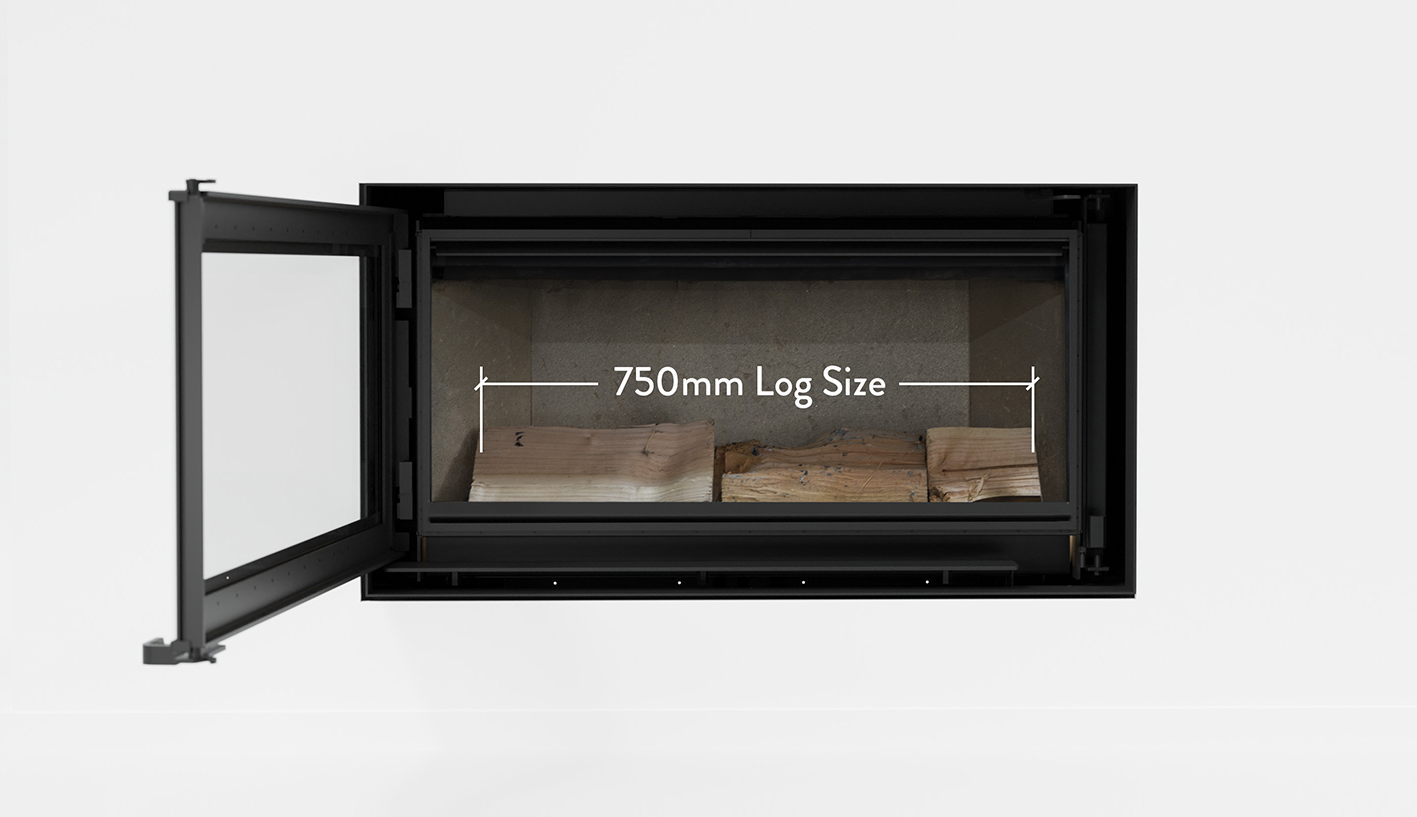 The Escea wood firebox has been purposefully designed with maximum width and angled side-panels.  Wider than it is deeper, this optimised firebox design allows more log room than most fireplaces – for the most efficient heat and greatest output for modern homes.
Generous Window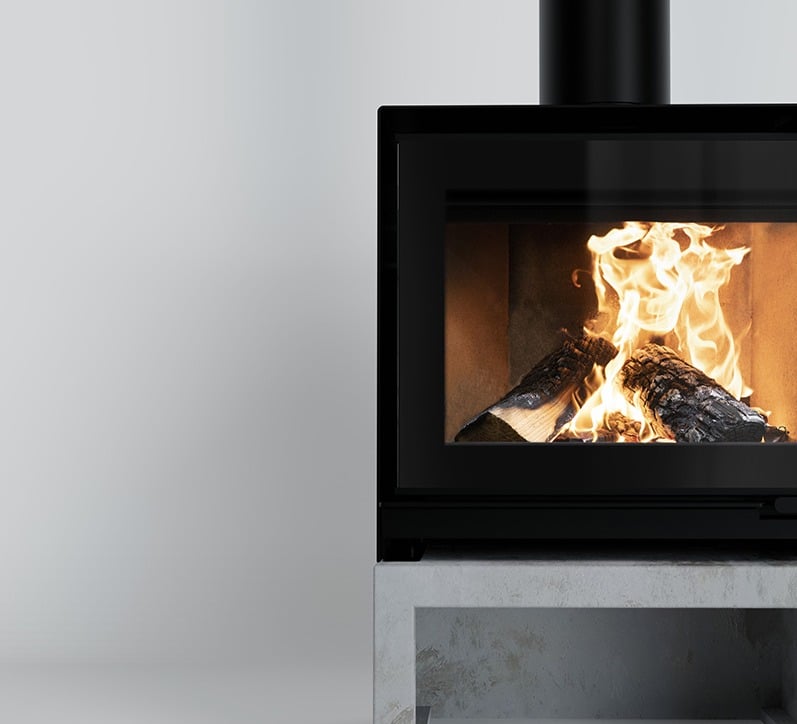 Escea wood fireplaces were made to be enjoyed, with a generous window that allows the nurturing impact of flame to truly infiltrate the room.
The pared-back design of the fireplace reduces the surround-to-glass ratio, giving you a larger viewing window for maximised flame viewing – so you see more of the flames, and less of the fireplace.
Sleek, Cool-Touch Handle

Escea's sleek and discreet cool-touch handle has been made to disappear. Integrating seamlessly into the fireplace itself – you won't know it's there until you need to use it. What's more, the minimamlist handle stays cool to touch, even when the fire is roaring - so you can safely open and close the fireplace without the worry of getting burnt. 
Make it Yours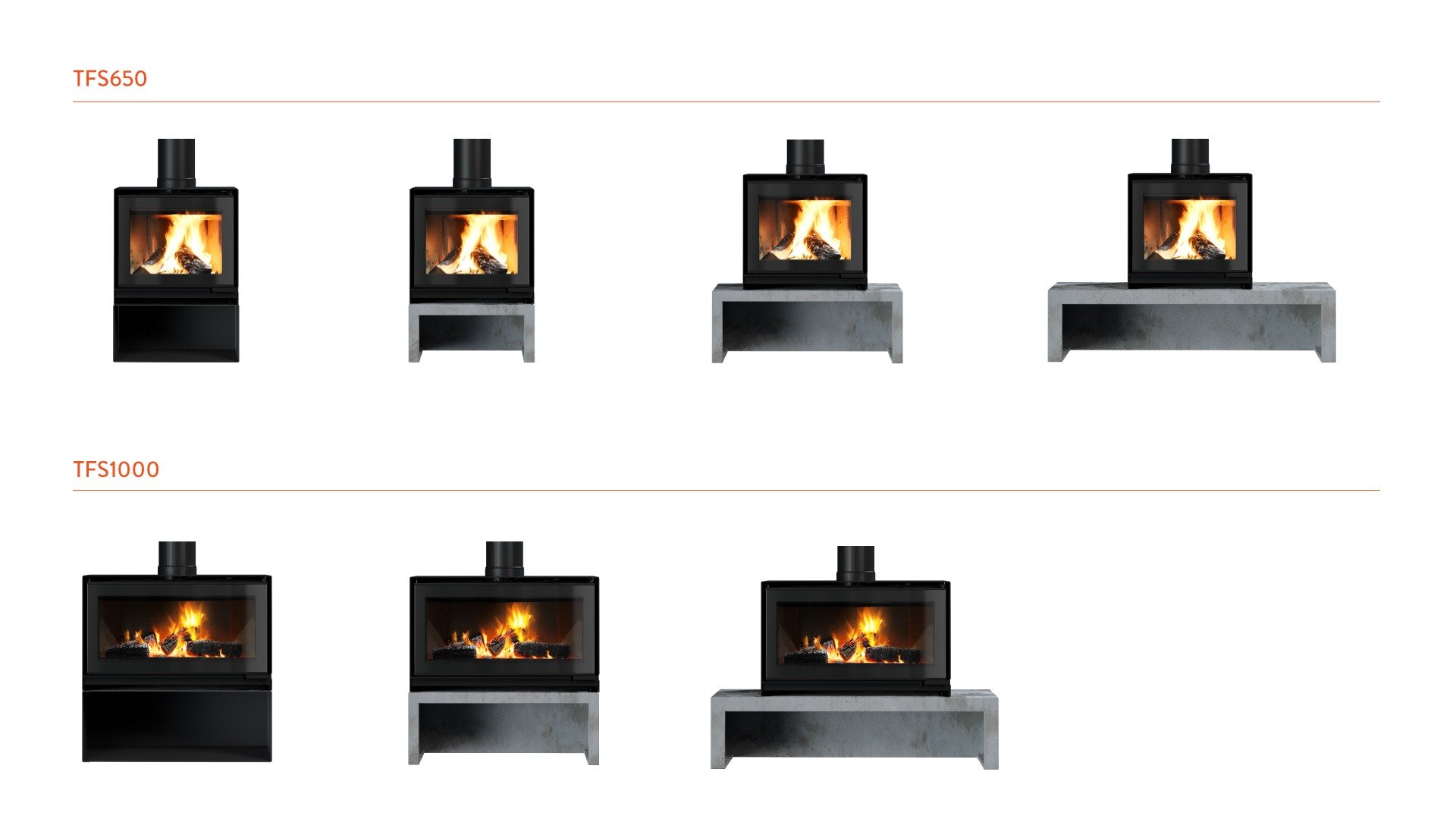 Elevate your freestanding wood fireplace and give it a designer appeal with your choice of plinths made especially for the Escea TFS Series.
Steel or Engineered Concrete; Small, Medium or Large – Escea has a full range of plinth options to create a look that's made just for you.
Surround Freedom with Zero Clearance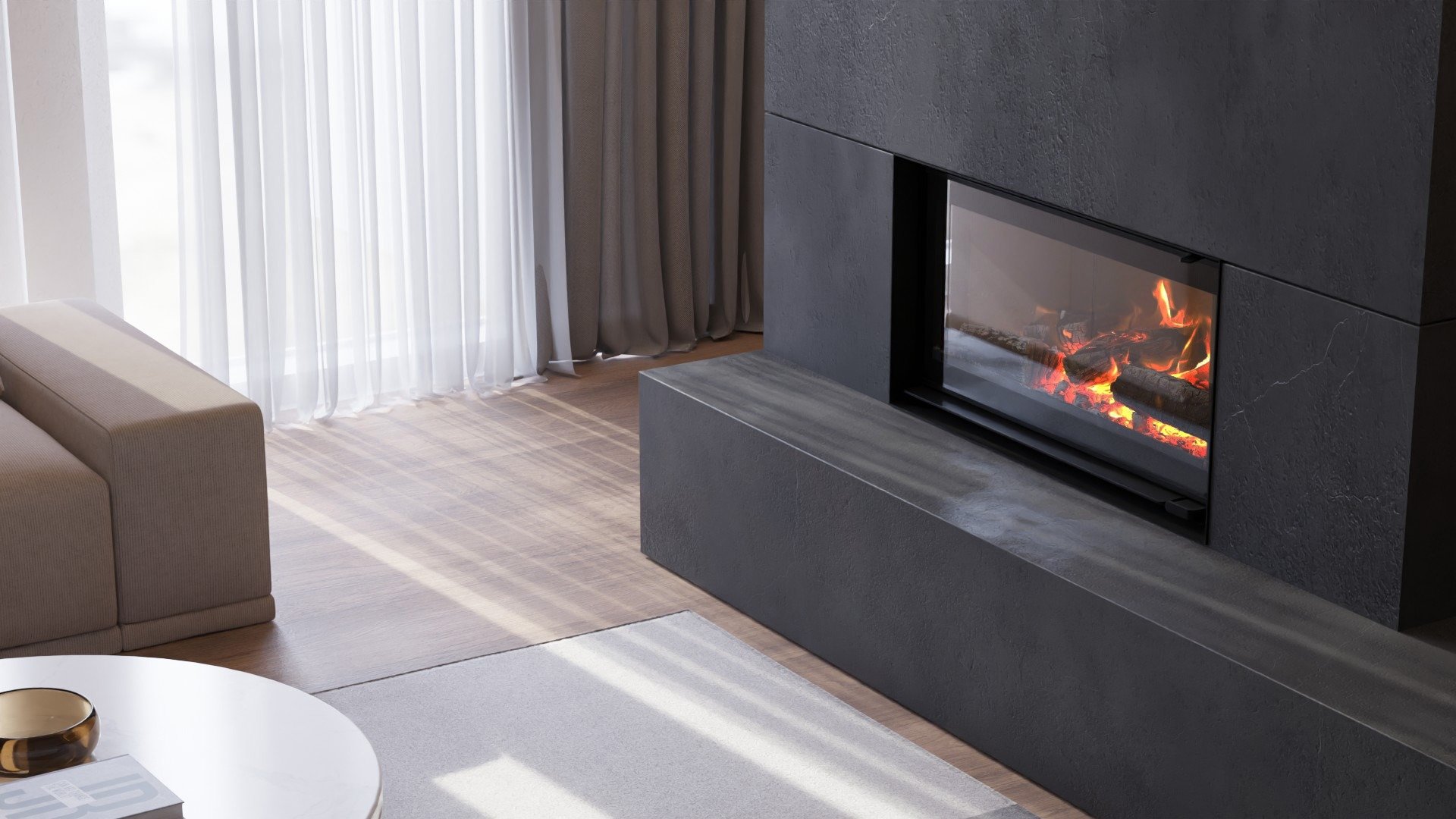 Unlike many inbuilt wood fires, the TC950 Wood Fireplace can be installed into non-masonry surrounds, giving you more finishing options to suit your home, budget, and style.
To achieve this, Escea provides a Zero Clearance Kit that streamlines the install process and makes installing this fire as easy as possible, without needing to compromise on your design. The kit comes with everything you need - a secondary steel casing that surrounds the fire and allows you to build with standard timber framing, eliminating the hassle of sourcing specialist materials and building complex framing.
With no clunky fascias required, and no need for additional vents and grills – it's just you and the fireplace.
Want to take a closer look at Escea Wood Fireplaces? Get to know the TSF Series here or the TC Series here.
Or, see them in person at an Escea Dealer near you.