Introducing the Fire Table by Escea.
We all have memories of gathering around the campfire – perched on logs, toasting marshmallows to perfection while you listen to the crackle of the wood against the hum of mother nature.  Unfortunately, in the time of lockdowns and restrictions – we can't always count on getting out into the great outdoors to relax and reset.
Enter the Escea EP1350 Fire Table.
Escea's Fire Table brings the campfire to your backyard - bringing family, food and flames together in a clever new way. "Ultimately we were inspired by the old-school campfire," explains Lead Designer Alex Hodge. "You can't beat the wholesome experience of gathering around a fire to share stories and toast marshmallows. That was the experience we wanted to replicate, with a product simple enough to pull it off but smart enough to have it in your own backyard."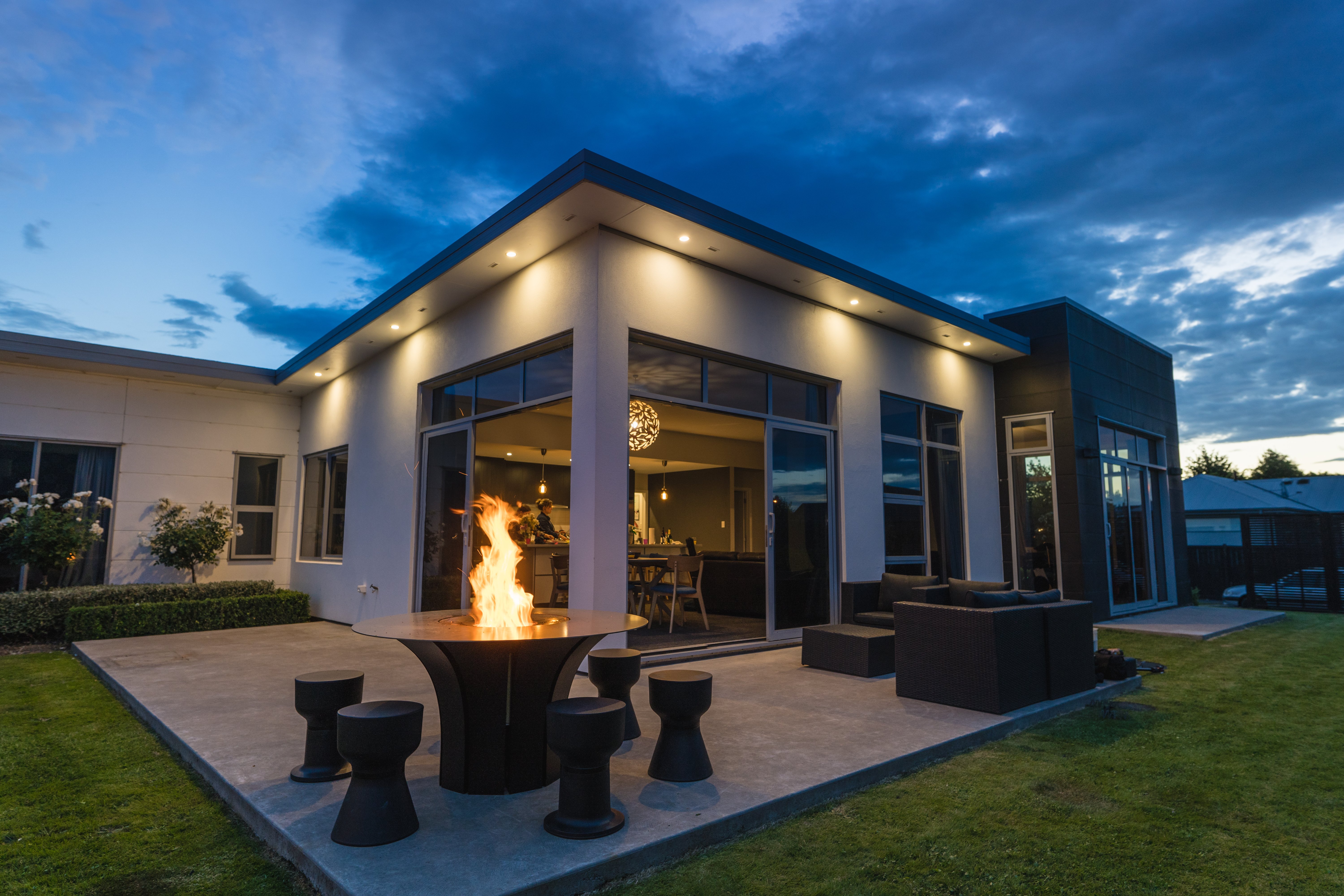 360° Social Cooking Experience
The best thing about the Fire Table is that it offers a 360° cooking experience that gets everyone involved – think teppanyaki, but everyone wears the chef's hat.  How is this possible? The EP has three cooking modes to choose from; an inner stainless steel ring for consistent, medium heat, a removable kebab holder and of course a cooking grill for the perfect grilled tapas – so each person can cook their food just the way they like it.
"The hosts can now be part of the party, rather than slaving away in the kitchen or on the barbeque," says Alex. "Plus, cooking on the Escea Fire Table with charcoal means it's a lot easier and faster to get the ideal cooking temperature." – Alex Hodge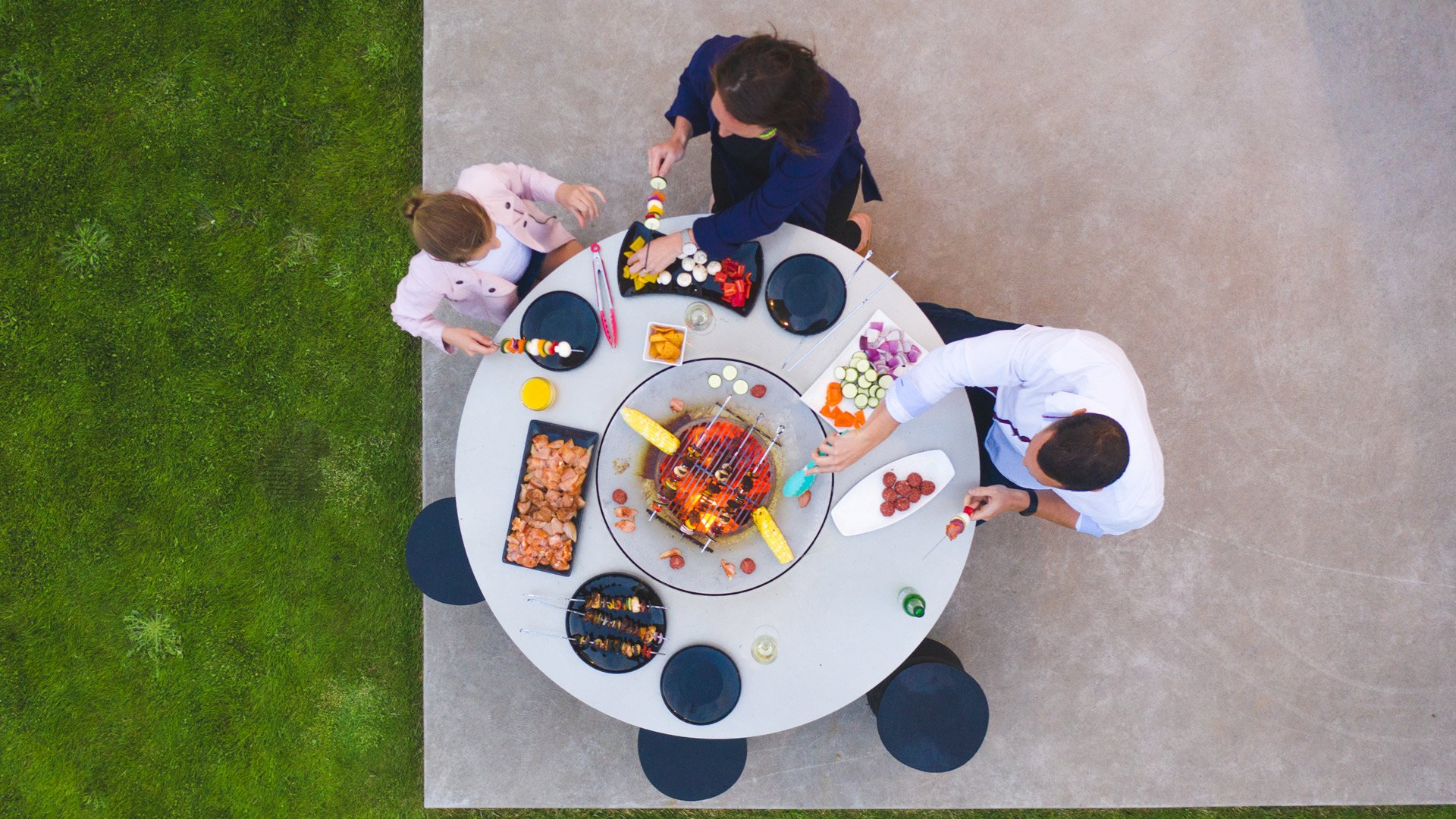 Less Smoke, More Flame
What sets the EP1350 apart from a traditional campfire is Escea's Vortex Firecore technology – it gives you bigger flames, with no smoke to avoid so you're not playing musical chairs around the table as the wind changes direction.
"The key to this technology is the accelerated oxygen," Alex explains.  "The more oxygen the fire has, the cleaner it will burn.  It's the part of the campfire experience we wanted to improve!'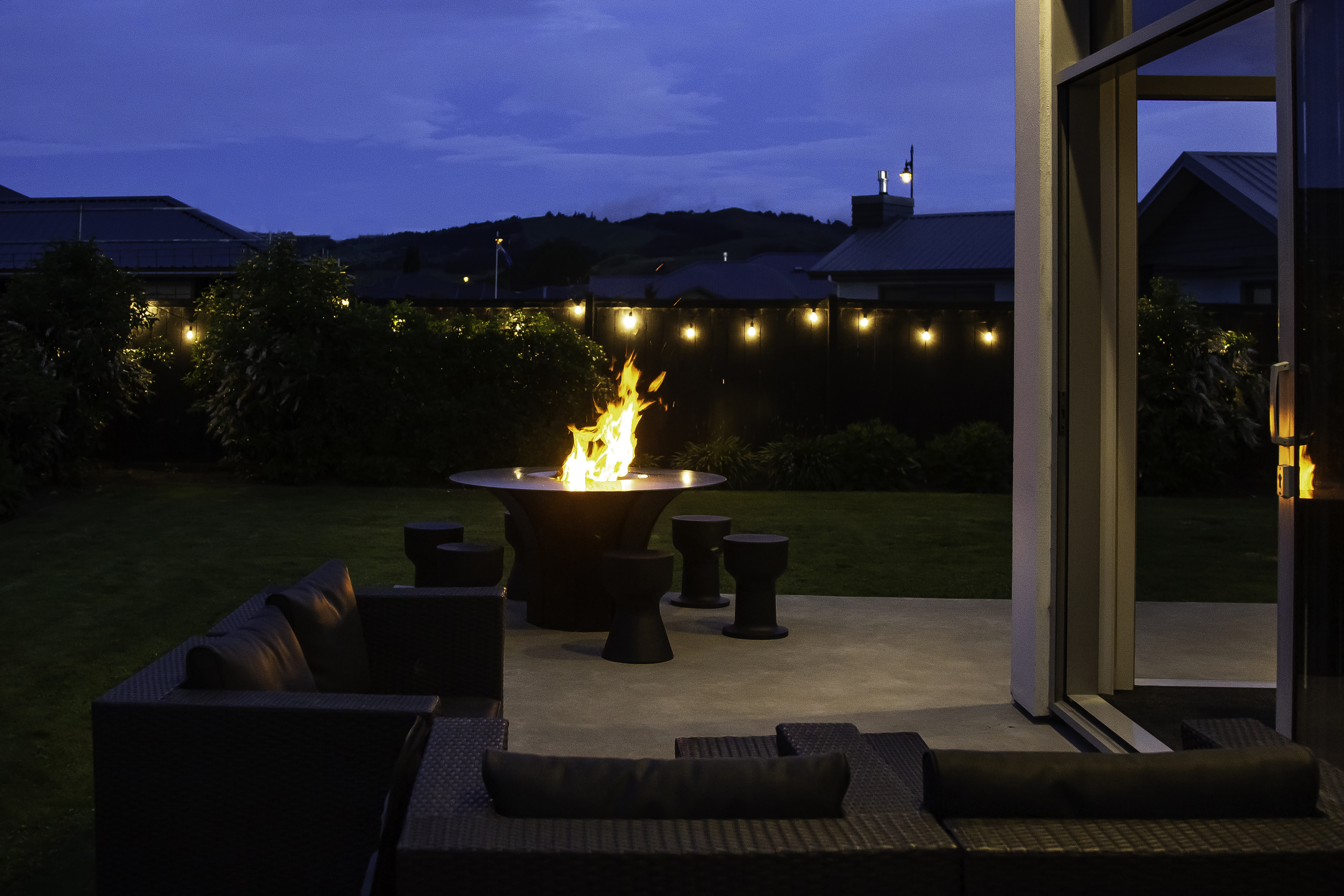 Hot Food, Cool Drinks
Now, the important stuff. Escea's Cool Touch technology ensures the table stays cool and safe.  So even while cooking, the outer ring can be used just as a dining table, for plates, glasses or playing cards after dinner. And your beer stays cool.  When not in use, the weather cover makes the Fire Table a stylish outdoor table for entertaining.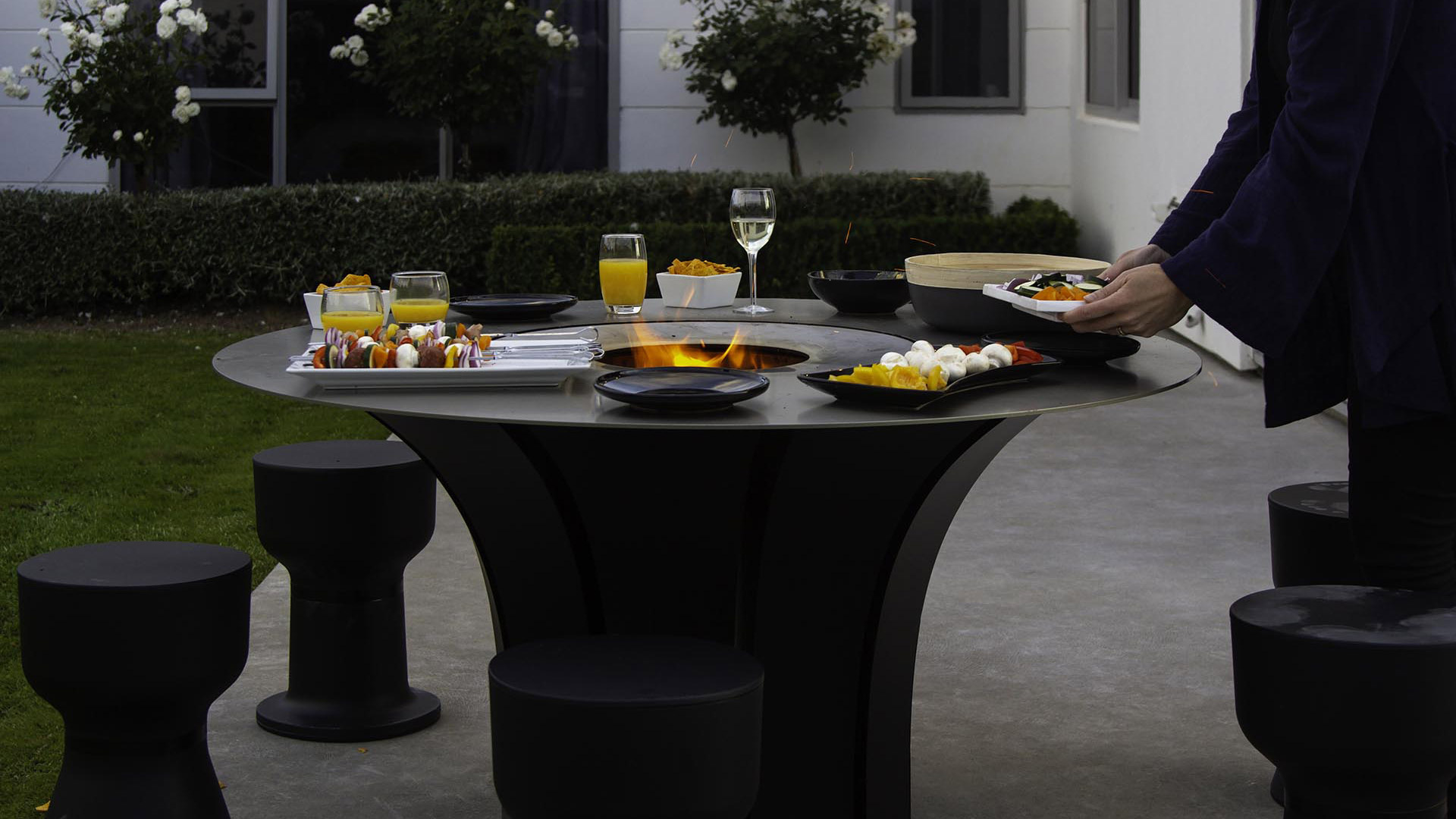 Grill then Chill
Once the cooking is done, the Fire Table becomes your night companion. Remove the cooking grills and add some wood to bring the flames alive. Marshmallow toasting becomes mandatory and relaxing is a given.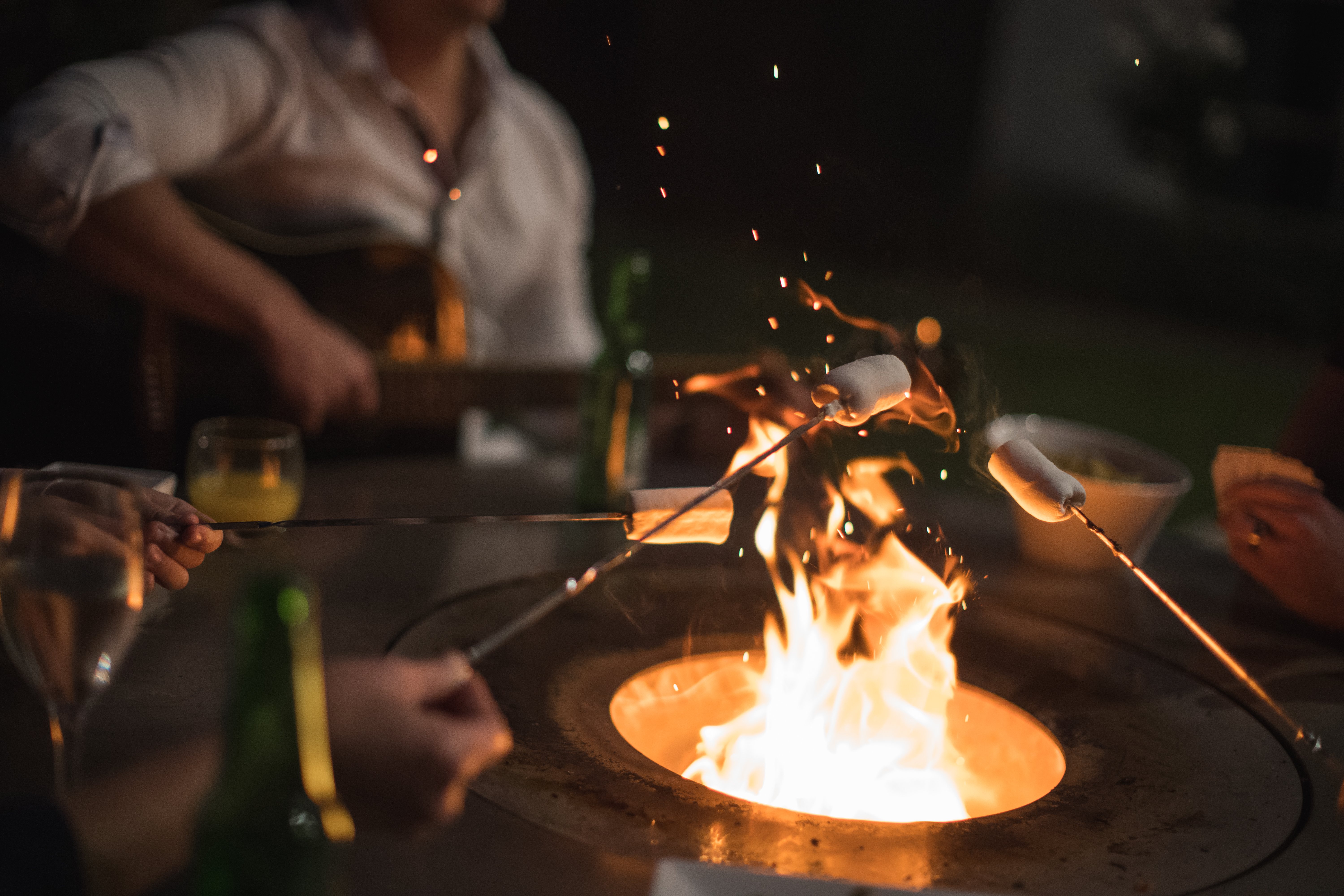 Whether winding down after a busy day or settling in with company, the Fire Table transforms into a social hub that's so good, you'll never want to leave.
To enquire about Escea's Fire Table, find a dealer near you, or email us at info@escea.com