Truly Authentic BBQ with the Escea outdoor cooking fire
When summer approaches, our thoughts turn to one thing: BBQ. Nothing is more quintessentially Kiwi than grilling, so it's fitting that classic New Zealand success story Escea has made the BBQ experience even better. Escea's EW5000 outdoor cooking fire features a large grill plate, so you can char your steaks over a crackling wood fire just as nature intended.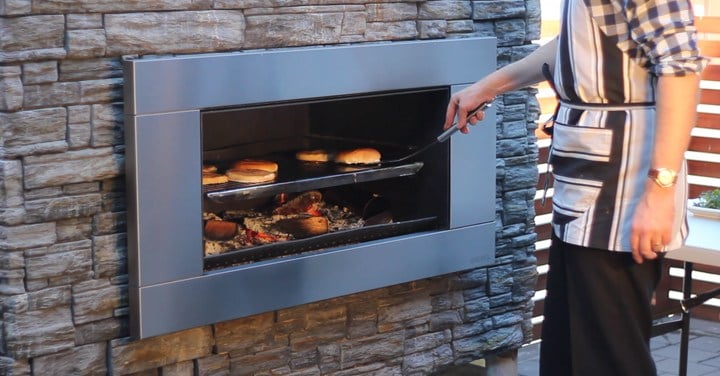 Recently we whipped up some manuka-smoked steak burgers with portobello mushrooms and charred peppers with the EW5000 at the Dunedin Escea offices. Watch the video below on how the team did it.
The grill plate can be placed at three different heights to regulate heat. With the simple addition of smoke pellets, you can create authentic smoked meats.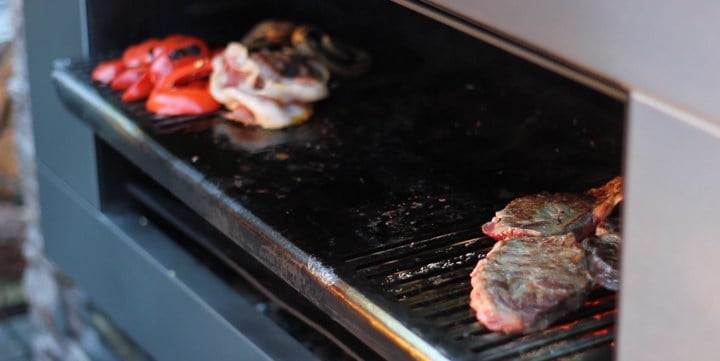 Other than the drool-inducing culinary possibilities – charred skirt steak with chimichurri sauce, exquisitely marbled Wagyu beef with wasabi salt and garlic chips, Caesar salad with wood-smoked chicken breast – the EW5000 outdoor wood fireplace is a brilliant tool in landscapers' arsenals. Evocative woodsmoke and glowing embers never go out of fashion, especially when paired with Escea's trademark clean lines.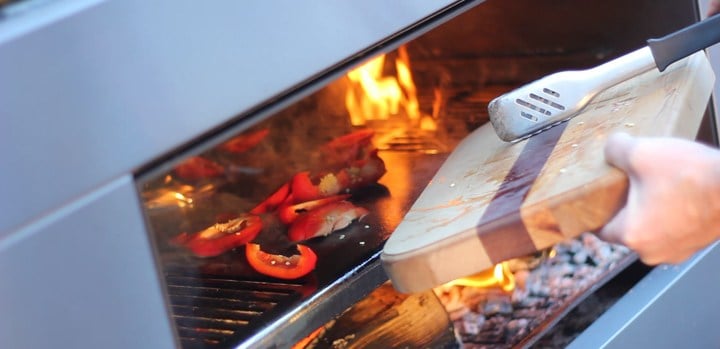 Authentic wood fire grilling recipe: Gourmet Steak, Bacon, and Mushroom Burgers
Olive or canola oil for the grill
Three burger buns, preferably ciabatta
One large or two small red capsicums
Three Portobello mushrooms
Three 120g scotch fillet steaks, trimmed
Three rashers bacon
Three generous slices Swiss cheese – we suggest Gruyere or Emmentaler
Garlic butter
Green salad and cold beer to serve
Build and light your fire. Once the embers are glowing nicely, slide in your grill plate.
Roughly slice your capsicums.
Prepare the grill by lightly oiling it.
Place your capsicum slices and whole Portobello mushrooms on the solid side of the grill plate.
Place your bacon on the grill side to let the fat drip through the grill.
To control the temperature of each side of the grill plate, move the hot wood to wherever you want more heat.
Remove your bacon to the solid side of the grill plate to keep warm, and place your steaks on the grill side. Optional but extremely tasty: add manuka wood chips to the embers below to infuse your steak with manuka woodsmoke.
Cook your steaks on one side to your liking (though here at Escea, we firmly believe that well done steak is an abomination). Turn them, and cover with a foil roasting pan to infuse the centre of the steak with smokey flavour and heat.
Remove your bacon and vegetables from the grill, and add your burger buns cut side down.
Remove the cover from the steaks, and top them with slices of cheese.
Once your buns are pleasingly charred, remove from the grill and spread with garlic butter.
On each bun, place a steak, a slice of bacon, a whole mushroom, and a couple of capsicum pieces.
Dab each mushroom with a teaspoon of garlic butter and place the lid on your burgers.
Reward yourself with a cold beer (we like Monteith's IPA) and serve your burgers alongside a crisp green salad. Or chips. We won't tell if you don't.
Makes three man-sized burgers.