Escea Technology Explained – in Layman's Terms.
Direct Vent Flue technology, Zero Clearance rating, Multiroom Heat Ducting…it all sounds great but what on earth does it actually mean?
Read on to find out what these technical terms mean (spelt out in layman's terms). More importantly, find out what the advantages are for you and your home.
TECHNICAL TERM: Direct Vent Flue.
IN LAYMAN'S TERMS: Modern, more innovative alternative to a chimney.
WHAT IT DOES
> Separates the flu (chimney) system to the heating system.
> Takes the air from outside of the house and puts it into the fire through one sealed vent.
> Takes the exhausted air and expels it outside the house through a second sealed vent.
BENEFITS TO YOU
> Heats you, not the flue.
> Achieves up to 90% efficiency rating (compared to 45% for an open-fronted fireplace).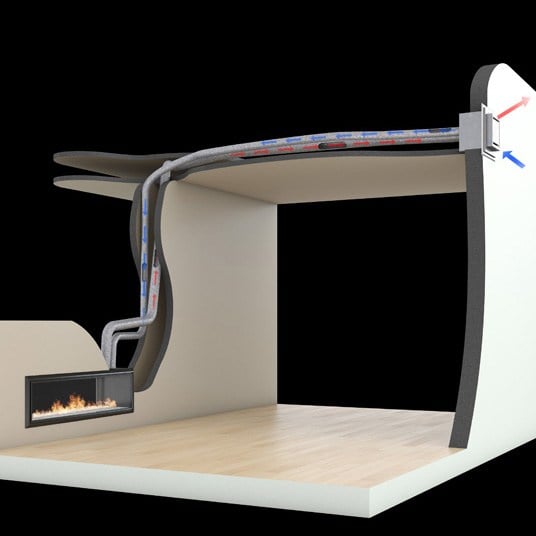 TECHNICAL TERM: Powered Direct Vent.
IN LAYMAN'S TERMS: A fan in the flue that pushes the air in the direction you want.
WHAT IT DOES
Uses an externally mounted fan unit controlled by the fireplace that brings air in one flue and pushes it out another. The key is the fan which controls the flow of air, so the flue can be installed horizontally in the floor or vertically in the ceiling.
BENEFITS TO YOU
> Design freedom – you're not restricted by the need for a wall to install a fireplace.
> Efficiency – the benefits of the direct vent flue technology (as above).