Farm Style Show Home Exudes Relaxed Family Living
This smart two-storey show home designed by architect Cameron Baker for Jalcon Homes is a leading example of practical, contemporary family living. It combines a functional living environment merged with clever simplicity while demonstrating a flair for modern practical design.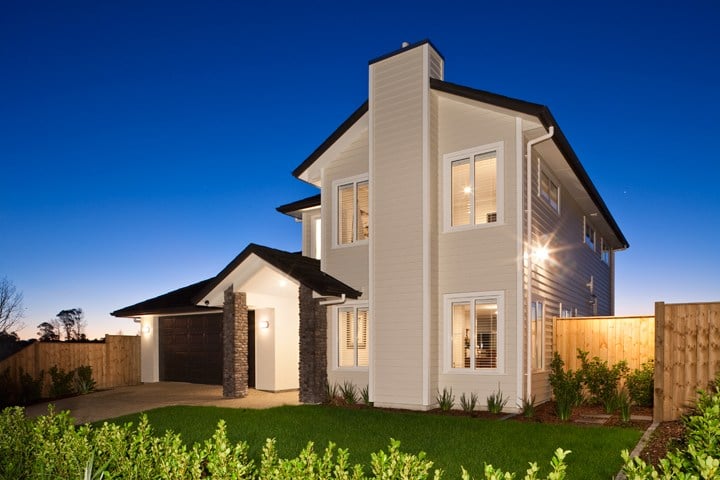 This two-level show home plays on the image of the traditional symmetrical farmhouse, with the use of natural materials such as solid timber construction complementing this iconic style.
While making full use of the land area in which it stands, it accomplishes the goal of a warm family friendly home. This design is also particularly versatile in that it suits a rustic rural, or a contemporary suburban backdrop.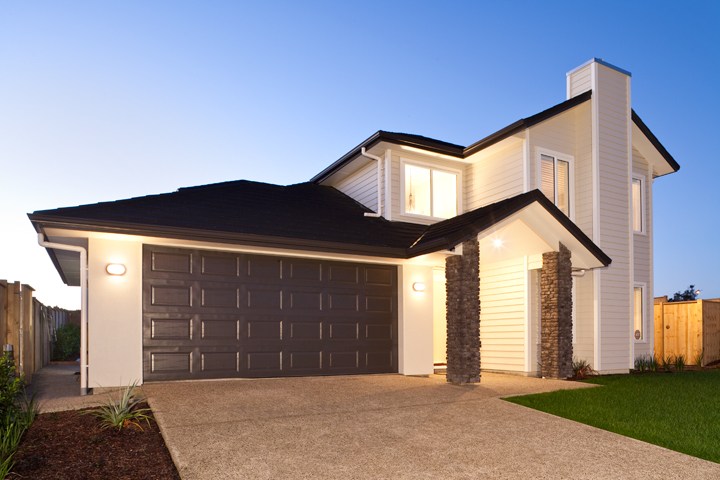 When contemplating buying a house, one of the most important factors to consider is whether the building's design will suit you and your family long term or whether you are likely to quickly outgrow the living space.
Flexible layouts are key to ease of living and the enjoyment of casual surroundings. An example of a functional living arrangement is being able to adapt your layout to suit your requirements day or night. This is an increasingly desirable feature and often at the forefront of the mind of home owners during the design stage.
On the ground-floor the extra bedroom can also double as an office or media room, or could be used to accommodate regular guests. Large picture windows, a toasty gas fire, double glazing and quality insulation all combine to protect the home owners from harsher elements. A flowing indoor-outdoor area also makes the most of the hotter seasons and is ideal for entertaining.
In this spacious show home the living room, dining room, and family room can be combined to create one large area ideal for entertaining large groups of people. Whether it's kids parties or cocktail evenings this spacious abode is light and accessible while having an informal and comfortable appeal.
The addition of large sound proof cavity-slider doors allows for privacy and means the area can be transformed into three separate rooms, this could be used for segregating teenagers and their parents – more conducive to a peaceful household!
This arrangement allows for relaxed family living and means the space available is used to its maximum without looking empty or too roomy. An upper level to the house hosting most of the bedrooms also gives you an extra dimension of privacy, and enhanced views of the surrounding landscape.
A stunning double-height atrium greets you at the main entrance, which follows through to an airy living area showcasing a clean and modern designer kitchen large enough to service hungry family members, and also perfect to host more formal dinner parties.
This home not only beckons you from the outside, but the living room also draws you in, and features an indoor Escea gas log fireplace as the center point of the lounge area. Escea fireplaces exude warmth and charm and give your home the final touches for that true home feel.

Article: Trend Ideas