Creating an outdoor space that flows seamlessly from the inside, as well as being in harmony with the surrounding environment is top of the wish list for many people building or renovating homes.
In alpine environments like Wanaka, there is an increasing movement towards architecture which is consciously influenced by the unique environment it shares, both practically and aesthetically.   
Wanaka-based architects Condon Scott were tasked with just that when they were commissioned to work on Peninsula Bay House – a beautiful three-bedroom home on an elevated site overlooking Lake Wanaka and out to Mount Aspiring. 
Harnessing the home's remarkable outlook was paramount to the design of the home.
"We are very fortunate to be surrounded by such incredible natural landscapes in Wanaka, and we always seek to design homes that accentuate and enhance this environment.
This particular elevated section was no exception and has incredible views over the lake and surrounding mountains."
The exterior of the home showcases a handsome, dark stained cedar with black window joinery – a material palette selected to match the natural tones and textures that canvas the site.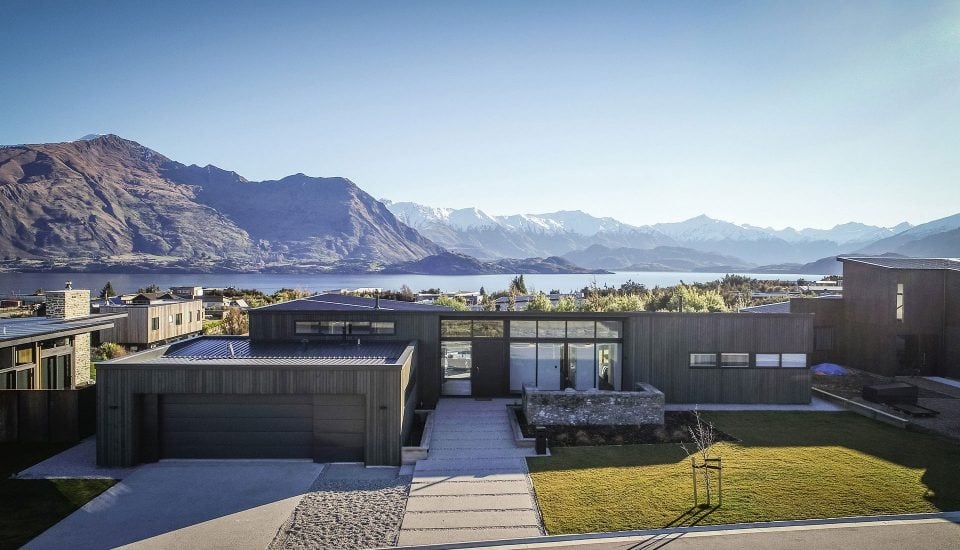 "Our brief was to design a home that capitalised on the views whilst providing a sense of privacy from the street frontage. Outdoor living spaces to relax, sheltered from the prevailing winds were a key part of the brief."
Employing a simple, mono-pitched design, the architect achieved a private, sheltered courtyard where the owners would enjoy the sprawling alpine views whilst still being protected from the harsh winds.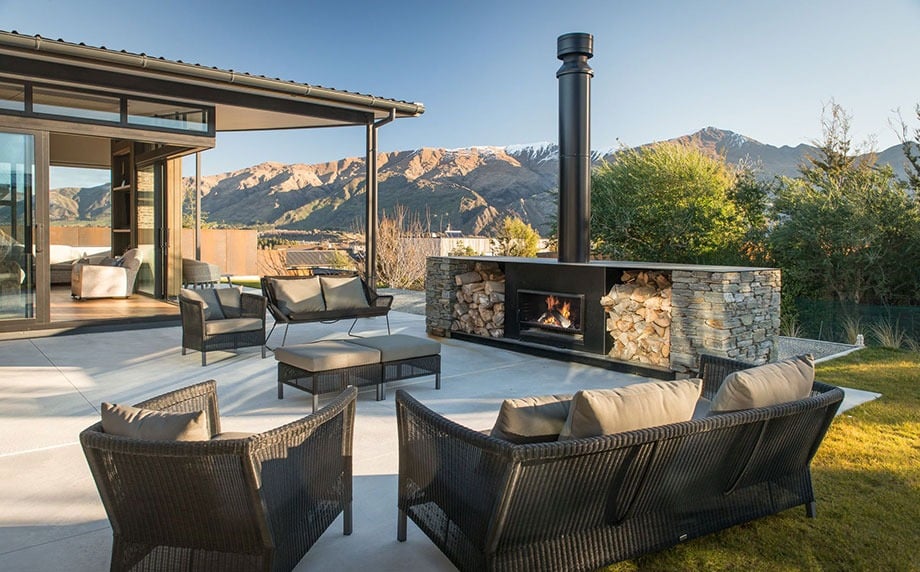 The Fireplace
The outdoor area at Peninsula Bay House was designed to be multi-purpose, with ample space to accommodate both entertaining and relaxing.  A key element of this brief was the inclusion of a striking outdoor wood fire which would become a gathering point within the courtyard, inviting friends and family to connect around the flames.
Having specified Escea Fireplaces for years, the architect selected the EW5000 wood fire for the design which is strongly informed by the rugged natural landscape.
Built-in, the fireplace sits snug between wood storage and stacked shist columns.
"We chose to use stacked schist as a feature material on the exterior of the house, for both the entranceway courtyard walls and the two columns on either side of the fireplace, as it works beautifully with the surrounding alpine landscape" 
The raw and rugged design of the fireplace is a nod to the earthly elements that look upon it – the mountains, riverbeds, and the native grasses that line the lakeside. 
Installation was seamless, with a stunning result.  Leaving the family with a cosy corner in the courtyard to soak up the flames, and the views – all year round.