Nestled in the suburbs of Yeronga, Queensland, this mid-century home designed by grayHAUS is a trans-seasonal sanctuary, where each space flows into the next.
With Mother Nature, the muse, the design brief called for "bold concrete elements softened with timber joinery, greenery and fire elements" fostering conversation between the indoors and out.
The kitchen is the centrepiece of the home, keeping a watchful eye over the ground floor.  Concrete ceilings and textured marble surfaces bounce light through the room, highlighting the wooden accents featured throughout the home and inviting the outside, in. 
 Emphasising the home's engagement with the elements, two Escea fireplaces converse and compliment the indoor-outdoor flow.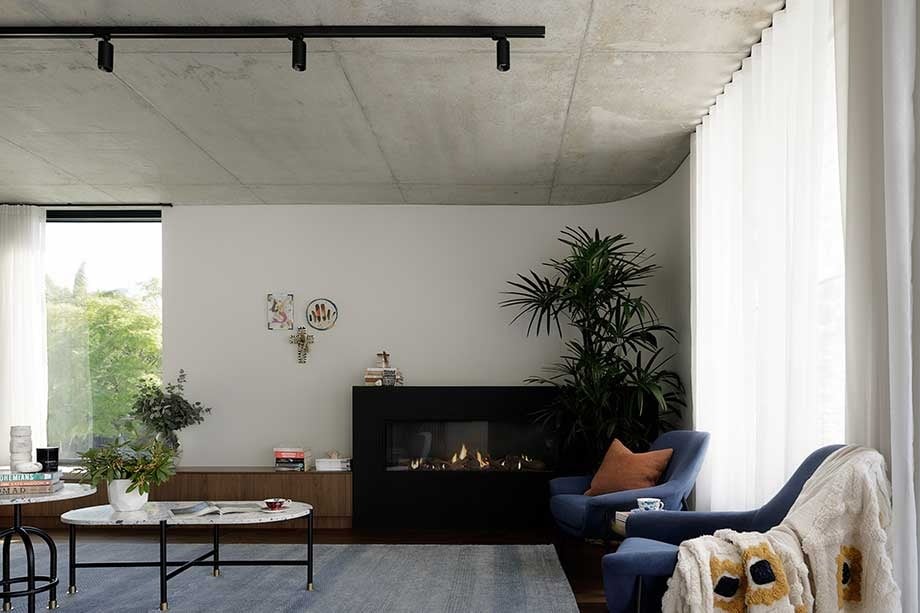 The Escea DS1400 accompanies long nights of conversation and connection. The matte-black render surround was chosen to match the outdoor fireplace.
The Indoor Fireplace
Off-set in the lounge, the indoor fireplace is purposefully positioned to be visible from the kitchen, creating one extended space.   With a focus on art, earthy tones, and no TV insight; the fireplace completes a sophisticated setting for adults to relax and connect, away from devices and distractions.
The Escea DS1400 linear gas fire was chosen for this space for its flexible installation and ease of use and maintenance. Positioned directly below the master bedroom, it makes use of Escea's Flexible Flue technology which allows it to be flued horizontally rather than vertically.
The fireplace is built into a matte black render surround, carefully chosen to disappear into the room, highlighting the flames even more when the fireplace is on – and as a nod to the outdoor fireplace.
The Outdoor Fireplace
At arm's length from the kitchen and dining space, an outdoor entertainment area is framed in greenery and natural materials with a modern finish - beckoning long days and nights of hosting friends and family.