Surrounded in sweeping National Park vistas, this backyard in Sydney's southern suburb of Lilli Pilli is a suburban oasis.
Sydney-based landscape architect firm Exterior Architecture was commissioned to realise the owners' vision of an alfresco entertaining area where they could spend quality time as a family, day and night.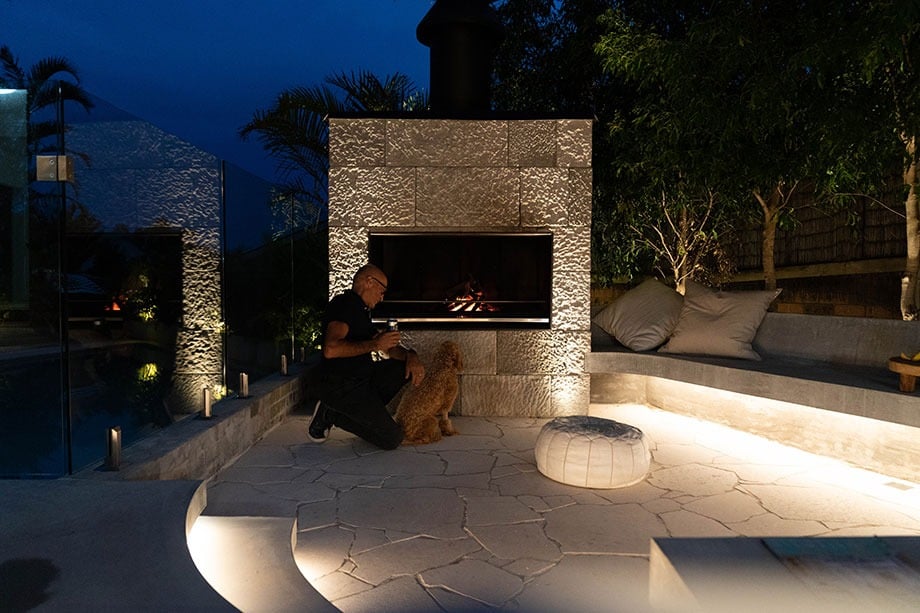 "This young family with three children love to entertain and enjoy an outdoor lifestyle. They wanted a space that spilled over from the pool area and could be used year-round"- Toby France, founder, Exterior Architecture.
Sharing the southern locale with some of Sydney's most picturesque coastlines and national parks, the landscape design is informed by its surrounds – including the visual impact of existing swimming pools in neighboring backyards.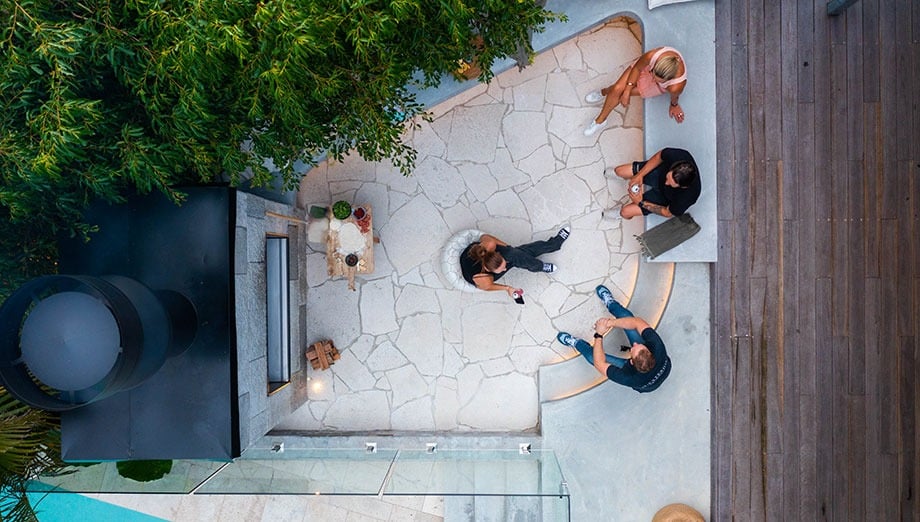 A clever approach to the challenging geography of the site results in an intimate conversation corner. Backed by lush greenery, a handsome Escea EK Outdoor Fireplace Kitchen heroes a sunken outdoor lounge, accompanied by concrete bench seating at arm's reach of the large swimming pool.
"Due to the blocks awkward angled shape, we positioned the fireplace in the centre of the alfresco area, making it the focal point of the design."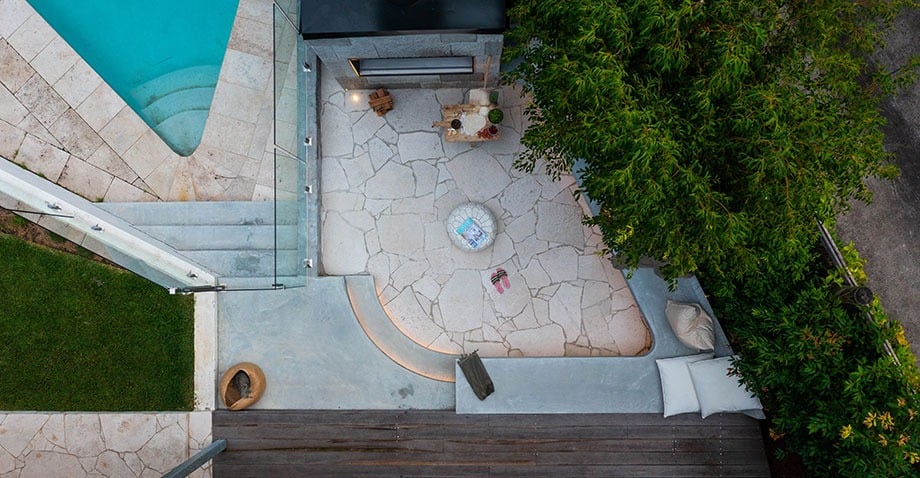 The Escea EK Outdoor Fireplace Kitchen was chosen for its dual function appeal, moonlighting as a professional cooking appliance as well as a roaring outdoor wood fire.
"We chose the Escea EK Series for its versatility as it can be used for nights by the fire, as well as for cooking. We are finding more and more clients requesting this" Toby says.
Toby explains how the fireplace surround was constructed out of masonry blockwork before being finished with Eco Outdoors Broma textured cladding. The rustic aesthetic of the fireplace is an impactful contrast with the leafy green surrounds.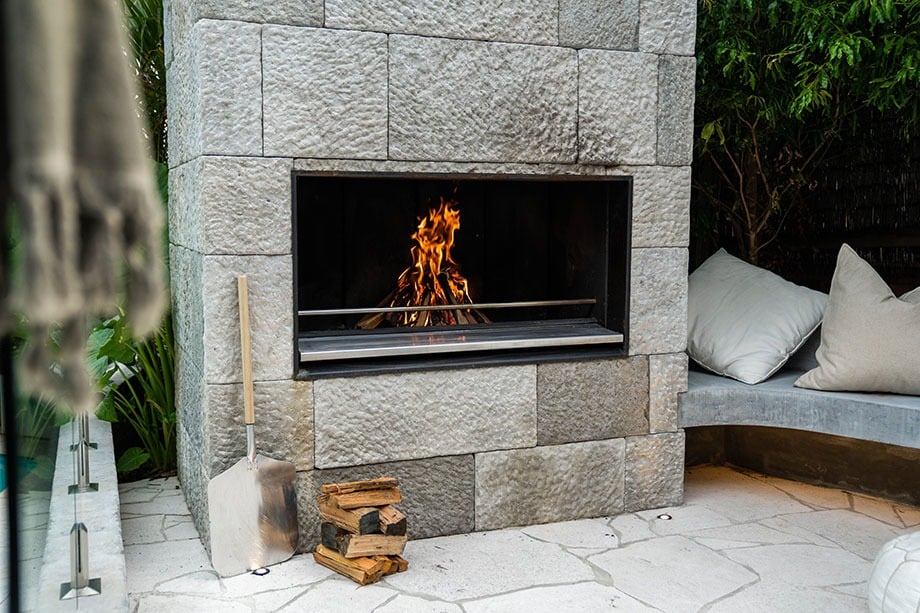 Considered lighting features ensures the completed space meets the brief of day and night – setting the family up for years of memories made entertaining by flame. Get to know the Escea EK Series here.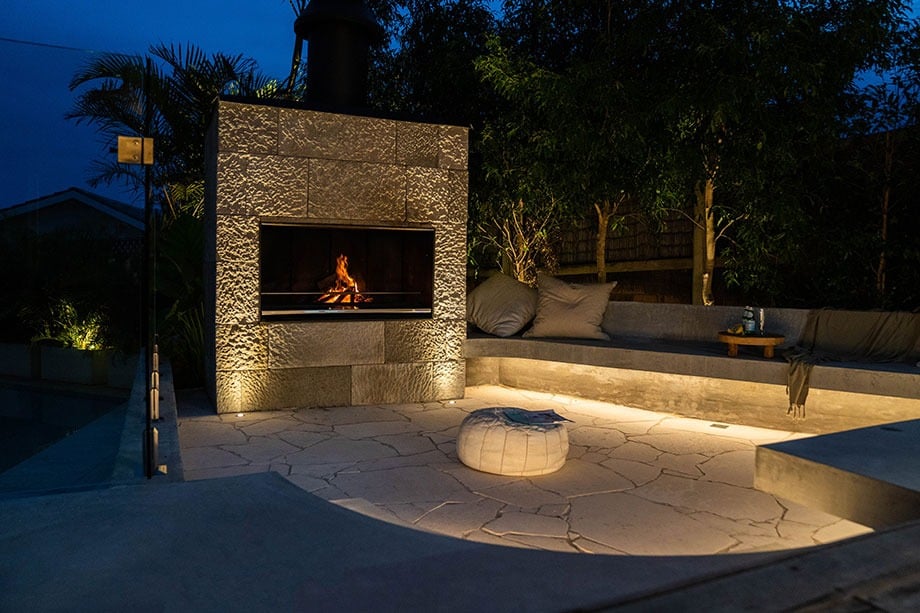 ARCHITECTS TIPS 
Ensure you really understand your site, location, and aspect. This is key in starting the design process to ensure you are sensitive to the location. From here, research and find precedents of styles and similar projects you like!
When designing your outdoor space, we tend to start designing from the boundaries in, as we often use these as a backdrop to, or feature, of the design.
When including a fireplace in your outdoor space of course, it must be designed to code. But you must also consider the finish and look – they can be quite large structures so it's important to select thoughtful and beautiful finishes.