Meet the Cook: At home with Escea EK customer, Chris Burton
Since releasing the EK Series Outdoor Fireplace Kitchen, we've loved seeing it appear in more and more backyards across Australia and New Zealand.
One such fireplace made its way to New Zealand's idyllic Malborough Sounds, and into the home of keen flame griller, Chris Burton.
We discovered Chris on Instagram, where he shares his culinary success on the EK through countless photos and videos of mouth-watering, flame grilled food. From crayfish to pineapple, we're not sure if there's anything Chris hasn't thrown on the EK. Sufficed to say, we were impressed (and hungry!).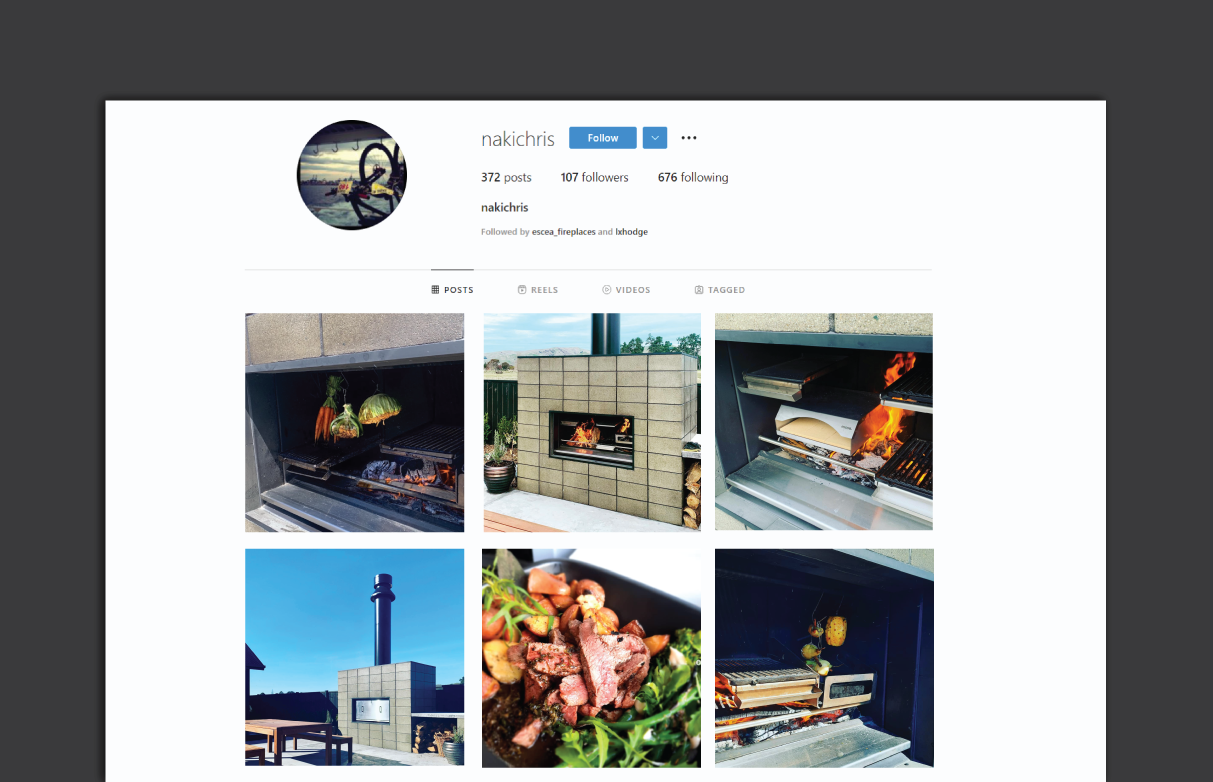 We look to our customers every day both for feedback, and inspiration when it comes to designing and refining our fireplaces. And nothing inspires us more than seeing our customers making memories around flames.
So, we reached out to Chris to find out more about his experience with the EK and what wisdom (and inspiration) he could impart with us.
Hi Chris! Can you tell us a bit about your lifestyle, cooking experience and what drew you to the EK Outdoor Fireplace Kitchen?
I live in the beautiful Marlborough region of New Zealand with my wife Karen, and our two Vizsla dogs Mollie and Ned. We have both worked in and around food for our whole lives – I currently work in the wine industry and Karen is in the seafood industry.
We moved to Blenheim from Auckland four years ago to take up new roles, and two years later decided to build a new home. Because of the great weather we are lucky to get in this part of the country, we decided that the home would be designed to open out onto a private courtyard; and central to that would be a kitchen garden and an outdoor fire.
While we were looking at options for our inside fires (which are also Escea) we discovered the EK Series and fell in love!! We decided on the EK1250 – it was perfect for what we were looking for.
Foremost I was after a fire that I could cook on. The EK has the added advantages of adjustable cooking plates and grills, and by controlling the embers you can create different cooking zones - which means you can grill, roast, slow bake all at the same time.
"It really has become the centre point of our outdoor courtyard at any social gathering we have. Everyone is drawn to the flames so to speak and ends up gathering around it, watching their dinner being cooked and telling stories."
It had the add bonus of when you have finished cooking everything can be stored away, and you had a great fire to sit in front of.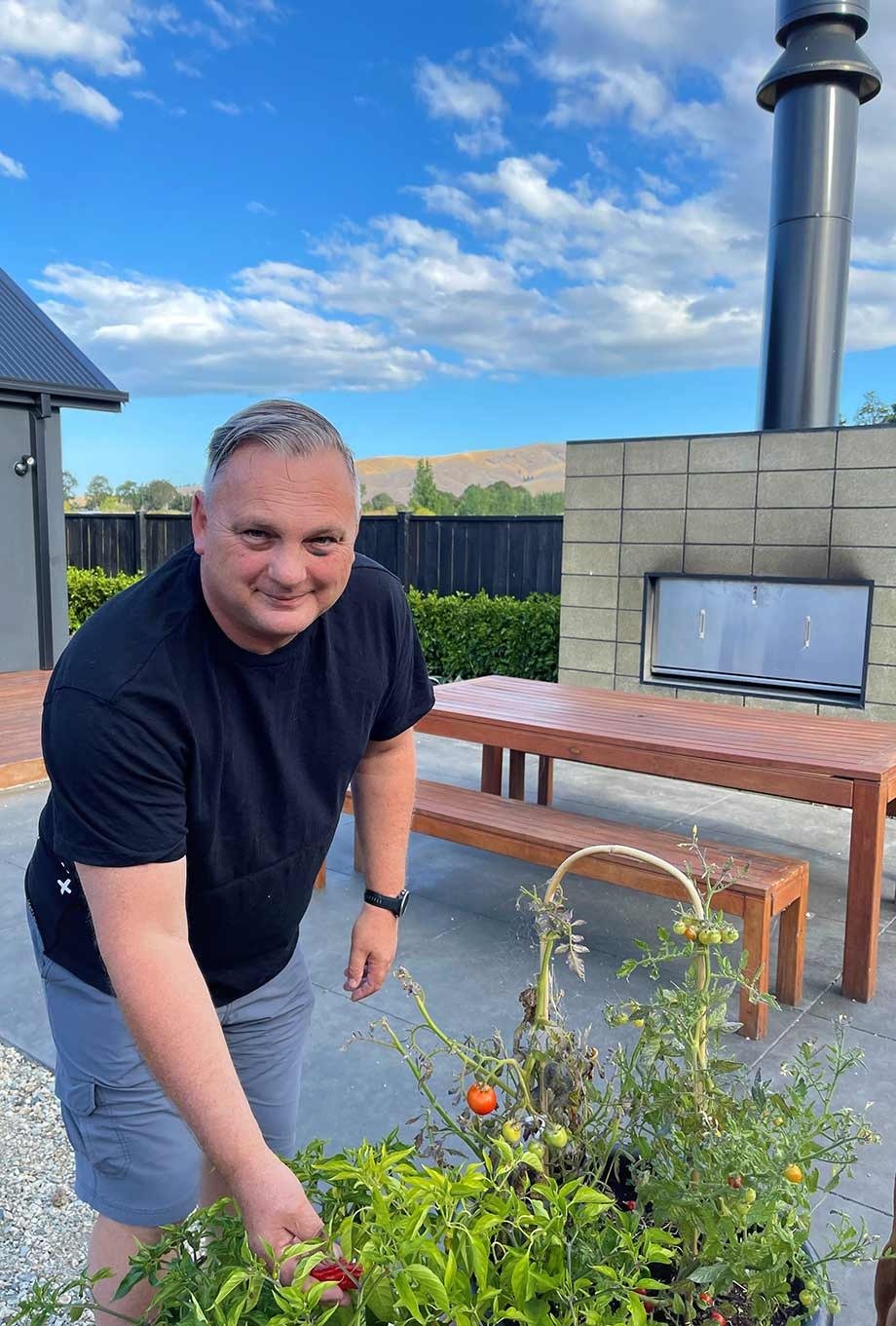 What do you love about cooking outdoors and what makes it different to indoor cooking?
There is a certain satisfaction to building a fire that you don't get from the flicking of a switch on a gas BBQ, or turning the knob on an indoor oven.
On an open fire, you can impart flavour through the addition of different wood and the smoke that is impossible indoors unless you have a great extraction system or an understanding partner! 
The whole experience of standing in front of the fire adding wood for either flavour (smoke) or moving the embers to control the heat, all with a glass of chardonnay in hand staring out at the Wither Hills as the sun goes down is pretty hard to beat.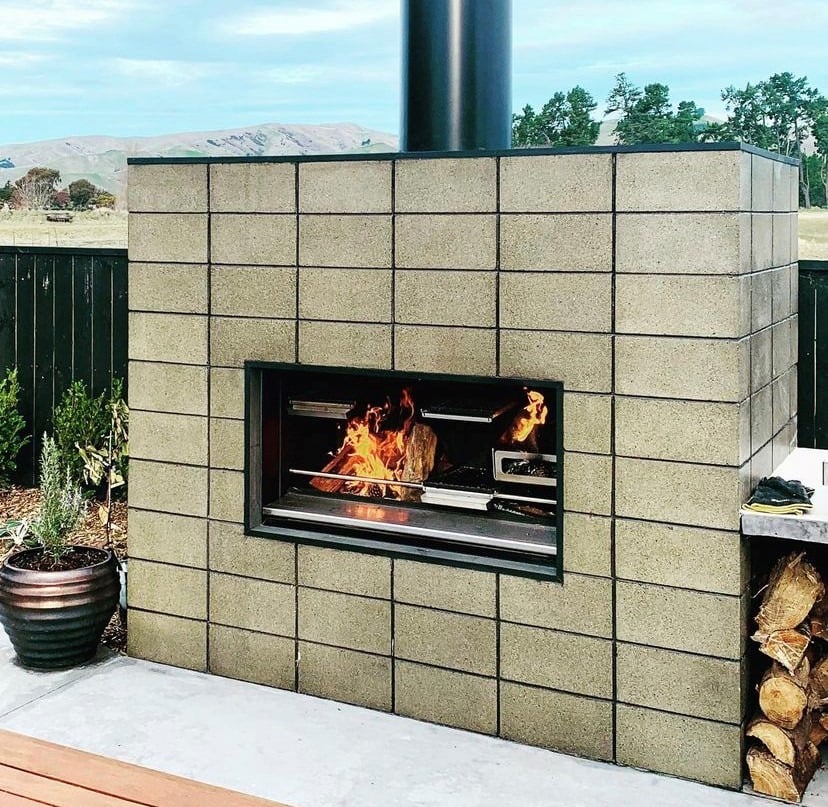 What is your favourite thing to cook outdoors and what's the secret to doing it well?
Living where we do, we are very lucky to have the Marlborough Sounds on our doorstep, and as I work with a keen bunch of hunter-gatherers, fresh seafood is always on offer.
Crayfish is great on the grill over the embers, positioned low in the oven and basted with your choice of butter.  I am currently using a lemon, tarragon and smoked paprika butter.
Fresh blue cod, well-seasoned and drizzled with olive oil in a grill basket, placed directly on the coals and finished with a squeeze of lemon juice is coming out great as well.
I have recently been curing sides of salmon and using one end of the fire as a hot smoking zone. I have the added advantage of burning different wood – currently I'm burning old grapevines that we have pulled up; they are bone dry and burn hot, giving the smoke a slight fruity flavour