If you're serious about entertaining outdoors, you'll know there are certain things that your backyard just can't go without.
Keeping warm, and keeping your guests entertained are right up there when it comes to the must-haves of entertaining at home. Overlook these two things and your night could be over before it even begins.
Luckily for you, Samsung and Escea have found a winning combination that will make entertaining alfresco as easy as it should be, letting your backyard truly come to life.
Nothing beats coming together with friends and family in our own homes. Whether it's to celebrate birthdays, engagements, big sporting matches or long lazy summer holidays. What we once took for granted is now appreciated more than ever.
And never has reuniting with our nearest and dearest in our own backyard sounded so good; long nights laughing around an outdoor fire, toasting marshmallows, home grown music playing and the barbecue on full rotation.
Homeowner's have turned their attention to creating inviting outdoor living spaces made for coming together, entertaining and sharing with loved ones.
With international travel ruled out for now, staying in is the new going out.  So when it comes to creating your own slice of paradise, your back doorstep is a great place to start. And the arrival of this hot backyard duo couldn't have come at a better time.
Enter The Terrace Outdoor TV and Soundbar from Samsung, and Escea's range of outdoor fireplaces. On their own, The Terrace gives us outdoor entertainment; the latter, ample warmth and ambience. But together, this dynamic duo gives us so much more - you'll re-think everything you ever thought about home entertaining and question how you lasted so long without this ultimate combination.

An Escea Outdoor Fireplace and The Terrace from Samsung are positioned side by side for ultimate flame and TV viewing in this outdoor oasis setting.
The Terrace Outdoor TV has all the smarts you'd expect from our QLED 4K Smart TV Technology designed for outdoor entertainment, with its weather resistant IP55 rating to protect it from water and dust*. It delivers extra brightness that adjusts with the light for bold contrast, depth and detail at any time of day or night and its Anti-Glare Technology helps stop reflections getting in the way of the action.  It comes with a complimentary cover but should still be installed undercover, protected from direct sunlight and severe weather.
The Terrace Outdoor TV brings the ease of entertaining to your outdoor space, so you don't have to worry about losing your guests to the sports match inside - the conversation can keep flowing without losing any of the action. Add flickering flames and the warmth of an outdoor fireplace to the mix and you've got everything you need to keep the party going, whatever the weather decides to do.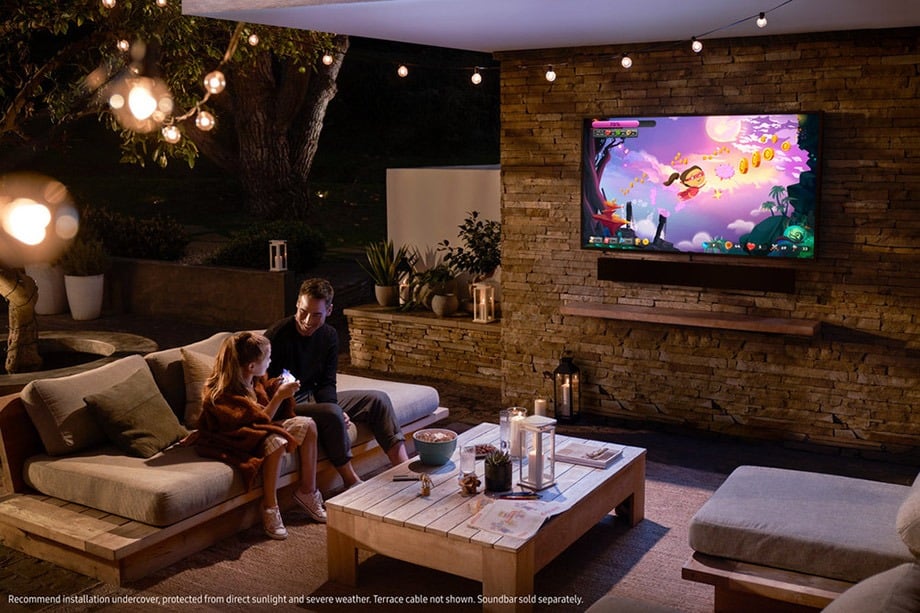 Unlike indoor televisions, The Terrace has an impressive IP55 rating to protect it from water and dust, extra brightness for vivid picture display - day or night, and more action with less distraction with Samsung's Anti-glare technology.
For seasoned entertainers and those really out to impress, Escea's range of outdoor cooking fires will take your party hosting to the next level. These built-in wood fires let you cook restaurant quality meals in your own outdoor kitchen; from meat lover's feasts to wood-fired pizza parties, your favourite grilled tapas and decadent desserts - there's something for everyone. It also means you don't need to leave the fire's side – you've got all the ingredients you need at your fingertips for alfresco dining and entertaining at its very best.
Just as you thought the night was over the best is yet to come. Slide the grills away, load the fire up with wood and stream your favourite music. 
The Escea EK Outdoor Fireplace Kitchen comes equipped with everything you need to create the ultimate meat lover's feast or pizza party, then when the cooking is done, transforms into a roaring outdoor fireplace.
Made to be positioned side by side or on adjacent walls, The Terrace and Escea outdoor fires can be designed into your house plans to create the ultimate outdoor living room with a seamless indoor outdoor flow. And for renovators, there's no reason these two can't be integrated into your existing outdoor space too. You'll wonder why you've neglected your backyard's true potential for so long.