In New Zealand we are fortunate to be surrounded by a lot of beautiful character homes – spanning from the villas and terraces of the late 1800's, to the bungalows and cottages of early 1900's.
We are drawn to these buildings for their heritage charm and nostalgic homeliness. The time-honoured, period features that exude a lived-in warmth.
But while there is a lot to love about these precious pieces of history, their aesthetic appeal is not enough to warm homes literally.

Although beautiful character homes like these are full of time-honoured style, the original design of them wasn't conducive to heating the home effectively or efficiently. Images: Graham Warman; Jessops Architects; Nicole England.

Many of these homes were constructed with no insulation, single glazing, and now have life-worn cracks and crevasses inviting in the cold and making them difficult to heat efficiently.  Especially without compromising on their romantic look and feel.
Interior Designer Emma Hoyle is no stranger to the challenges of bringing warmth into character homes. We spoke to her about what changes you can make to turn your draughty house into a cosy abode.   
1. Insulation
One of the most obvious reasons that we find it difficult to heat older homes is that they have either been constructed without insulation, or the insulation has degraded over time and is no longer effective at retaining heat.  This is one of the most important areas to address because, without good insulation, other attempts at warming the space can be inefficient, if not futile.
"After the insulation, joinery and draught prevention has been addressed, your heating systems are going to operate much more efficiently. If you are undertaking a full renovation, think about adding underfloor heating to colder flooring surfaces, and particularly adding these to more moisture-prone areas." – Emma Hoyle.

Auckland Builder and TV Personality Peter Wolfkamp embarked on a heritage restoration of an old workers cottage, starting from the inside out; he replaced all insulation, re-lined the walls and installed underfloor heating with a goal of making the home everything kiwi homes aren't – 'warm, dry and comfortable.'
2. Flooring
Many old houses with basements or underfloor crawl spaces will experience cold floors due to air entering through cracks in the foundations and windows.  These issues may be hidden underneath the home, but they have a significant impact.
Add to this, many older homes have bare wood, concrete or tiled floors – these materials are not good at retaining heat so in the winter months especially, it pays to cover them with something.
"Floor treatments such as wool carpets and large-scale rugs all bring warmth to spaces. Wool has so many added benefits as it is natural, biodegradable and renewable."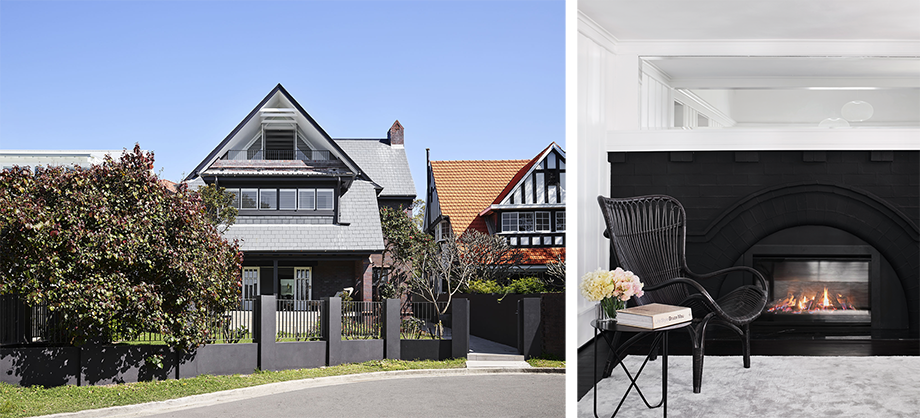 Sydney Architect Madeleine Blanchfield redesigned this Arts & Crafts home in Sydney, retaining elements of its original charm by retrofitting an Escea DF960 room-sealed gas fireplace into the existing brick chimney. Large-scale rug carpets were added for an added layer of warmth and under-foot comfort. Image: Anson Smart.
3. Windows
Windows are another area prone to both heat loss, and cold drafts. The main reason for this is that in older homes, they are single glazed, and often over time, gaps and cracks appear in the window framing.
Aside from upgrading to double glazing and plugging up the gaps, there are other things you can do to restore the warmth, such as moving beds and sofas away from the windows, and investing in quality curtains.
"Curtains can minimise heat loss with lining. I tend to use a three-pass blockout as it has both insulation and blockout properties. Ensure the drapes completely cover the architraves and openings and go to the floor," she suggests.
"Curtains are a great addition to the house as they are practical and also soften a room."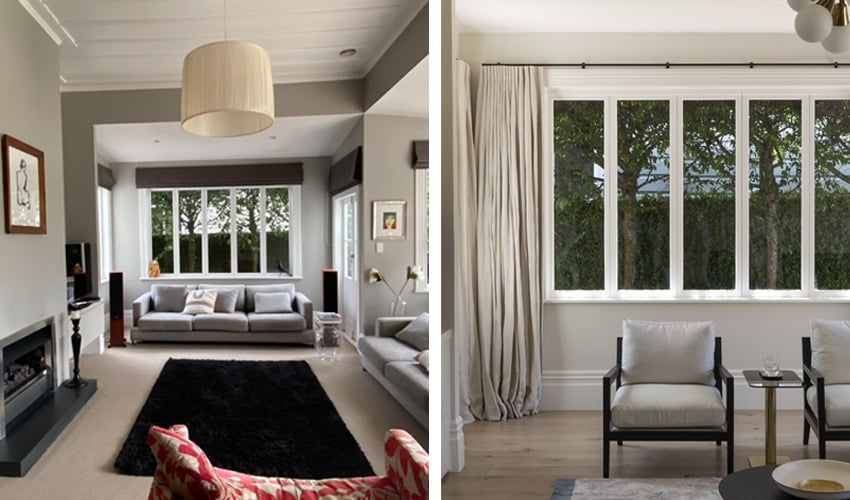 Auckland Interior Designer Emma Hoyle replaced the blinds in this living room with 'three-pass blockout curtains' that dropped to the floor, chosen for insulation, blockout properties and to soften the space. Image: David Straight.
4. Fireplaces
Many older homes were built with open fireplaces as the main (or only) source of heating, and whilst they have a nostalgic, old-world charm about them – modern technology has rendered them redundant. 
When not sealed off properly, these old beauties actually cause heat to escape up the existing chimney and are yet another entry point for cold air to arrive in the home.  In some cases, they have been fitted with open-fronted gas fireplaces that are now just as outdated as the wood fires that came before them.
Retrofitting is a great solution to this – replacing these fires with a modern and efficient room-sealed gas fireplace so no cold air can escape or enter the home uninvited.  Enter the Escea DF Series.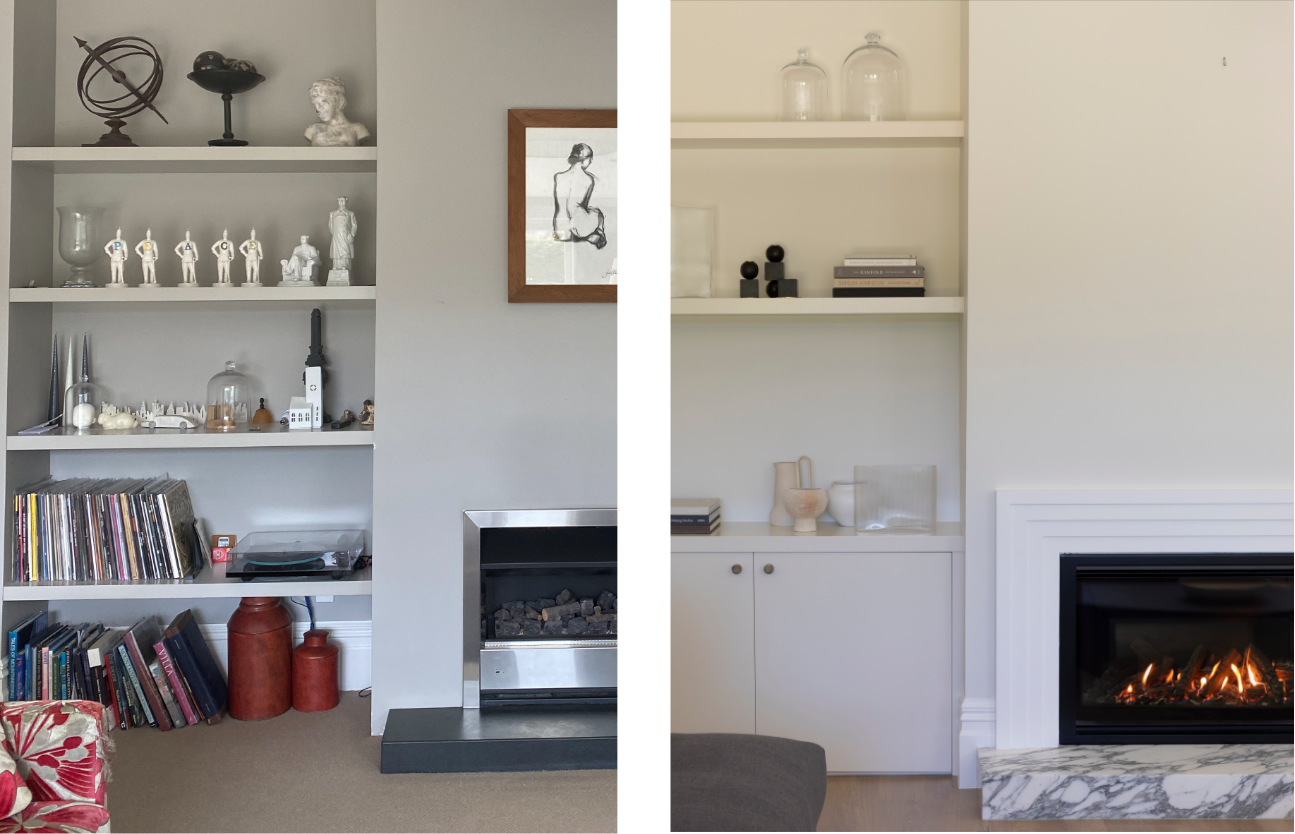 The living room of this Auckland Villa had an old, open-fronted gas fireplace which was outdated and inefficient. Interior Designer Emma Hoyle recommended upgrading the fire to a glass fronted room-sealed Escea DF960 gas fireplace to increase efficiency, while the design of the fire lended itself to the traditional, timeless features of the character home. Image: David Straight.
"The DF Series was designed for renovators, but specifically as a solution to the open fireplaces that feature in so many old villas and bungalows," says Escea's Lead Designer Alex Hodge.
"We wanted to provide a safer, more convenient, and more efficient fireplace, but also something reminiscent of the wood fires that came before them. We did this by stripping away all the unnecessary visible detail and maximising the flame."
Escea's DF Series features a modest firebox shape designed to fit into existing cavities, as well as flexible flues that can be run right up the existing chimney. These unique properties make it a dream for retrofitting.
"Gas fireplaces are super-efficient to run and are a fantastic option and become an anchor to the living spaces. I often use Escea in my projects. They are beautifully designed and crafted on our New Zealand shores, and the team is great to work with too." – Emma Hoyle
Use the winter months to make a change in your home and create a space you can't wait to come home to.  Get to know the DF Series here.