A chic urban interplay of light and dark
This apartment in the heart of Sydney pairs cool neutrals with clean lines for the last word in understated urban cool. The combined kitchen/living area features a beautiful, dramatic dark polished wood floor. A bookshelf in the same solid, dark wood stretches across an entire wall, effortlessly imparting that sense of solidity, history and permanence that can be so elusive in smaller apartments.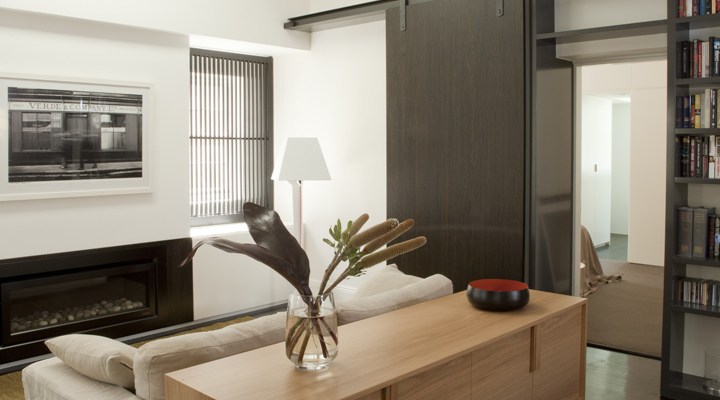 Perpendicular to the bookshelf is the kitchen, which features a stunning white marble slab benchtop and square white lacquered cabinets mimicking giant tiles. White shutters frame the light streaming into the kitchen, ensuring that the darker tones of the floor and bookshelf never overwhelm the space, and creating a pleasing interplay between light and dark.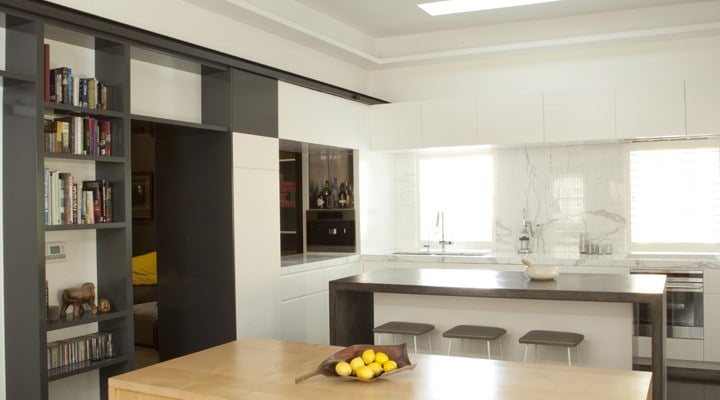 The contemporary use of traditional materials like marble and dark oak that characterises the apartment is perfectly complemented by an Escea DL850 gas fire in Volcanic Black, which offers the perennial comfort of dancing flames and radiant heat contained within sleek modern lines. The DL850 can be installed into any space without the need for an expensive fire-rated wall construction, making it easy for the apartment's owners to hang a vintage print above their fire.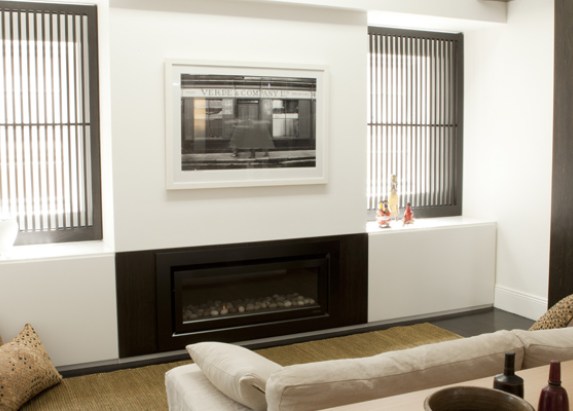 Colonial-style dark wood shutters surround the fire, adding another motif of solid, traditional materials to the room. As always in this apartment, though, balance between design elements is paramount – the dark shutters are both balanced and emphasised by sweeping white curtains framing the dramatic floor-to-ceiling windows on the perpendicular wall. The sleek, minimalist profile of Escea fires makes them an ideal heat source/design element for urban apartments. Click here to discover the perfect fire for your lifestyle.