Escea Student Stories: Farewell and Sikker Rejse
It's time to say goodbye to our Danish interns who have been working here at Escea for the past 6 months. Fun was had, projects were achieved and overall, they had a helluva Kiwi experience.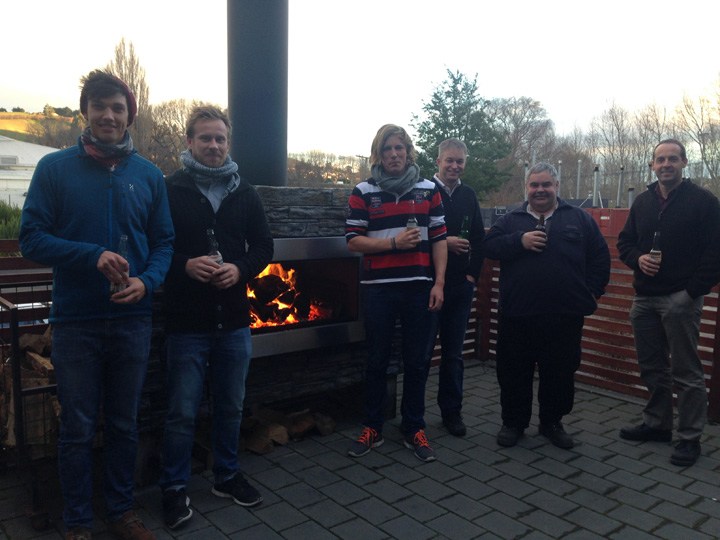 Sitting down with the four boys, they were all anxious about leaving yet excited for the next adventure. In fact, they felt a bit strange about leaving the premises and maybe never coming back. "I can't believe it's going to be the last time we drive over that bridge", commented Tim.
While they were here, the boys thoroughly impressed their mentors by developing new manufacturing systems and implementing them into the factory for higher efficiency. This included building, teaching other staff, incorporating into the factory and assessing the effectiveness. Unfortunately, a lot of the projects were centred on product development so the details had to remain confidential. However, what they could say demonstrated the inconceivable experience and knowledge they gained while working at Escea.
When I asked what the greatest achievements were after working at Escea, with smiles on their faces they said the improvement in their English – but then admitted that they were pretty slack and predominantly slipped back into Danish conversation back at home. The guys commented that developing their technical vocabulary was initially very difficult, but it got easier in the end. They mentioned the level of technical speech and understanding isn't something they would have been able to achieve back home like they have in NZ.
In addition, learning to understand the local female population also made English absolutely fundamental; although, the girls' -sometimes hard to decipher- accents significantly strengthened their English comprehension skills :).
Other achievements high on their list included, improvements in their Solid Works software skills and flue mechanics knowledge. In Denmark, gas fires aren't very common, so the experience was incomparable to anything they could have done back home. They felt that they had been given a massive opportunity to expand their knowledge in a product range that gave them a point of difference, could be applied to other countries, and better professional development prospects.
"It was so easy to work in the factory and the office and continue to receive the same level of support and guidance in both areas", remarked Toby. A special mention went out to the engineering team whom the four said they would definitely miss.
Aside from Escea, New Zealand itself has left a special mark on their hearts; from the spectacular scenery and beautiful forestry to the intriguing bird- and wildlife and waterfalls.
By the end of the trip, the group had visited the enchanting Doubtful Sounds, went skiing in Queenstown and Wanaka, explored Wellington, camped, fished and roughed it -like real Southern Men- around most of the South Island. They even found some time to warm up in Fiji.
On the final note, although they won't miss the cool Dunedin days, they had developed a certain attachment to this stunner of a town, the friends they made and the people who advised them.