Escea Student Stories: Then There Were Four More.
We're always sad to see our interns leave, but before you know it there's another four Danish interns entering Escea's doors.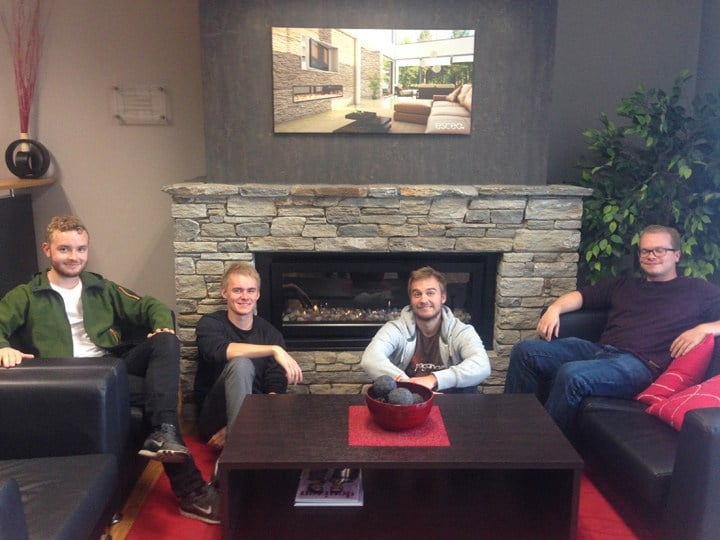 Meet Niels, Christian, Peter and Martin. All from Aarhus in Denmark, the four already knew each other before coming to Dunedin, making it a pretty smooth transition. They decided to choose New Zealand for a bit of an adventure, it was made an even easier decision when they saw where they were going to be working. Based on previous intern's reports, they thought Escea sounded exactly like the place they wanted to go spend a few months.
When asked what their assumptions of New Zealand were before they arrived, it wasn't a surprise when they all replied, "a lot of sheep, extreme sports and the scenic countryside". The last two are things the four are very much looking forward to experiencing.
On their way they knew to expect something very different to Denmark, they just didn't know how different. Now, they can definitely agree that it certainly exceeds any expectations.
Niels has previously worked as an Electrician, so he has been in the factory and workplace setting before. However, he decided to do something different and more exciting, leading him to an engineering degree. Although, initially he didn't even think he would be coming. Failing to receive an acceptance email from Escea, he thought he has missed out. It turned out that his name was spelt wrong in the email. So when he did receive the good news, it was even more exciting than ever.
Christian's past experience comes from land surveying and Peter has worked as a student assistant in the environmental industry. Martin has worked in similar settings as Escea in a factory called Nieburg, which manufacture mechanical gears and in a design department developing production lines in the woodwork industry.
At Escea, Niels, Peter and Chris will all be working in R & D, while Martin will be working in Production. The three in R & D are all excited about developing new ideas and looking at how to improve concepts and products, while Martin is looking forward to being involved in Manufacturing and Production which is his area of expertise.
Hosting interns from Denmark offers a great opportunity for both Escea and the students. They not only get to learn about a real life work environment but also experience a different culture and opportunities. On the other hand, Escea gains valuable perspective and insight from a different market place. But most importantly, Escea has the opportunity to extend the knowledge and expertise housed within it from the extremely talented team of Engineers.
It was really cool to hear how appreciative they were for our relationship with the Danish government. "There are hardly any companies who offer opportunities like this so we are really happy to be here". On the cards is to visit as much of the South Island as possible including some of the North Island. We'll be reporting in as the time goes on to fill you in on another lot of Danish adventures around NZ.