Student Stories: Danish Icicles 2.0 & Mt Cook Chocolate Tasting.
For the second time this year, the Escea Danish interns ventured off into the great NZ outdoors to uphold Escea intern tradition. Beginning Friday night, the group started the trip in Oamaru, lounging, drinking, eating and sleeping under the stars.
Saturday was action-packed with activities ranging from tramping, investigating caves and biking through rolling valleys. On the way to Mt Cook, they visited Elephant Rocks, Canyon Creek and whale fossils; stopping briefly for a quick dip in Canyon Creek – just a taste tester of what was to come (And they thought that was cold).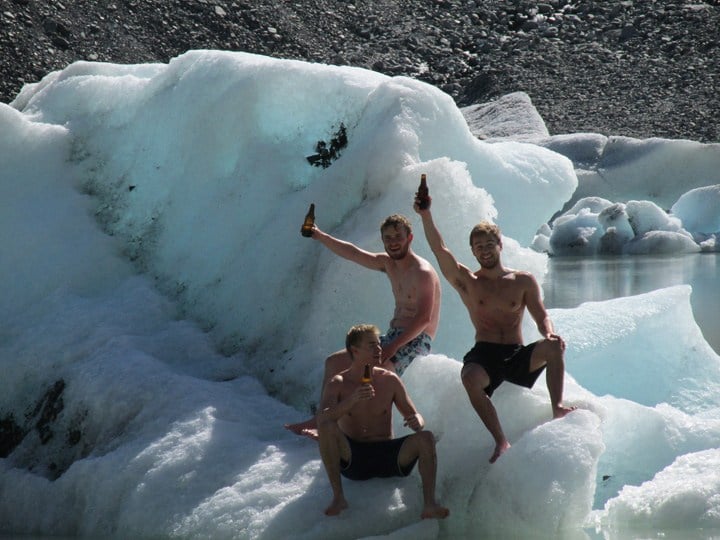 Arriving at Hooker Valley, they took great amusement at being able to collect water from Hooker Lake – a token they still have in their Dunedin home. A few sniggers later and we could start talking about something else :)
Sunday was the day. The four headed down to the prime spot, the iceberg of choice was identified, and then it was go-time. Boxer shorts in full force, they dove into the "pretty cold" water, Speights in hand, and the dart to the iceberg begun. Once they reached the iceberg, they celebrated in true Southern Man style with an 'ice cold' Speights.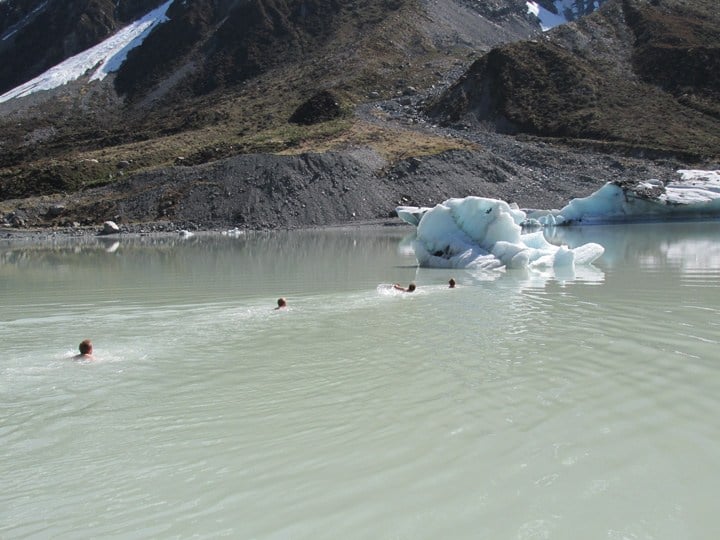 Next up was the 2000 foot climb. As honorary Dunedinites, the troupe saw the importance of having a thorough understanding of the different types of Cadbury chocolate. So of course, they bought every single flavour before embarking on their expedition. Once they reached the pinnacle of the tramp they tasted every flavour, familiarising themselves with their –now- local chocolate brand. After great deliberation, they all agreed Perky Nana was the winner.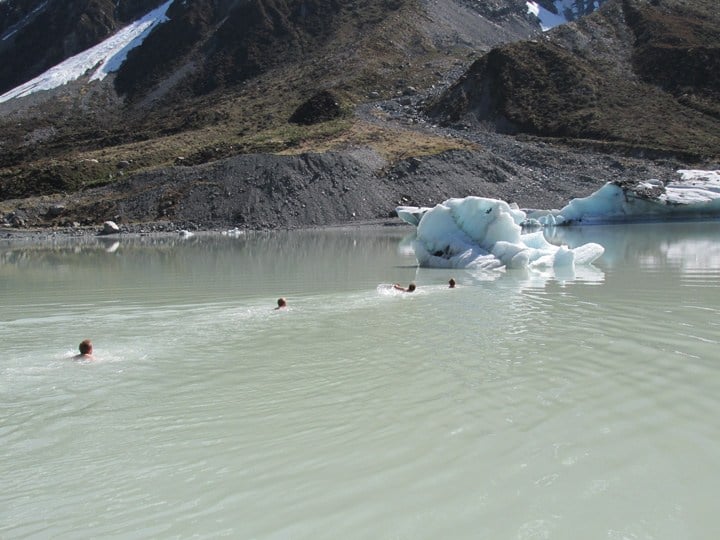 Fun times were had and great memories created but they all had their favourite moments: Niels was a fan of the swim at Hooker Lake; Chris couldn't look past the chocolate tasting; Martin loved the stunning scenery during the bike trip, and Peter won't forget the adrenaline rush while standing on an iceberg.
All in all, the Danes are thoroughly enjoying New Zealand – more than they ever expected. Between the scenery, extreme sports and Dunedin nightlife, the group can see the time going by pretty fast. With ideas coming out of their ears, the four are extremely excited to explore more of Central Otago, the West Coast and the top of the South Island.
Hosting interns from Denmark offer a great opportunity for both Escea and the students. They not only get to learn about a real-life work environment but also experience a different culture and opportunities. On the other hand, Escea gains valuable perspective and insight from a different marketplace. But most importantly, Escea has the opportunity to extend the knowledge and expertise housed within it from the extremely talented team of Engineers.