Countryside living with a luxury twist
Purpose built for the residing family, this countryside home in Wanaka (NZ) is an impressive but natural beauty.
Choosing Wanaka as their base was an integral part of the decision process, so they wanted to adequately reflect that choice in the home's materials. Central Otago schist is generously used throughout the house for framing objects and creating bold entry points; three Escea fireplaces with coal and wood inspired fuel beds echo country elements; "custom rusticated" cedar weatherboard achieves a austere appearance; and finally, plastered Rockcote Integra panel cladding provides a sturdy home foundation.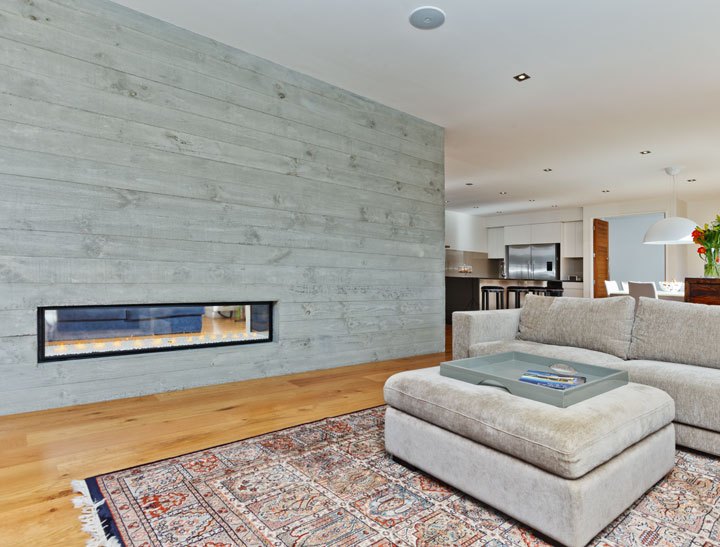 The homestead is made up of three pavilions, plus a three car garage with an impressive indoor-outdoor flow. The home's aspect allows for all rooms to face directly onto the outdoor space abundant with activity areas. Complete with a tennis court, pool, spa and gymnasium, the family is sure not to get bored. Two of the three pavilions extend out to the alfresco dining area, especially designed with entertaining in mind.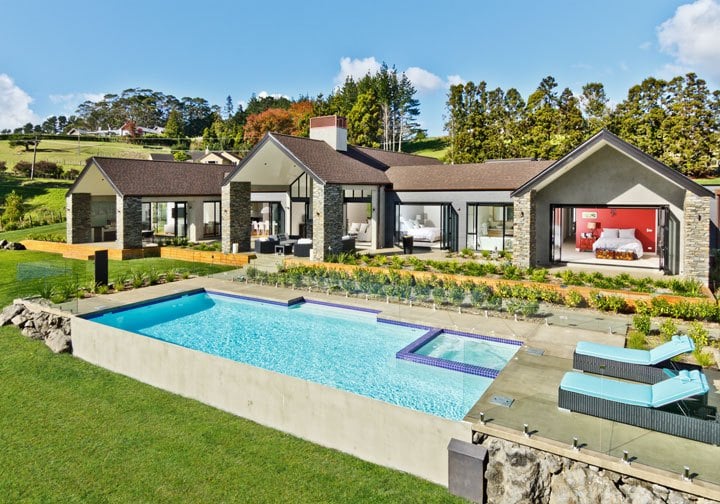 The central pavilion houses the dining and living area. The adjacent pavilion holds the kitchen, family area and informal dining. You can also find a media room, wine cellar and study.
This central pavilion – or heart of the home – is where three Escea fireplaces are conveniently located. An ultra-wide, double sided DX1500 with a white coal fuel bed is located in a relaxation area paired with plush grey sofas and is surrounded by a light wooden panelled wall. As the wall separates two entertaining areas, the DX1500 is the perfect fireplace for this area because of the heat ducting technology feature. The heat ducts are placed in multiple areas away from the fireplace, so the heat can be circulated into other areas either a large room or into multiple rooms. (See above picture)
In another more formally structured area with a coffee table and crisp, white armchairs, an Escea DL1100 high heat output fireplace is located surrounded by a schist frame. In a creative thought, the designers decided on mirroring the Escea DL1100 with an Escea EF5000 outdoor fireplace in the alfresco area. In identical fashion, the EF5000 is also framed by schist.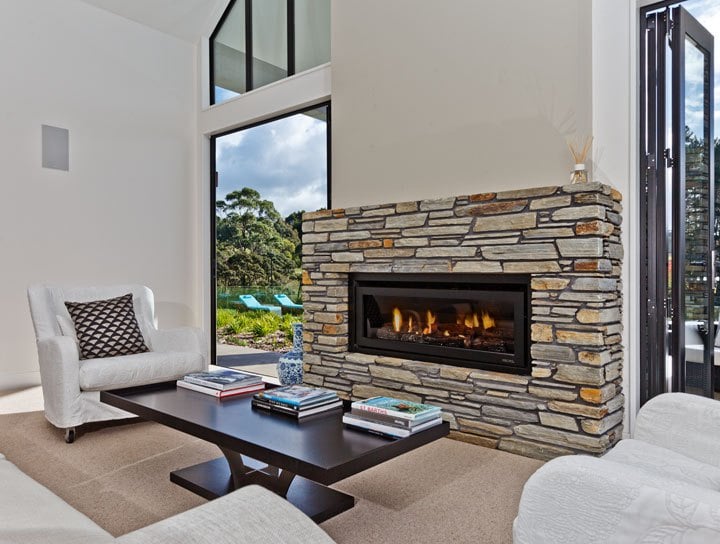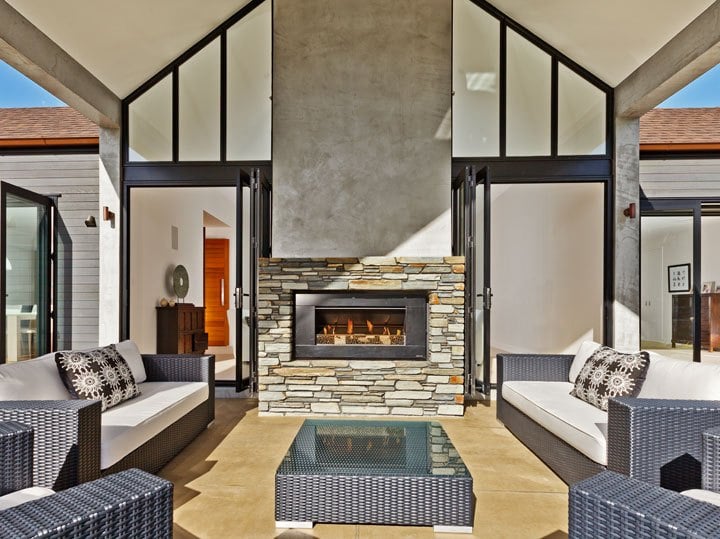 The left hand pavilion holds three bedrooms, a guest suite and adjoins onto the garage. Double doors from the bedrooms open out onto the expansive alfresco space – offering maximum indoor outdoor flow.
In our opinion, the outdoor area could not be more stunning. The lush green Central Otago grass contrasts the light blue pool wonderfully and highlights the whole 534m2 section. It not only provides an extravagant outdoor entertainment and activity area but also a beautiful view from almost every single room in the house.