How to Choose an Architect
If you are looking at building your dream home or converting or renovating your present abode, aside from determining your budget one of the first and most important considerations is the style of house you want and who you will choose to turn your dream into a reality.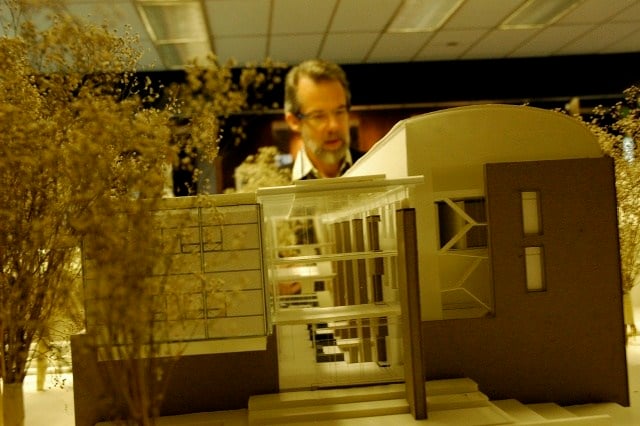 Architect at Escea gas fires Ultimately, it is most likely that your choice of designer or architect will come down to how much money you have and want to spend. It can be a mistake to skimp on the design phase however – choosing a less experienced or qualified person may end up costing you more in the long term.
If you're on a tight budget, an experienced architect or designer should be able to explore ways to make the most of your money and create a place to live that really works.
Where do you start?
It's best to start by asking people who have recently been through the same process who they'd recommend to do the job. You may also drive past a house that takes your fancy – it should be easy enough to discover who was behind the design, especially if the property happens to be on the market.
The internet is a valuable tool for sourcing goods and services and can be useful in the search for a architect. Browse different firms' websites and have a look at the different projects architects have worked on to get a sense of their style.
Another way to find architects is by trawling through professional organisations such as the New Zealand Registered Architects Board, New Zealand Institute of Architects, Architectural Designers NZ, Design Association of New Zealand, Australian Institute of Architects or the American Institute of Architects.
Once you've narrowed down this list, ask around to see if anyone you know has worked with them. It is a necessity to meet with them first and explain the type of house you are looking for or plans you have, your budget and what you are looking to get out of the project.
Communication counts
From your initial appointment with an architect you should get a feeling for how you will work together. You'll need to find someone who will listen and see the big picture as well as someone who you will be able to get along with.
This is especially important if your project is likely to be a lengthy one. If you're not happy with something or you change your mind it's important that you express this to your architect. As with any constructive relationship the key is honesty and communication.
Compliance is critical
Make sure your architect is registered and has a strong grasp on the planning and consent process and local or national Building Code requirements. Good quality, hard-wearing materials and trusted construction methods are also essential in the process to avoid problems like leaky buildings. You'll need to ensure that the type of design and materials used are suited to your new home and the site you have chosen.
Depending on the type of project you are contemplating embarking on, whether it be a house from scratch or a renovation or conversion, make sure you ask your architect whether he or she is experienced doing that kind of project and if so, ask for them to show you completed examples of similar projects.
Taking time to do your homework pays off
If you are looking to create a home that is distinctive and suits you and your family's lifestyle, choosing someone whose designs you love will be worth it in the long run. You need to do your homework and find an architect who will work with you to create a solution that really works for you and your lifestyle.
Once you have made your choice, and you want to include an Escea fire in your project, get your architect to contact our architectural detailer Grant for advice on the technical and design aspects involved.